As an Amazon Associate and affiliate with other third parties, Survival Gear for Sale earn from qualifying purchases and display advertisements.
Best hazmat suit with oxygen tank
The hazmat suit with oxygen tank is the highest form of protection one can use against dangerous matter. It is considered a Level A protected suit that provides total encapsulation for the wearer. It is also the bulkiest among all protective gear especially when you include the self-contained breathing apparatus (SCBA) in the equation.

Usually, the suit contains several layers to ensure total protection. As a result, the suit is also quite heavy even without the oxygen tank yet. The hazmat suit with oxygen tank provides overall protection: eyes, skin and respiratory system. This kind of suit provides protection against hazardous gases, liquid, vapor, mist and other particles.

A hazmat suit, which is short for hazardous material suit, is a type of personal protective equipment or PPE used by people who have risky jobs. Firefighters wear PPEs as well as research personnel who have to deal with dangerous chemicals in their line of duty. Workers responding to toxic leaks and spills have to wear them, too. So do people who have to deal with radiation. And as the world is experiencing a COVID-19 pandemic, medical workers are the most in need of hazmat suits.

Hazmat suits are selling like hotcakes amid the COVID-19 panic. In fact, since the pandemic was announced by the World Health Organization, some people have been wearing hazmat suits while doing their grocery shopping. Healthcare experts, though, are advising against regular people buying hazmat suits when a lot of the healthcare workers or frontliners don't have PPEs. Some even resorted to wearing garbage bags as protection.

That said, here are some of the best hazmat suits with oxygen tank in the market.
Kappler was founded by George Kappler in 1976. Currently, the business is already being handled by his daughter Laura Kappler-Roberts, making it a certified Woman-Owned Business. That certification is not easy as the requirements are quite stringent. When the company started, it only had eight employees and six sewing machines. Less than five years later and Kappler had already employed 50 people. In just a decade, it had expanded in the U.K. Over the years, the company researched and innovated on fabrics that will be used in the chemical protective apparel.

The Kappler Zytron 200 provides great protection for chemical workers. The fabric offers increased resistance for a wide variety of chemicals. Also, the fabric is quite strong, which is very important for a hazmat especially when dangerous chemicals are concerned. This model actually has a wide range of designs.

For those who need the hazmat suit with oxygen tank, the specific model you are looking for is the Z2H571. This features an expanded back where you can put the gas tank. There is a large PVC visor for clearer vision while walking through the contaminated area. To prevent entry of dangerous vapor or liquid, the suit also features elastic wrists and sock booties that are attached to the gear. Splash guards are also included. The seams are single-heat sealed and taped. The suit has a rear entry, and hook and loop fasteners.
Pros
Brand is a certified Woman-Owned Business

Durable

Protects against various chemicals

Available in a wide range of sizes: extra small to quintuple extra-large
Cons
Heavy at 8.6 kilograms

Gray color – may not be very visible in dark areas

Where to buy: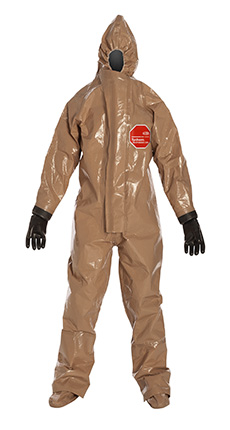 DuPont was created over 200 years ago. After two centuries, the brand continues to innovate and research in order to provide safety products to the public and to various industries where danger is part of the hazards of the job. It has also seen reorganization over the years and is now a diversified chemical company. Throughout the years, the company did its part to help people in a number of historic events like the Great Depression and World War II. And as the world experiences the COVID-19 pandemic, DuPont, too, is there to provide science-backed products.

The DuPont Tychem RESPONDER is a Level A encapsulated suit. It has an expanded back to accommodate oxygen tank. It also has a large standard visor to ensure clarity but not compromising safety of the user. It comprises three layers that include PVC, Teflon and topped by another PVC. The Butyl gloves are attached, as well as the socks and outer boot flaps. The suit also features a double storm flap with hook and look closure.

The product protects users against toxic and corrosive chemicals.
Pros
Front entry – it's easier to wear it this way.

Butyl gloves attached

Available in a wide range of sizes: from extra small to quintuple extra-large

Protects against highly toxic and corrosive chemicals

Each suit contains unique serial number
Cons
Tan color – may not be very visible in dark areas

No warranty

Where to buy:
Lakeland Industries has been in the business of creating protective garments since 1982. It was founded in New York but has since relocated in Alabama. It manufactures technologically advanced protected gear for workers in risky industries all over the globe. Among the industries it serves are automotive, cleaning services, chemical and petrochemical, electric and gas utilities, fire service, healthcare and wind energy.

ChemMax 4 Plus is a trademarked fabric for superior and advanced chemical protection. It is also supported by PermaSURE, which is an online tool that models permeation rates of various hazardous chemicals. It has a six-layer protective system so that even the most hazardous chemical would have a hard time penetrating the suit. Despite that, the fabric is still quite soft. The fabric also features heat-sealed seams.

The ChemMax 4 Plus Encapsulated Suit has an expanded back to accommodate SCBA or oxygen tank. The material is spun-bonded polypropylene and proprietary barrier film. The product is lighter than most encapsulated suits. It has a rear entry with 48-inch zipper. It has elastic wrists and attached sock boots with boot flap to make sure that no vapor or other particles could penetrate the suit.
Pros
Superior chemical protection

Features six-layer protective system

Soft

Available in tan and yellow
Cons
Not flame retardant

Not available in small sizes

Where to buy: