As an Amazon Associate and affiliate with other third parties, Survival Gear for Sale earn from qualifying purchases and display advertisements.
Best designer hazmat suit
When the World Health Organization described the current COVID-19 situation a pandemic back in March, people understandably became nervous. One person that certainly grabbed attention was Naomi Campbell. She was photographed at the airport wearing a hazmat suit or hazardous material suit. The British supermodel said she was nervous about being infected. A number of people thought Campbell was doing it for laughs, but she explained that being safe gives her comfort when she travels.


For a supermodel, you would have thought that Campbell had on a designer hazmat suit. However, she told media that she bought her suit on Amazon for $16. Speaking of designer hazmat suit, Erykah Badu wore one—sort of—while attending the Austin Film Society's Texas Film Awards last month. She wore a hazmat suit decorated with the Louis Vuitton logo complete with Louis Vuitton pouch, gloves, and visor. She called her outfit "social distancing couture."


But does Louis Vuitton really make hazmat suits? Not really. Badu merely had her hazmat suit spray-painted with the LV logo. Clothing companies cannot just turn their expertise in making clothes to manufacturing hazmat suits. According to The Guardian, it costs around £63,000 to get a certificate to create one kind of hazmat suit in the U.K. There is also a stringent testing for it because it's a crucial protective gear in dangerous situations.


Designers are trying to aid the fight against the novel coronavirus, which causes COVID-19, in their own way. But none of them resorted to creating hazmat suits. Christian Siriano answered the call of New York Governor Andrew Cuomo for more surgical masks, so his sewing team is manufacturing them. Other designer brands did similar things with Prada and Burberry sewing hospital gowns and masks. Giorgio Armani is manufacturing single-use medical coveralls. Hugo Boss and Kering are making face masks. These were donated to medical facilities and healthcare workers.

Maybe there are no designer hazmat suits, but these are some of the best brands when it comes to coveralls to protect a person from hazardous materials.
This is the closest thing to a designer hazmat suit that people will get. Why? Because this is exactly what Naomi Campbell used during her viral hazmat suit moment. The product is a coverall with hood, elastic wrists and elastic waist. The seams are serged. The material used is flash spun high-density polyethylene.

The fabric is called Tyvek, which is only available in DuPont. It is a protective garment that protects the wearer from various chemicals and other hazardous materials. The suit features a barrier protection that has been proven to protect people from asbestos, lead and mold, among others. It is also made of light material, which makes it comfortable for the wearer—it's not heavy at all. The Tyvek 500 is great for various industries: chemical processing, pharmaceutical, spray painting, etc.

DuPont has been in the business for over 200 years. Its strength is on science and research, which is why the brand uses its own fabrics in creating a variety of items in the healthcare, safety, nutrition, electronics, construction and mobility sectors. The brand's major goal is to help solve global problems—and that is exactly what the entire world is experiencing right now.
Pros
Light

Comfortable

Available in a wide range of sizes from small to septuple extra-large

Versatile
Cons
Most sizes are larger than the size on record

Where to buy: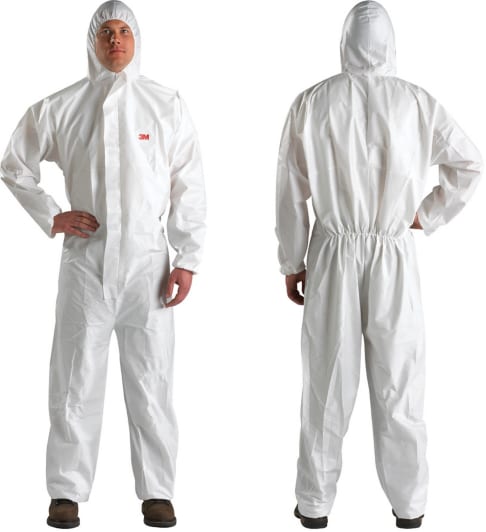 Social media queen Kim Kardashian showed off her protective accessories while traveling, which includes a 3M mask and some gloves. So fans of the reality star might be interested to note that 3M also manufactures hazmat suits. 3M is a brand that manufactures so many things. If you look around the house, chances are you are going to see various products made by 3M. The brand aims to apply science in every product to ensure that each item will make people's lives better.

The Disposable Protective Coverall 4510 is made out of microporous PE laminate material. It protects people from Type 5 and Type 6 hazardous materials. The former refers to hazardous dust and the latter refers to light splashes and hazardous liquid. This coverall is composed of a hood, elastic waist, wrists and ankles. The seam is also closed with three-thread over-lock stitch.

This hazmat suit also features a two-way zipper with a storm flap that is sealable. This is an added layer of protection against contaminants. This suit is recommended for construction, sanitation, food safety, oil and gas and manufacturing.
Pros
Does not contain silicone or natural rubber latex

Treated with anti-static

Comfortable

Versatile
Cons
Small sizes are not available (only from medium to triple extra-large)

Where to buy:
This particular product is made for general industry that includes work that calls on people to handle chemicals as well as those who have to do environmental cleanup and everything else in between. The product has serged seams to protect users from light liquid splash. Other features of this hazmat suit are the attached hood, attached boots plus elastic wrists and a storm flap over the zipper. The hazmat is yellow, which makes it highly visible even in the dark.

The trademarked ChemMax is made from polyethylene barrier film material and a continuous filament polypropylene nonwoven fabric. This material is a barrier against many contaminants that might penetrate the suit, thereby endangering the life of the one donning it. The material is light and easy to wear. While it is mostly used as protection against chemicals, the ChemMax is also effective in protecting people from bloodborne pathogens and viruses.

Lakeland has been providing workers who handle hazardous materials with protective suits for over three decades. Among the industries it serves are cleanroom, fire, oil and gas, and utility. It distributes its products globally.
Pros
Light

Available in a wide range of sizes from small to quintuple extra-large

Passed EN-1149 standards (electrostatic properties)

Highly visible
Cons
Continuous boot is a bit uncomfortable

Where to buy: