As an Amazon Associate and affiliate with other third parties, Survival Gear for Sale earn from qualifying purchases and display advertisements.
Best hazmat suit with air supply
Do you know why it's called a hazmat suit? Hazmat comes from the words hazardous material. In essence, a hazmat suit is your defense against hazardous materials. It is basically a kind of personal protective equipment that is made out of a material that will make it impossible for a hazardous material to penetrate.

A hazmat suit could be a kind of protection against chemicals, radiation and biohazards, among others. If you see the spike in discussions about the hazmat suit nowadays, that would be due to the coronavirus disease 2019 or COVID-19 pandemic. Healthcare workers who are caring for COVID-19 patients have to be garbed in hazmat suits so that they would not be infected with the novel coronavirus, which causes COVID-19.

Hazmat suits, as mentioned, are used by healthcare workers who are frontliners in the fight against COVID-19. But they are not the only ones who use hazmat suits, which is a versatile protective gear. They can also be worn by researchers, firefighters, emergency responders to toxic spills and specialists cleaning after contaminated areas, among others.

For total protection, you will need the hazmat suit with air supply. This is considered a Level A hazmat suit. It protects every part of the body. The suit includes a full-face shield along with a self-contained breathing apparatus (SCBA). Other components are the two-way radio system, footwear and gloves. Every part will protect the person from any kind of dangerous chemical or biohazard.

Here are the best hazmat suits with air supply: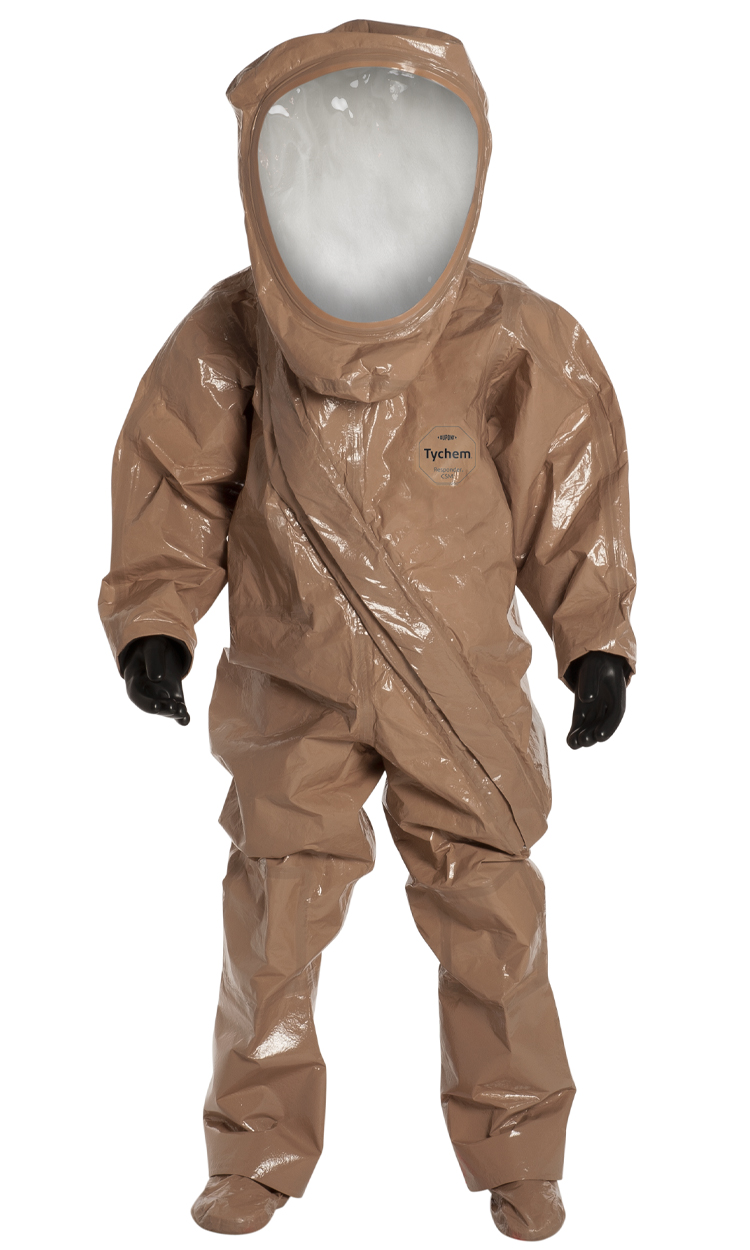 DuPont has been in existence for over 200 years providing professionals with innovative products backed by science. It manufactures important items used in various industries including healthcare, safety, nutrition, electronics and construction. Science is very important in every product manufactured by the brand as DuPont relies on research in so many of its lineup.

One of the brand's innovations is the Tychem garment. The garment was specifically created as protection for industrial workers especially those who have to deal with dangerous chemicals. Tychem has been through rigorous testing from a third party to ensure that it efficiently works as intended. Hundreds of toxic chemicals had been tested against the material to make sure that it can really protect the users.

The Tychem Responder is an encapsulated Level A suit. It has a front entry and an expanded back. There is also a standard visor. The seam is double taped to prevent fraying. There are so many sizes available to cater to a wide range of people: from extra small to quintuple extra-large. This also comes with two exhaust valves. The suit provides around 40 minutes or protections against identified 30 types of chemicals. It has an expanded back for the SCBA.
Pros
Durable

Tested efficient and safe by a third party

Can last for five years

Five-year warranty (from date of manufacture)

Doesn't contain rubber latex

Front entry – this allows users to partly wear the product while waiting for actual go time.
Cons
Outer footwear is needed to complement the responder

Where to buy:
The trademarked ChemMax is a superior fabric for advanced chemical protection. The suit has a six-layer protective system in order to withstand the harshest chemical environments. The seams are heat-sealed to ensure that nothing will penetrate the suit. It has been tested against various chemicals. There is a whole range of ChemMax 4 Plus products but the one that offers the most protection is the encapsulated suit. 

This is a Level B hazmat suit worn with an SCBA. It has an expanded back to accommodate the air supply. This particular suit has a rear-back entry. It is made of spun bonded polypropylene and proprietary barrier film. This material provides soft and flexible suit. The suit is also compatible with the PermaSURE Toxicity Risk Modeler, which is an online tool that provides permeation rates. Over 4,000 chemicals are indicated in the PermaSURE tool.

It has always been the goal of Lakeland to provided protective garments that would keep people safe from hazardous chemicals, fire and various diseases. The brand was founded in 1982 in New York but now has its headquarters in Alabama. The brand serves different industries: automotive, chemical and petrochemical, cleanroom, fire service, gas and electric utilities, healthcare and wind energy, among many others. It is present in 12 countries.
Pros
Heat-sealed seams

Protects users from hash chemicals

Versatile

Soft and flexible
Cons
Not flame resistant

Not slip-resistant

Where to buy:
This encapsulated suit is made from outer polyamide fabric coated with chloroprene rubber. It is a multi-layer suit with an inner chloroprene rubber. The seams are stitched with the outside covered with chloroprene rubber tape and the inside is sealed with a barrier laminate tape. These are to ensure that no chemical could penetrate anywhere in the suit. The breathing apparatus is placed inside the apparatus. The sizes are from double extra-small to triple extra-large to ensure that there is a suit available for all sizes.

This particular suit is great for various industries: chemical, fire and rescue, food processing, law enforcement, life sciences and law enforcement. It is a versatile suit that has passed various standards and certifications (EN 943-1:2015 + EN 943-1:2015/FprA1:2018; EN 943-2:2002 + FprEN 943-2:2018; ATEX). This is one of the few suits that are flame retardant, and has met the NFPA 1991:2016 standards meaning it could protect users from chemical flash fire and liquefied gas.

Ansell is a global leader in protective gloves manufacturing. It produces over 10 billion gloves every year from different industries. It has since expanded to different protective garments. It has also joined the fight against the COVID-19 pandemic with the world experiencing a shortage of personal protective equipment particularly for frontliners in the healthcare industry.
Pros
Flame retardant

Re-usable chemical barrier technology

Passed various standards and certifications
Cons
Heavy (6 kilograms of a large suit with socks that are sewn in)

Where to buy: