As an Amazon Associate and affiliate with other third parties, Survival Gear for Sale earn from qualifying purchases and display advertisements.
How to make a mask for coronavirus?
The easiest and convenient to avail are cloth masks. You can even make your cloth mask right in the comfort of your home. There are cloth masks that can be handmade and there are also masks that are sewn together.


When making your mask, here are some guidelines you can consider.

You can sew the fabric and simply tie it around your face.  You can have an elastic band attached to it to tie strings for your mask's enclosure.


Some just fold the fabric around hair ties to become its ear loops. Others use a new sock for their cloth mask.

It's important to use at least two layers of material for it. You could also add a filter pocket so you can add a filter to your mask. There are copper or wire ribbon available that you can put on the nose area of your mask so you can have a better fit.

You might add a pocket for a filter. Be sure to take it out before you wash the mask.


Add a copper or wire ribbon on the nose of the mask to help it fit better.

Pleated masks work best because of how they fit your face.

Here are simple steps for a mask that needs to be sewn and a no-sew mask.
For a sew mask, these are the materials you'll be needing:
Two 10"x6" rectangles of cotton fabric
Two 6" pieces of elastic (or rubber bands, string, cloth strips, or hair ties)
Needle and thread or bobby pin
Scissors
Sewing machine
You need to cut out two 10-by-6-inch rectangles of cotton fabric. Use tightly woven cotton. A t-shirt fabric will work too. Put the two rectangles on top of each other and you will sew the fabric together.
Fold over the long sides ¼ inch and hem. Then fold the double layer of fabric over ½ inch along the short sides and stitch down.
Run a 6-inch length of 1/8-inch wide elastic through the wider hem on each side of the mask. These will serve as the ear loops. Use a large needle or a bobby pin to thread it through, then tie the ends tight.
If you don't have any elastic bands just use your hair ties or elastic headbands. You can also make a tie string out of fabric if you wish too.
Gently pull on the elastic so that the knots are tucked inside the hem then pull all the sides of the mask on the elastic and adjust it well so the mask fits your face. Then securely stitch the elastic in place to keep it from slipping. If you're using tie strings, just sew two tie strings on the edge of the mask. One on top and the other one below.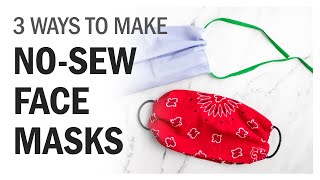 Put out a bandana or cut a 22"x 22" square of cotton fabric on the table.

This is optional, you can place a flat coffee filter in the center of the square.


Fold the top and bottom in towards the center.

Another optional thing to do is to place a twist tie, paper clip, or other metal pieces close to the top.

Fold the top and bottom in towards the center. It should meet in the center.


Fold the sides in towards the center, placing your ties at the folded crease. If you're using rubber bands or hair ties, just loop these around the fabric.

If you're using shoestrings, bias or string, place the center of the string in the folded crease and pull the straps tight.


Tuck one end of the fabric into the other for better construction.

Lift the mask to your face and secure the straps. For hair ties and rubber bands, loop them over each ear. For shoestrings, bias and string, tie them behind your head.

You can adjust it and be sure it has good coverage on your face.

You can find cloth masks on Amazon.