As an Amazon Associate and affiliate with other third parties, Survival Gear for Sale earn from qualifying purchases and display advertisements.
Difference between 3 Ply and 4 Ply Face Mask
They say it's always great to be able to compare and have chosen a face mask to protect yourself especially in times where viruses are rampant.
There are the recommended 3 ply face mask and another alternative, the 4 ply face mask. 
What are their distinct qualities and what are the differences in them? Is one better than the other?
Let's dissect them both and you can decide which one will be best for you!
What is a 3 ply face mask?
The 3 Ply face mask is the accepted protection after the N95 mask to help you protect yourself against airborne viruses and droplets as well.  It can reduce the spread of viruses, germs, and bacteria too.
The 3 Ply face mask contains a high level of static filtration through its non-woven middle layer that's been attested to be able to effectively block micro dust and bacteria.
A good-quality 3-ply face mask has three layers and each layer has a purpose and remarkable functions.
The outer hydrophobic layer that functions to repel water, blood and body fluids.
The middle filter layer is designed to filter bacteria and is the barrier against germs
Lastly, an inner hydrophilic layer, which absorbs water, sweat and absorbs moisture.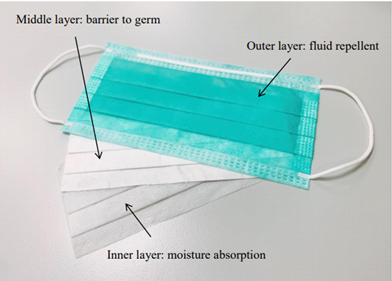 Source: www.chp.gov.hk
The 3-ply face mask has been proven to be as effective as N95 masks in preventing viral infections like influenza.
What is a 4 ply face mask?
A 4 ply face mask is like a 3 ply face mask with an added extra layer with an activated carbon filter or one more filtering layer.
It's made with polypropylene spunbond, melt-blown nonwoven fabric and active carbon filter fabric with adjustable nose strip to give maximum protection and comfort to the user. It also gives protection against odors as well as organic vapors.
It extremely has low lint and it has low particle generation properties.


Source: medconthai.com
1st layer - polypropylene spunbond nonwoven
2nd layer - active carbon filter fiber or another filtering layer
3rd layer - melt-blown nonwoven
4th layer - polypropylene spunbond nonwoven
It offers excellent breathability and 100% splash resistant.
After Thoughts
You can see that the only difference is the additional layer and additional function against odors and organic vapors.
Both the 3 and 4 ply face mask can protect you against viruses and they can also reduce the spreading of infection among people.
It would be your call as to what to choose. As for me, it would be safe to choose any of these masks as long as it fits snugly over your face.
You can find 3 ply face masks and 4 ply face masks on Amazon.