As an Amazon Associate and affiliate with other third parties, Survival Gear for Sale earn from qualifying purchases and display advertisements.
Best Mask against Coronavirus
The coronavirus now officially named COVID-19 continues to afflict people, especially in China. 
It's like dealing with a double-edged sword with China, with a population of 1.386 billion. This is where the outbreak is at and thus there is a great need for a continuous supply of masks and China too is the producer of 50% of the world's masks.
That void in the mask production from China is a big shoe to fill in! China is allegedly been out of stock now for a long time.
COVID-19 is continuing to devastate around the world and now surpassing the death toll of the SARS virus.
This prompted more people in wearing a mask to protect themselves with this lethal virus that has yet to find its cure.
Coronavirus requires the thicker respirator mask to help prevent its spreading at a more alarming rate. These kinds of viruses can remain infectious and on an average of four to five days and up to nine days on surfaces. 
That's how dangerous it can be and it can thrive more on a low temperature and high air humidity.
Aside from wearing a mask, it's been mentioned that washing your hands more frequently is a sure way to avoid the coronavirus. 
Adding too that, disinfecting with solutions based on ethanol, hydrogen peroxide or sodium hypochlorite is effective against coronaviruses. They can reduce the viruses from one million to only 100 pathogenic particles. You can disinfect your hands with 70% alcohol and use cleaning disinfectant to your homes and gadgets using cleaners with on ethanol, hydrogen peroxide or sodium hypochlorite.
People want to reduce their fear of contamination by gearing up themselves with masks to feel secured. If a facemask is worn properly it can help block respiratory secretions produced by the wearer from contaminating other persons and likewise be protected from people infected as well.
N95 masks and surgical masks should be NIOSH-approved and are approved by the FDA for use as medical devices. 
For the maximum level of efficiency, masks should be used only once and then disposed of in the trash.
There are points of confusion we need to raise about the best mask for coronavirus. The N95 mask is made and designed for health workers because of its 95% efficiency against viruses. They are now available for the public to purchase too.
It might be uncomfortable at first but you need to get the right fit for you. It should fit around the nose, cheeks, and chin so that you don't breathe around the edges of the mask. Since the material is thicker, breathing could be harder so it's better to get ones with a valve or valves in it.
It can lessen the moisture and hotness there. While surgical masks they don't do much good in the protection against a virus unless they're fitted properly without gaps around the face and have 3 ply layers.
It's safe to recommend N95 masks that are for airborne precautions followed only by surgical masks.
This is the proper way to put on an N95 mask.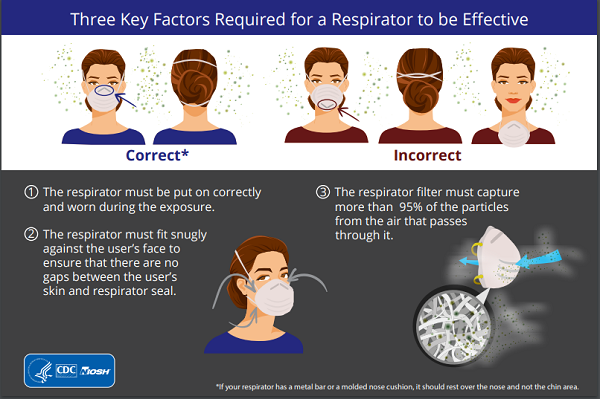 Image Source: cdc.gov
N95 Mask
Disposable P2/N95 face masks also known as P2/N95 respirators are capable to filter out very fine particles from the air when worn correctly. They help reduce exposure to bushfire smoke, viruses, poor air quality, and other air pollutants.
P2/N95 face masks are widely available from hardware stores, pharmacies, health supply stores, online and other safety equipment suppliers.
These masks will prevent 95% of small particles, including pathogens from entering the nose and mouth.
This NIOSH-Certified Dräger X-plore 1350 N95 Particulate Respirator with Exhalation Valve is a molded type, disposable N95 dust mask that can filter out 95% of particles from the air in our environment.
It also can protect you against fine dust, solid and liquid particles. It's a good mask against pollen, mold or particles and air pollution as a whole.
A good feature is that it has an adjustable head harness that gives comfort since it's flexible, tear-proof and it can be adjusted easily. The mask is easy to wear thus it's not stressful and complicated at all.
The inner layer made from soft material resists moisture for use. The exhalation valve guides humid and warm exhaled air out of the mask and that makes it low breathing resistance.
It has a uniquely shaped body that offers a spacious interior that ensures comfort.
Pros:
Its strap is doubled that it fits around the back of your neck and the other up over the back of your head
It gives a secure attachment, and it has a sliding ball at the top that will allow the elastic strap to be adjusted
It's one of the better masks around
It can be dropped down around your neck 
Well made, comfortable, and it's thoughtfully designed
Offers a secure placement on the face and great adjustability for comfort
It's more comfortable and more durable than other brands and they are less expensive as well.
They also wear well without fogging the glasses
Excellent Quality 
Superior quality respirator mask
Fits well
Keeps out the particulates
Cons:
The design of the mask has a turned edge all the way around it and others might find it difficult to wear their glasses on while wearing the mask
Where to buy:
Another one for Drager that needs to be included in the list because of its high microbe virus protection.
It has a wide seal to ensure the user a comfortable fit and its excellent tightness in the critical nose area gives a sense of security.
It also comes with a highly elastic textile braid that facilitates dressing and improves comfort.
The light blue color code of the nasal press and out of the respiratory valve facilitates the identification of the protective class FFP2 rating, also known as N95.
It can be depended upon to really provide excellent protection against viruses and bacteria. The specially developed CoolSAFE filter material combines various high-performance filter media to achieve flawless filter performance.
Aside from the CoolSAFE filter, it also has a  CoolMax breathing valve that makes breathing easy and comfortable since it's extremely low breathing resistance. The valve directs the humid and warm air exhaled through the breath away from the user and out of the mask, therefore it doesn't have heat build-up inside the mask and keeping the user cool too.
Another great feature is the EasyStop that will allow the user to individually adjust the tape as required hence providing ease of use and a secure, comfortable seal all the time.
All masks are Clean and hygienic and individually packaged in its own plastic bag.
Lastly, another innovative plus feature is its VarioFLEX headband with EasyStop to make it easy to put on and to take off and adjust with a press-free fit. The tear-resistant fabric strap with a continuous loop eliminates the need to use any clips at all.
Pros:
Ergonomic and a well-seated particle protector against solid and liquid particles
Has a Coolsafe filter material minimizes respiratory resistance
Includes a CoolMax exhalation valve
Great shape for a good fit
Its exhalation valve reduces respiratory resistance and reduces heat and moisture formation
Color-coding facilitates the identification of the protective mask. This one falls under FFP2 or N95.
Cons:
No negative reviews so far
Where to buy: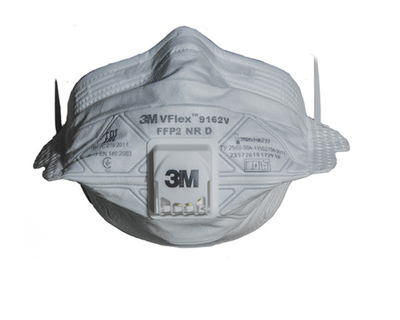 This is a different N95 mask from 3M that is a folding V-shaped design. It is a mask that can be tightly attached to different types of faces and conforms to movements of the face. It is easy and convenient and has an increased filter area.
The 3M Cool Flow exhalation valve provides low breathing resistance, facilitates communication, the flow of exhaled air is directed downward, which reduces the fogging of glasses and face shields. The valve design is unique, developed by 3M for the most efficient removal of heat and moisture from under the mask.
Highly efficient filter media provides high-quality filtration combined with easy and comfortable breathing.
The embossed outer surface helps the mask to maintain its shape and not touch the inside of the face when inhaling.
Great to protect you against aerosol, smoke, dust, and protection against acute respiratory infections. It passed all certification and it's made in Russia.
Pros:
It's a fantastic mask
It is specifically designed to protect against viruses. 
The filter of this mask is a lot better than others. 
After you put on this mask and take it off you will notice the difference in the air
Lightweight
Gives a good and secure seal on the face
Cons:
No negative reviews so far
Where to buy:
This is a patented fit and design mask with SoftSeals Silicone fit technology. You'll be truly confident that it will provide you with the perfect seal for maximum filtration efficiency.
Because of SoftSeals 360° Silicone Seal, be rest assured that this mask will conform to your face, providing you with the safety you need to be protected from airborne particles.
The SoftSeal Mask has met all NIOSH standards and received up to a 99% filtration efficiency for both Bacterial Filtration Efficiency (BFE) at 3 microns, and Particle Filtration Efficiency (PFE) at 0.1 microns. You won't find this kind of level of consistent filtration with any other mask on the market.
It comes with ultrasonically welded straps that don't require it to be stapled, while the patented silicone seal will allow you to wear the mask with ease all day while barely remembering you have it on.
This mask has a built with a crush-proof internal silicone skeleton that will make sure the mask stays in shape and won't alter its condition while breathing with it.
Pros:
It can quite be possibly the best mask available for the money
One of the best fitting and most effective mask
The silicone edging material makes a perfect seal and is very comfortable to wear
The breathing valve also sets this type of mask apart from those without it
It comes in different sizes
This is an excellent choice
It makes you breathe with comfort
Cons:
Their sizes might be bigger so get a size one smaller
Where to buy:
Another NIOSH certified mask that has a filter efficiency level of 95% or greater against airborne particulates. Includes an exhale valve to reduce hot air build-up and to keep the user's cooler, adjustable metal nose bridge with a full-foam flange that eliminates pressure points for added comfort, and easy-to-adjust head straps.
Definitely comfortable and soft that will protect your lungs from harmful vapors, fumes, gases and dust particles which could lead to more serious health complications.
Equipped with elastic banding that would prevent latex allergic reactions from happening.
Pros:
Very nice for the price
Cool and easy to breathe through 
Good protection from dust and particulates
Lightweight and wearable
Great quality and it's very effective
Very comfortable to wear
Cons:
Some find it stiff
It's sold-out everywhere
Where to buy:
Three-ply surgical mask 
Surgical masks are usually all made from three-ply material that works like blotting paper to soak up droplets coming from the nose or mouth.
These masks will provide some protection, as they will block liquid droplets and limit their travel in the air. They might not block the smaller particles that can pass through the material especially if it's loose-fitting.
They must also be changed daily as they draw in moisture and debris thus its effectivity becomes useless.
It's stretchable with comfortable earloops to eliminate discomfort to the ears. It has a silky soft inner layer to avoid skin irritation. It offers a very high filtration: PFE 99.7 percent at 0.1 microns and BFE 99.5 percent.
It provides a double-seal earloop plastic wire across the middle of the mask forms an arch to keep the mask away from nose and mouth.
Pros:
High Filtration BFE 99.5% PFE 99.7 at 0.1micron
Ultra-Breathable 
Latex-Free
Inner mask layer made from cellulose material 
Completely lint-free
No tickling feeling on the nose and the face
Soft earloops
Extra strength fabric keeps masks away from nose and mouth
Excellent protection from the transfer of microorganisms, fluids and particulate materials
Cons:
No negative reviews so far
Where to buy:
A 3 ply disposable mask with an elastic earloop face mask is made of non-woven fiber fabric, hypoallergenic comfortable and breathable, soft and skin-friendly, and easy to use.
This surgical mask is made to be used easily, comfortably and breathable. It will not be stuffy and you can breathe freely with it.  It has an extra soft elastic earloop that will make it fit conveniently on your face.
A face mask is effective in protecting against germs, dust and air pollution, and will safeguard your health and life.
Pros:
One of the best disposable earloop face mask made of good quality non-woven fiber fabric
Soft and breathable
With elastic ear-loop, soft and comfortable to wear
One size fits most people
95% BFE
Breathable and comfortable
Cons:
No negative reviews so far
Where to buy:
It's made with stylish, features and has a higher level of protection. The materials and donning attachments are sonically bonded, and this mask has an enclosed nosepiece to assist in conforming to the contours of the face. All face masks are natural rubber latex-free.
It comes with stretch knit ties that are non-allergenic and easy to put on.
It has high filtration capabilities with a BFE of 99.9 % and PFE of 99.2%.
Pros:
The materials are all sonically bonded
Enclosed nosepieces to assist in adapting to the contours of the face
The face mask is natural rubber latex-free
98% efficiency filtering laser plume particles of 0.1 microns or larger
Soft sewn stretch knit ties provide a secure comfortable fit
Specially designed inner facing improves the comfort
Integrated layers work together to maximize breathability
Cons:
No negative reviews so far
Where to buy:
Next on the list is this surgical mask. Please visit the link above for a detailed review of this mask.
Also, included in the Nexcare surgical mask. Click on the link above for a thorough review of this mask.
After Thoughts
All the masks were meticulously chosen to be able to help and assist you in choosing the best mask against coronavirus.
Be equipped with a mask as your best defense alongside proper hygienic practices to ensure your strong protection against the persistent viruses in the air.
Everyone just wants to be safe and to set aside their fears and doubts regarding how to handle the situation amid our world today.
We have to fight and combat coronavirus to maintain being healthy, well, and secure. This is our only way to be the bigger person and to be above the situation we are all facing now.