As an Amazon Associate and affiliate with other third parties, Survival Gear for Sale earn from qualifying purchases and display advertisements.
Best hazmat suit with gas mask
On March 11, the World Health Organization announced that COVID-19 is already a pandemic. This means that the health issue is a global problem. Immediately thereafter, a few people have been seen wearing hazmat suits in public.

The novel coronavirus, which causes COVID-19, can be transferred through respiratory droplets. Although, a recent theory states that the virus could be spread through fluid particles. This means that even breathing and talking could lead an infected person to spread the virus. So, can you really blame people if they wear complete hazmat suits in public?

Photos of people wearing hazmat suits while grocery shopping are going viral. Experts, though, are saying this is not a great idea especially if the average Joes are buying personal protective equipment (PPE), taking away supplies for the first responders. They also noted how a lot of the users are not even using the hazmat suits properly.

Hazmat or hazardous materials suit is a PPE made out of impenetrable garment that covers the entire body. It is best paired with a self-contained breathing apparatus or gas mask so that no virus will be able to penetrate the body while allowing the users to breathe. While it is a popular protection against the virus now, hazmat suits are actually used for a wide variety of activities.
Hazmat suits are used by firefighters, healthcare workers, researchers, cleaners and people working in toxic environments, among others.
Here are some of the best hazmat suits with gas mask to protect people from all kinds of hazardous materials:

This hazmat suit was manufactured to provide comprehensive protection against Chemical Biological Radiological and Nuclear or CBRN agents. You can buy this suit for whatever purpose. COVID-19 frontliners can use this product as protection against the novel coronavirus. If there is radioactive waste in the vicinity, this could be a good protective gear too. One thing that is really unique about the Mira Safety product is that it comes in kiddie size, too. The brand creates hazmat suits for as young as four years old because children needs protection, too.

This hazmat suit is made of puncture-resistant film that has been tested against over 125 chemicals that include chemical warfare agents and toxic industrial chemicals. The fabric was also tested for storage to ensure that it remains in great condition wherever you keep it for a long period of time. Most hazmat suits are only good for five years—some lasting 10 years. For added protection, the suit is heat-sealed and taped stream to ensure protection against vapor hazards.

MIRA Safety is a family-owned company that creates safety equipment, high-quality respirators and tactical gear. Every product is proudly made in the U.S. It partners with other companies so that it can manufacture products of great quality at a competitive price. MIRA Safety products are usually used in civil defense, biohazard response, drug response, chemical handling, military operations and maintenance.
Pros
Durable

Flexible

Ideal CBRN protection

Available in a wide range of sizes including children as young as four years old.

Unlimited shelf life
Cons
Where to buy: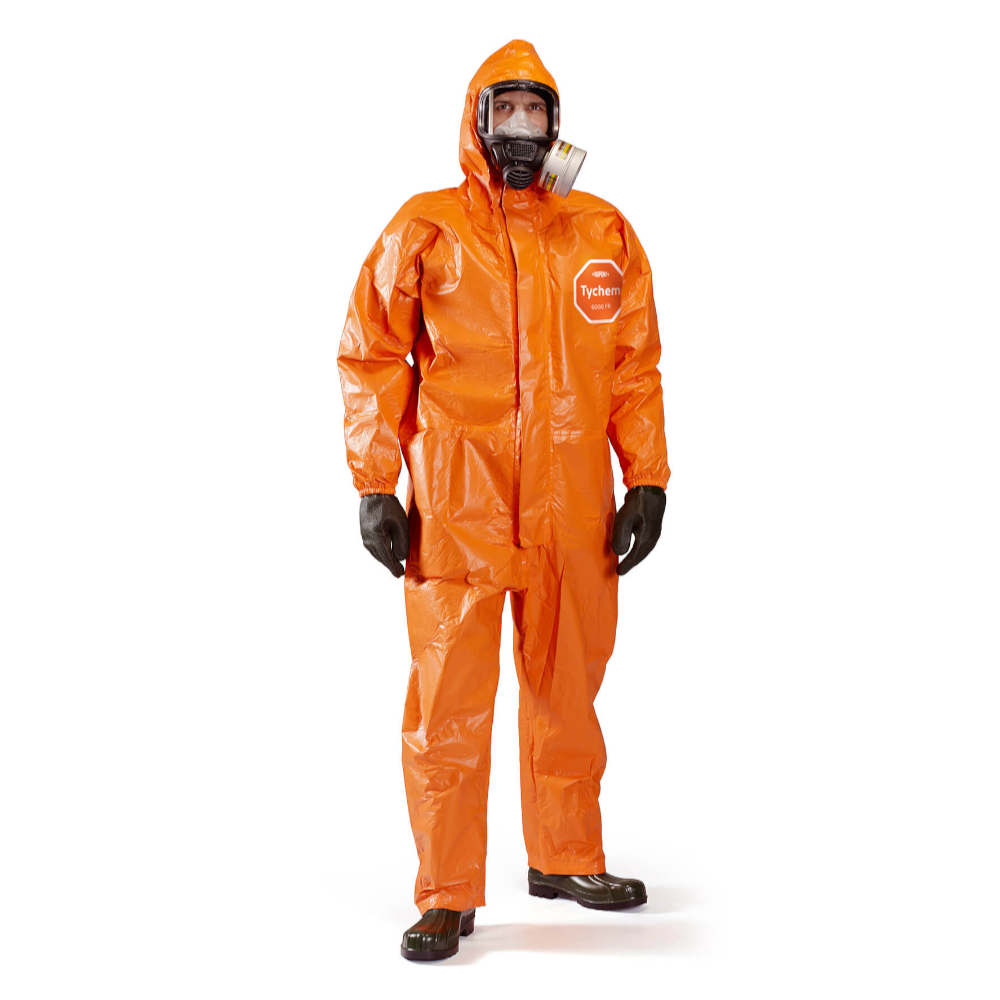 This is a well-thought-out product so that the decision to create this suit in bright orange has a practical reason. This is so that other people can spot each other in case they have to navigate risky areas in the dark. The suit is a hooded coverall. The hood is respirator-fit that can be adjusted through drawstrings. The wrists have elastics on them to ensure sealed sleeves. The zipper goes up to the chin for lower chance of penetration. DuPont uses its own trademarked Nomex thread for added protection.
This suit protects users from a variety of hazardous materials including liquid-chemical splash, flash fire and electric arc. You know this from the trademarked materials used: Tychem, which is a leading protective material against various chemicals, and Nomex, which is usually used as thermal or arc protection. The product has passed various standard tests against heat and flame, electric arc, and welding and allied processes. It has also passed requirements from the National Fire Protection Association.
DuPont
aims to make the world a safer place to live in by manufacturing protective equipment. It takes pride in its scientific research that led to various inventions that revolutionized the creation of PPEs.
Pros
Respirator-fit hood

Elastics on wrists

Certifications: EN ISO 11612, EN ISO 14116, IEC 61482-2, EN ISO 11611

Certified NFPA 1992, NFPA 2112, NFPA 70E (Category 2)
Cons
Shelf life is only 5 years

Open ankles

Where to buy:
Dräger features three products in its SPC 4X00 lineup. This model features liquid-tight splash suits that protects users from the finest hazardous particles. The suit has been tested against a wide variety of organic liquid chemicals including those in power form and alkaline solutions. This lineup is made from coated CPM and CLF material.
The SPC 4800 has a face cuff that is built into the Dräger CPS that is made to be gas-tight. This way, no kind of vapor will be able to penetrate the facial area of the suit—or anywhere else for that matter. The ergonomic design makes it comfortable to use. The seams of the coverall are also sealed really tightly. It features permanently integrated socks, gloves and cuffs. The suit is zipped at the back. The suit is really light and easy to wear.
Dräger has been creating medical and safety gear since 1889. The brand joins the entire world in fighting COVID-19 but admits that it has been challenging to satisfy the demand for its PPEs. The brand's products have been used in various industries like hospitals, fire departments, emergency response, law enforcement, as well as mining. The company is present in over 190 countries.
Pros
Flexible

Easy to wear

Light

Features gas-tight Dräger CPS

Comfortable

10-year life span (if stored properly)
Cons
Assistance is needed to wear and remove the suit.

Where to buy: