As an Amazon Associate and affiliate with other third parties, Survival Gear for Sale earn from qualifying purchases and display advertisements.
What is 3 ply surgical mask?
A surgical mask covers the wearer's nose and mouth. It will provide a physical barrier and shield to fluids and particulate matters.
It's also known as a procedure, medical or face mask that was originally made and designed to protect health professionals against contamination.
Surgical masks are popularly used by everyone nowadays. They usually come in two types: the flat pleated one or duck-billed in shape that will conform to the bridge of the nose with a flexible nose-piece and can have ties or elastic earloops in them and the second type is the pre-molded type that conforms to the bridge of the nose again with a nose piece and elastic earloops.
It also has demonstrated filtration efficiency and fluid resistance required by the FDA. The 3 ply surgical mask is the recommended mask against harmful airborne particulates. It is as good as or better than any other mask it currently has on the market today.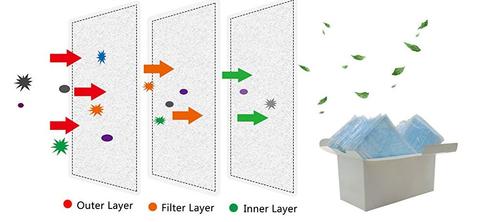 Source: digihubspot.com
A 3 ply surgical mask consists of three layers of protection. 
The outer layer is made from a hydrophobic non-woven material that's water, blood and fluid resistant.
The middle layer is made from melt-blown cloth material that's the filter against bacteria and can filter water droplets and moisture too.
The inner layer is from soft absorbent non-woven material that can absorb water, sweat, and spit.
What can a 3 ply surgical mask protect you from?
It can protect the user from hazards, such as splashes of large droplets of blood or body fluids.
A 3ply surgical mask can also protect other people against infection from the person wearing the surgical mask because it can trap large particles of body fluids that may contain bacteria or viruses emitted by the user.
It can limit the spread of infectious respiratory secretions among people.
This mask can keep contaminated fingers and hands away from the mouth and nose.
It greatly reduces the transfer of respiratory droplets to others.
It can efficiently block blood or other potentially infectious materials from reaching the user's skin, mouth, or mucous membranes.
You'll be safe because it keeps droplets and larger particles from being inhaled by you.
After Thoughts
It would be secure protection on your part to choose a 3 ply surgical mask that has a melt-blown material in the middle layer to be able to filter and to stop the microbes from entering or exiting your mask.
You can find 3 ply surgical mask on Amazon.