Kids Best Plastic and Wooden Outdoor Playhouse with Slide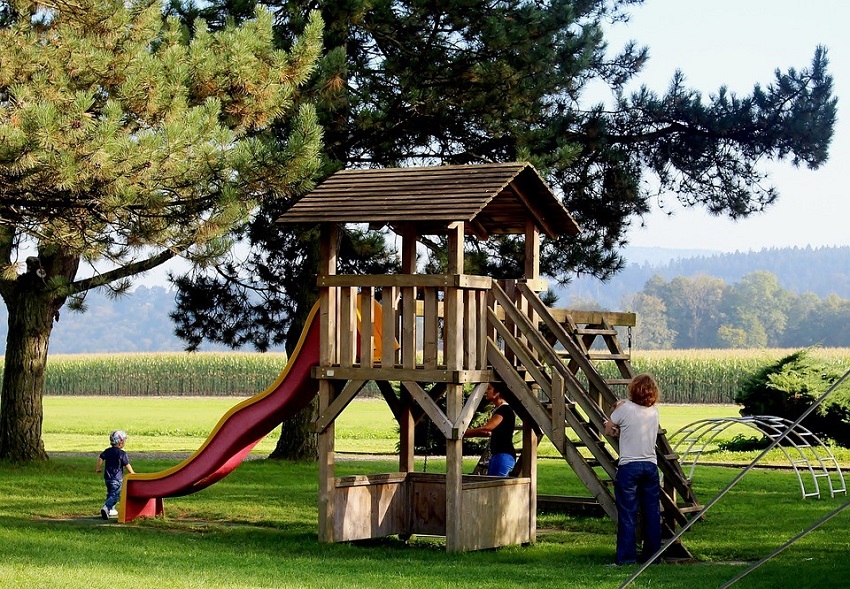 A healthy and full of thrill playtime adventure for children will always most likely include a slide. One of the most popular attraction to any outdoor playhouse. It's a very enjoyable and convenient play equipment to have around. Parents can enjoy watching their kids go on the slide within their backyard. No more trips to the park or driving to the nearest playground.
A slide is consisted of a raised platform and a ramp which is known as a chute. It's where the children slide over and over again to their endless delight. There are two orientations of a slide:
Free standing slides - Slides that are not attached to any other structure. It is standing alone on its own.
Composite slides - Slides that are connected to another structure like an outdoor playhouse and other playground equipment.
Slides are usually made out of stainless steel, and plastic for that very smooth surface. There are major designs for slides. They are namely: straight, wavy, spiral, parallel or side-by side, and the tunnel.
What's more thrilling is it can come with different types of playhouse. Feel free to choose between a wooden playhouse with slide and a plastic playhouse with slide. See and compare which one will be greatly appreciated by the kids. 
Investing in an outdoor playhouse with slide is a very smart move for every parent. Slides have a lot of advantages and beneficial attributes in them.
Here's a list of advantages of slides:
It's a great source of good exercise for children. They develop their balance and coordination. They also learn about timing. They know when the right time is to slide and have a good landing both the feet on the ground. They gain upper and lower body strength. Their exposure to the sun gives them a dose of Vitamin D.
It is a perfect way to foster good camaraderie among children. They learn positive values such as: courtesy, patience, tolerance, cooperation, and sharing. Their social interaction with other kids teaches them how the right attitudes in dealing with others.
Kids' brain develops from 0-6 years old. Their exposure to active play like sliding develops their motor activities and sensory experiences. They also start gaining confidence and self-esteem in believing that they can do these activities.
Strengthens the Immune System
Being in the outdsmoor helps the children in strengthening their immune system. Our bodies need bacteria too that are not harmful. A study showed that children being exposed to mud, dirt, and the outdoor can actually be good for them. It can build their body resistance and make them less susceptible to illness.
A children's outdoor playhouse with slide is simply irresistible to almost all kids. Kids anticipate their turn to go on that slide! Here are some playhouse slides that kids find most thrilling!
Playhouse Slides
There are a lot of varieties of a plastic slide for an outdoor play house for kids. There is always an option to choose from.

Image source: Swing-N-Slide.com

Image source: Swing-N-Slide.com

Image source: Playstarinc.com
Swing-N-Slide Side Winder Slide

Image source: Swing-N-Slide.com
SLIDEWHIZZER Free Standing Slide

Image Source: amazon.com
Let's find out what are the best plastic and wooden playhouses with slide.
Starting off with childrens plastic playhouse with slide and what are the factors that can lead you to purchase one.
The biggest manufactures in the market are Little Tikes and Step 2. They produce and manufacture a huge chunk of plastic playhouses. They cater to the same target buyers and they offer almost the same quality products.
Generally, indoor and outdoor plastic playhouses are designed to cater to pre-school kids.
The dimensions and sizes of a kid's plastic playhouse has a recommendation to up what extent only. This is the reason that it is more appropriate for younger and smaller kids. 
There lies the difference between kids' outdoor playhouse made from wood and plastic.
For our list, here is a rundown of outdoor plastic playhouse with slide that we can bank on.
Best Plastic Outdoor Playhouse with Slide

Image source: Step2
This is a wise buy for kids from 1-4 years old.  A complete package all in this outdoor playhouse. Have a lot of activities to do like: climbing, sliding, and hide & seek adventures. It has the following exciting features such as skylight, windows, two slides, bridge, lookout tunnel, and steering wheel. Parents gave very good feedback on how wonderful it is. The assembly time can be from 2-4 hours. It has the following safety precautions: non-slip steps and sturdy hand rails. There can be 3-5 children that can play all at the same time. It can hold to any weather condition. The slide is approximately 2-3 feet long.
Kids would have loads of fun and tons of joy in this playhouse.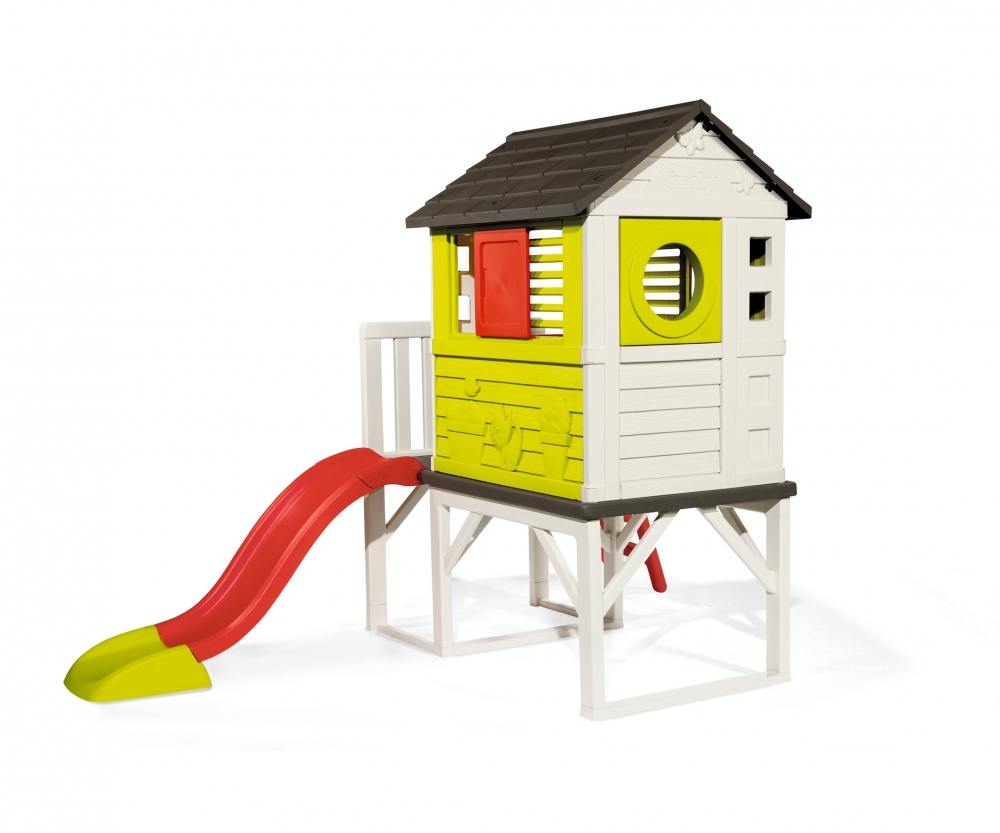 Image source: Smoby
A very attractive outdoor playhouse with slide made of plastic. Highly rated by parents. The plastic material is anti-UV treated. It will make the colors not fade. Can be used by Kids from 2-15 years old. Both super fun and super safe. This is described by others as one of the best. An array of features that will appeal to the children.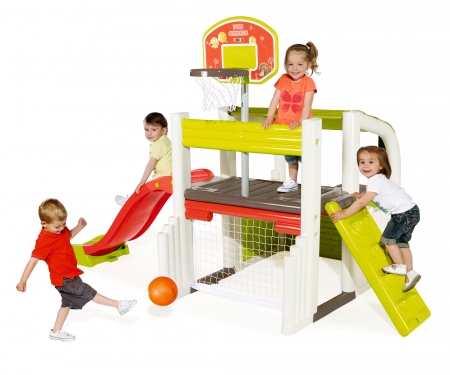 Image source: Smoby.com
A fun playhouse with a lot of sports' surprises. Full of equipment to play, a picnic table with 2 benches and a fabric printed roof, a multi-sports area, basketball net, football cage, 1reversible wall. Comes with a ball. The plastic pieces are Anti-UV treated ensuring a good resistance and long-lasting color. It's very sturdy & stable.
Cheap Plastic Playhouse with Slide
Step2 Play Ball Fun Climber With Slide For Toddlers at Amazon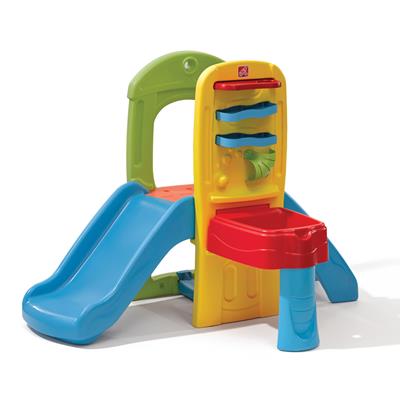 Image Source: Step2
A plastic playhouse for $99 dollars?  Yes, this is possible. This Step 2 cheap fun playhouse is also available in Wayfair and Walmart. Toddlers can easily climb the stairs and slide down the slide. They can also climb under the climber by crawling through through the maze and into the pit. It includes 10 play balls. Children can even hide beneath this cheap climber for lots of fun.
Kids can climb, slide, crawl, throw, and repeat that routine endlessly.  It's inexpensive and pretty simple to put together. It can be placed in a room but it's great for outside too and the ball catcher has a drain plug if it starts to rain!
Check our link for an easy on the money cheap playhouses.
Best Toy Playhouse with Slide for kids - Multicolor

Image source: moveandstic.net
Move and stic is weatherproof. It is made of high-quality, UV resistant, recyclable plastic. Easy to maintain. Colorful and can brighten up your mood anytime. The fun will be limitless in this very awesome structure.
Let your child enjoy this best toy playhouse with slide. Kids will enjoy this multicolor playhouse every time they play!
Plastic Pirate Ship Playhouse with a Slide
Step2 Pirate's Cove Climber & Slide Kids Play Set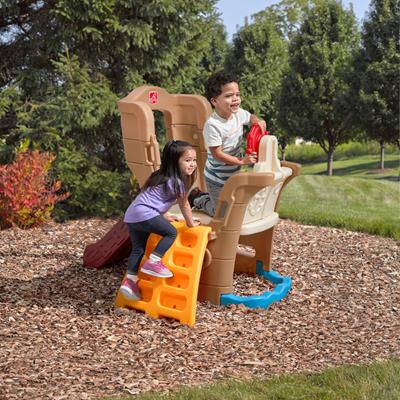 Image Source: Step2
This is a pretty neat plastics pirate ship inspired playhouse and climber with a slide. It attractively features nautical and pirate detailing to enhance imaginations and pretend play. The play slide doubles as the pirate ship's plank. It's an easy-up climber that allows every kid's safely reach the top. There's also a captain's wheel that allows the junior Pirates to plan their path ahead. There's also a deck for that additional pretend play fun on the high-seas
Sail and say Ahoy Matey in this plastic pirate ship playhouse. The reviews accurately say that the slide and whole structure is 100% secure and useable. The screws secure the slide and sides to the base
There are a lot of diversely designed kids' outdoor plastic playhouse. Check more options in our previous link.
Specific Benefits of a Plastic Outdoor Playhouse with Slide
There are benefits of plastic playhouses with slides that can't be found in other outdoor playhouse and slides especially in a wooden playhouse. Here they are:
They are much easier to maintain and clean
It's easier to move it from one location to another or from a house to another house location
Since it is smaller, some kids will outgrow from it but it won't be a waste since you can resell it faster, you can give it to your relatives and family or to your friends with little kids
It's cheaper
How about an outdoor wooden playhouse with slide? What are its strengths and features that are enticing? 
There are quite a number of charming childrens wooden playhouses with slide that are available. This type wooden playhouse with slide comes in a variety of styles, prices and added amenities. There's not a lot of smaller wood playhouses with slide though in the market. 
It's a wise decision to purchase a kids wooden playhouse with slide since it can be long lasting. The kids until their pre-teen to teen years can definitely enjoy it. Just remember to have enough space, know the details about the setting up and even the anchoring of a wooden playhouse with slide. If all areas are covered then you can choose the best wooden playhouse with slide for your kid!
Best Wooden Outdoor Playhouse with Slide
A very good deal for your money. What more can you ask for with this wooden playhouse with slide and swing? It can even occupy up to 6 children all at once. The recommended age range is from 5-12 years old. 100% made from premium cedar lumber. This comes with a high-rail wave slide, swing set, and a sandbox underneath more extensive play.

Image source: backyarddiscovery.com
One of the best choices in the market today.  Surely an amazing wooden playhouse with slide that will hold up to 10 children with a maximum of 110 per child. Equipped with a 12' Twist N' Ride tube slide. Aside from that, it also comes with two swings and a glider good for 1-2 children. Pretty neat package for the kids! Made from top grade cedar lumber. This is also a perfect playhouse with tube slide in the market.
Make this backyard playhouse with slide an addition to your kids' everyday fare for active fun and play.

Image source: BillyOh.com
A superb outdoor playhouse with slide. It has a raised tower design that makes it unique and exciting. Suitable for children from 3-7 years old. Has an apex wood design with black sand felt for utmost protection for any type of weather. All panels were pre-treated for more lasting use. Ideally sized of playhouse.
Best Playhouse with Slide
This cedar playhouse / playset with slide is the best in the market today. After going through different ones, I highly recommend this for the following basis: money wise, it's worth its price and it's priced below others of its kind, it's a highly rated one with good reviews, it has just the right size but it's full of features that includes a wave slide, and it's simply awesome. This children's outdoor playhouse with slide will have my two-thumbs up!
A playhouse with slide will bring lots of laughter to the face of your child, children or grandchildren, and they also make outdoor play more fun and exciting! A kids' outdoor wooden playhouse will really make a different in any child's life! 
Definitely you'll never go wrong with a playhouse with slide any given day!

Image Source: Creative Cedar Designs
Outdoor Playhouse on Stilts

Image source: fatmoose.co.uk
This playhouse comes with double swing, slide and large sand pit. It has an XXL climbing frame in brightly colored design and has a complete accessory set.  It's also quality tested and guaranteed to be safe. This wood playhouse with slide on stilts has a 10 year warranty for all its wooden parts.
This wood outdoor playhouse is so easy to care of and it's made from high pressure timber wood. 
Kids will get to experience a different take of a playhouse and slide on a stilts!
Small Playhouse with Slide
This is a highly recommended small playhouse with slide for toddlers. This will keep your little ones busy and happy for hours! This cute toddler playhouse with slide features secret passageways, a slide and hideaway. Toddlers will definitely have loads of fun here! 
Recommended for toddlers from 1-4 years of age. Toddlers will have a grand time climbing, sliding and crawling
Best Toddler Playhouse with Slide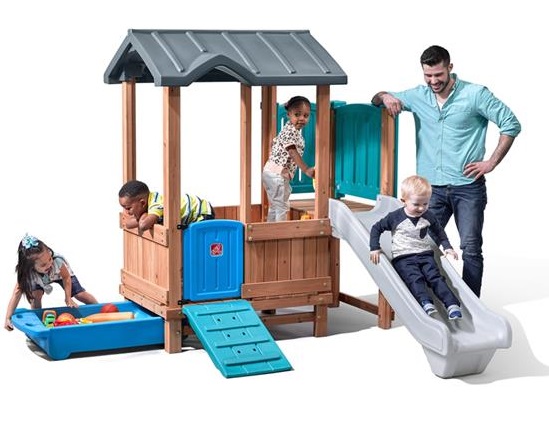 Image source: Step 2
This amazing kids playhouse with slides for toddlers is exemplary so cool. Why? Simply because you can use it as a cottage, a castle or as a pirate ship. The kids imagination can be infinite. It even made from mixed materials hence its uniqueness. It's primary material is wood that adds to that traditional over-all look. It's combined with colourful plastic parts that are non-toxic and safe for kids. This Steep 2 outdoor playhouse with slides will be a great addition to any backyard. This best playhouse for toddler will last for a great deal of time!
A unique mixture of wood and plastic playhouse with slide that will surely make the toddlers busy most of the time!
Little Tikes Rock Climber & Slide
Another worth recommending is this large and adventurous toddler playhouse climber that has an adjustable slide and a high safety rail on its platform for safety. It's both an easy climb for the smaller kids and a bit of a challenge for bigger kids. There are two large climbing walls that separates the climbing walls.
It also comes with three crawl tunnels for an original design and more thrill. A telescope and steering wheel can also be added for additional imaginative play.
It has a great size and really is a very cool playground!  It can be used indoor and outdoor. It's a perfect way to keep any toddler busy. It only takes a couple of hours to put it all together. The directions are straightforward, easy and it's well worth the effort. It's just perfect for any small corner of the garden or any room for that matter. This playhouse design is even reasonably priced. 
There are a lot more wonderful choices to choose from for the best playhouse for toddler. 
Do check also our feature article on outdoor playhouse for 4 year old and above in this link.
Outdoor Playhouse with Stainless Steel Childrens Slide
There are companies who customized stainless steel children slides. It's rarely that you can purchase a playhouse with a stainless steel slide. This slide can sometimes be purchased as part of a metal playset.
Although at times, the ones that are incorporated in the playset is not made of stainless. General Recreation is a company based in the US. Please check their website to familiarize yourself what designs and styles of stainless steel slides they offer.
https://www.generalrecreationinc.com/stainless-steel-slides/
Indoor Playhouse with Slide
Step2 Naturally Playful Woodland Climber - Kids Durable Plastic Slides and Climbers, Multicolor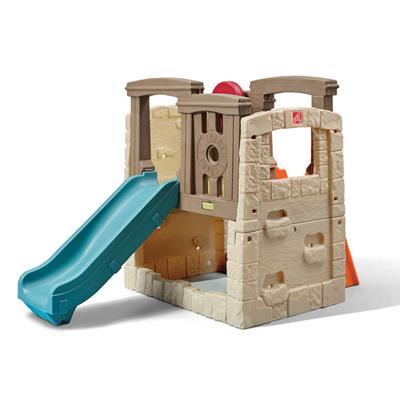 Image Source: Step2
Worried not having enough space for an indoor playhouse with a slide? No need to be. Here is the perfect indoor playhouse with slide that includes:  2 steering wheels, 2 rock wall like climbing sides, slide, platform play area and an optional sandbox area underneath. This is a pretty model that is durable and can outlast through the years! It can blend well into any residential as well as commercial setting with its beautiful natural colors and look.  The chute-like slide and ladder with realistic grainy wood finish is a winner in looks and fun. You can see some commercial establishments that has a play house to keep the children entertained while out with their parents.
The slide is long enough for any kid's feet to don't instantly hit the ground. The ladder is easy to scale and this playhouse thing is really compact. Anyone who has put together any Ikea furniture can handle this easily.
Indoor Play Set with Slide
Wedanta Indoor Playground - Jungle Gym - Monkey Bars - Play Structure - Backyard Playsets for Kids and Toddlers

Image Source: Amazon
This is one wonderful and refreshing option for an indoor playhouse and play set. It's an indoor kids playground for 1 to 5 year, that has all activity elements, and climbing toys that are appropriately sized for toddlers. The play house is very easy to assemble and have a monkey bar indoor for kids and young children.
Kids can play safely and it's made from high-quality wood that is natural and eco-friendly. It's painted with toxic free paints for toddlers to enjoy! It promises bunch and loads of fun!
This is an absolutely wonderful indoor playground for toddlers especially if you live in an apartment. This will fit just perfectly fine. It does not take too much space either. It has nice bright colors and the adjustable slide is great too. 
Commonly asked questions about an outdoor playhouse with slide
Why do children love an outdoor playhouse with slide?
Children simply loves slides because it's one activity that doesn't need to be thought of. It doesn't demand any skill to be able to use it. Just to enjoy it is enough reason to love it.
Why are slides always brightly colored?
Ever wonder why slides come in bright colors? The answer is to make them coordinated with other playhouse amenities.
What should be the length of the slide?
The length of the slide should always be twice the deck height. An example would be, if your deck is 5 feet in height, so slide should be 10 feet.
What is the right angle of the slide?
The right angle for safety and fun-filled sliding is between 30-45 degrees. It should not exceed 50 degrees at all.
What is the right way to connect a slide to a platform?
Slide mounting will depend with what is the type of your slide. Read the instruction manual for safe mounting. There are two conventional ways to mount a slide.
Residential slides have protruding lip on the deck. They have holes that can be drilled and can be bolted into the deck.
Commercial slides needs a slide mounting kit for metal decks and Z and L brackets for wooden decks.
I truly believe that a dominant number of adults and children alike had experienced the ultimate fun in sliding in the slides a great number of times. One's childhood is never complete without the slide. 
Your playhouse will never be enough without an outdoor playhouse slide. An outdoor slide is considered an integral part of the best kids outdoor playhouse. 
An outdoor playhouse with slide will continue to be a source of fun, thrill, excitement, and laughter to all children. It's definitely here to stay!