Plastic Outdoor Playhouse (Always a hit for the kids to play with!)
There are two popular options for an outdoor playhouse, it's either you go with a plastic or wooden playhouse. Both are great but choosing the best for your child will be dependent on your final decision. An on point description is that a plastic playhouse is comparable to a starter home whereas, a wooden playhouse is to a forever home.
Advantages of Kids Outdoor Plastic Playhouse
A plastic outdoor playhouse is primarily suited for toddlers and smaller children. The designs are for younger aged kids. The older children might see a plastic playhouse just like a big toy. If you're buying your small child her/ his first playhouse, a plastic one is your best bet! 
Generally, they are also durable and can outlast the toddler years. The good thing is you can hand it down to your next kid. It can also be reused by someone who can enjoy it if your child already outgrows it.
There are positives qualities for children to play with a plastic outdoor playhouse. It will definitely guide you in your choice. They are as follows:
Cheaper 
Smaller
Easier to set-up
Can be easily dismantled
Can be moved from indoor to outdoor and vice versa
Lightweight
Portable enough
Doesn't need a base or foundation
Softer thus safer from injuries
Simpler less complex structure or design
Easier to clean and to maintain
Has a lot of themed design good for imaginative play role-playing 
Durability wise, it is but it can't compare to wood in the long run. On the other hand, here are more guidelines to ensure the longevity of a plastic outdoor playhouse:
Avoid putting your plastic playhouse in an area with direct sunlight. It will cause the fading of the color. Put it in a more shaded area but not below a tree. There might be bugs, spiders, or insects that might go inside the playhouse. Also avoid an area that is prone to water build-up to avoid the children having muddy footwear. 
It is also not advisable that a plastic playhouse be exposed to too much coldness. There are waterproof cover for playhouse available in the market or you can store it somewhere in the house. This option is a good way to keep any playhouse or furniture shielded from the heat, cold or rain.
Have a routine check for mildew build-up a couple of times a year.  The solution is to clean using one part bleach to ten parts water. Another thing is to check the screws once in a while. See if there are loose screws to avoid accidents.
The best cleaning solution for a plastic one is simply water and mild detergent. Wash and wipe it using this method. A secret way to make it look new, shiny, and brand new is wiping it using a water-based protectant. Just avoid areas that need to be climbed or are not supposed to be slippery.
You can paint your plastic outdoor playhouse just in case you would like to do a make-over or have it painted, and its colors had faded. Recommendation would be, special kind spray paints like Rustoleum 2x Painter's Touch in satin, and UV Krylon UV Resistant Spray Paint. 
Best Plastic Outdoor Playhouse
You can find some of the top rating plastic outdoor playhouses at Amazon.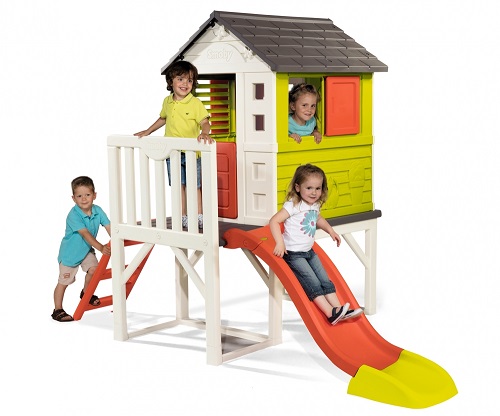 Image Source: Smoby Kids
A very attractive and colorful playhouse. It has a raised platform about 70 cm. It's finely structured with a ladder and slide. Designed for multi-activity among friends. An added feature is it's UV treated to make it sturdy. It comes with windows, a porthole window, a barn-style door, and sliding shutters. It also has a mailbox. 
The kids will have a lot of fun in this spacious playhouse. They will have exciting times going up the ladder and sliding through the slide. They can spend endless of rounds doing this. It is waterproof too. The playhouse can be used by kids from 2-8 years old. Siblings can play together here too.
Truly an ideal durable plastic children playhouse with slide!
Pros:
Easy to assemble
High quality
Very stable
It's durable
It is suitable for indoor and outdoor use
Has very nice and attractive colors
Cons:
No negative reviews so far
Check our link for more exciting playhouses with slides.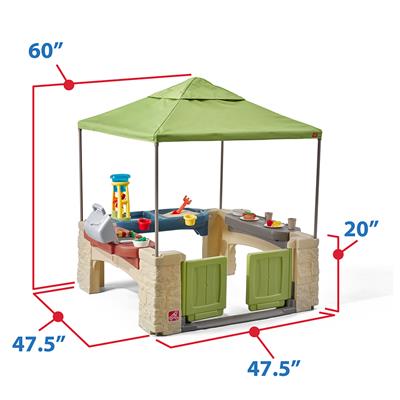 Image Source: Step2
An open pavilion style of kids garden playhouse. It has a fresh take on an open space playhouse. Includes a kitchen and grill with sink and a swivel faucet. A grilling activity can be part of the imaginative play. An outdoor playhouse with grill adds to the kids fun activities each day. There is a sand and water play area too for some water fun! Also a snack table that includes a dish set for realistic kitchen setting plays. This innovative plastic playhouse with kitchen will definitely amuse and keep the kids busy! The interior is roomy and has a high canopy for that airy ambience. Very good for role playing, interactive plays, and social bonding. For age group 2-8 years old. Another plus factor is it's a reasonably priced plastic garden playhouse.
Pros:
Very easy to put together 
The kids can play both on the inside and outside of it
It comes with the water and sand toys as well as a few grill items
It is extremely sturdy
It comes with clear directions
Includes a mesh bag and hook for storing extra things to avoid misplacing them
It can hold up through a gusty thunderstorm even without the screws
Very easy to clean
Has an excellent height. 
Multiple kids can play together at the same time.
Cons:
It would be better if the sink have a drain like what the sand and water sections have.
It requires an electric drill to insert the screws but there are no holes to insert them into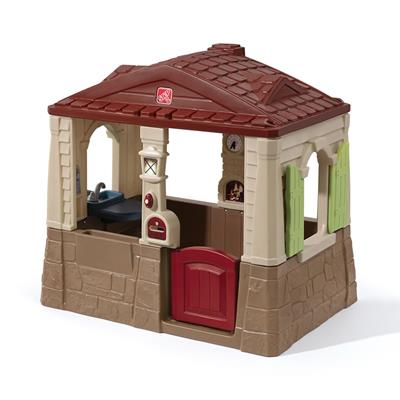 Image Source: Step2
Another open space concept, which is a hit among children. It also has a very reasonable price to it. Definitely a steal! Durable and very easy to maintain. 
It comes with functional Dutch doors and plastic windows for playhouse that has shutters too. What more, it comes with a mailbox, a working doorbell, and a lot of on-goings in the interior.
Nice looking using earth colors. A feast in the eyes. This is truly a bargain to what it can offer for a great price. Worth every penny!

Image Source: LittleTikes.com
This little tikes outdoor playhouse is an entry-level kind of playhouse. It is suited for smaller kids. Lightweight and it's compact. Good for 1-3 toddlers to have fun, explore, and learn in the outdoor.
They can go around it, inside it, and use it as their first melting pot. It has that miniature house look complete with a mail slot, flag holder, house number, and doors and windows that are functioning.
Pros:
It's only less than 30 min to set up
The directions are very clear
The material is thick
Made from high-quality plastic
The doors and windows function smoothly
The overall look is not cheap 
Has very cute details
Has a  great price and worth every penny
Durable
It's available in a color theme that are not too bright
Comes with a little plastic tool to assemble almost 95% of it.
Cons:
The flag is not included like what is shown in the picture
The stickers needs a little fixing to be straight enough
An amenity can be added to this cute playhouse. A little tikes slides side-by-side this playhouse will double the fun and excitement in outdoor play!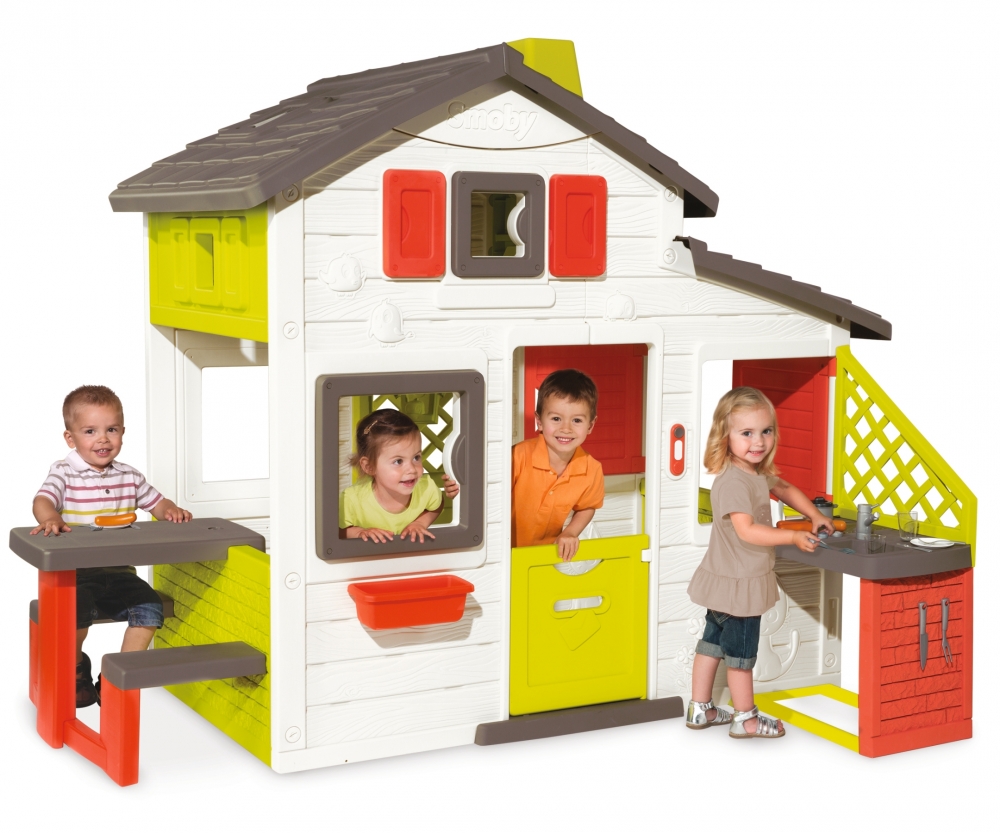 Image Source: Smoby.com
This is an ideal hang-out place for the clique. The gang will definitely give this plastic outdoor playhouse with kitchen a thumbs up! One of the best playhouses in the market today. Has multiple spaces for fun and games! This includes the main playhouse, kitchen, breakfast bar, and even a secret passageway. This will leave your kid wanting to play more.
This playhouse for kids has windows, shutters, removable picnic area, table, outside bench, and an inside bench. Also an electronic doorbell for realistic play. The flower pots give it the homey atmosphere. The kitchen consists of a grill and sink. It is also complete with utensils to use for that interactive plays! Added bonus is the waterproofing plus it's UV protected. This is quite a tall order that is hard to follow!
Pros:
One person can put it together in a few hours
Instructions are clear and good
Durable and it feels solid when put together
The doors and shutters swing open and close very nicely and smoothly
Comes with a realistic  kitchen with  a the cooker 
Colorful
Roomy
Comes with utensils
Cons:
No negative reviews so far

Image Source: LittleTikes.com
Another super fun little tikes outdoor playhouse. Your kid will be impressed in this plastic made outdoor playhouse. Nicely designed and conceptualized. Equipped with Pull up chair and table for a picnic adventure. Can have pretend play of cooking and use the window of the playhouse to pass meals from the kitchen to the outside. It has a kitchenette with play burners, oven, cupboards, and fireplace. The little tikes kitchen is truly amazing with all these accessories. It has everything for a very realistic role-play!
There is also a purple tray to cover the other half of the basin and keep it covered up when play time fun is finished. This is for age group 1½-4 years old.
Pros:
The playhouse comes with a picnic table and little benches
Excellent quality 
Very durable 
Little tikes plastic playhouse can maintain their appeal  
They have high resell value
It's open and airy
Comes with a lot of extras
It's the right size for young children
Fantastic playhouse
Worth the money
Cons:
The stickers for play stove are can peel off 
There are also no holes for the screws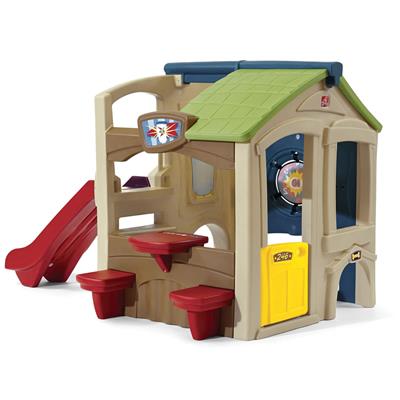 This is a better option than a small plastic playhouse with slide. This is larger in size and can have multiple activities all at the same time. The kids will be busy doing a lot of different things. There is an activity wall includes hook and loop-ball target and ring toss, two fun entrances, a Dutch door and crawling space through the portal. A counter top table with seats. It even comes with balls, and rings! Good for kids ages 2-up.
Pros:
High quality
The walls can be connected together easily
It is very durable 
Has little games on the side are great
It's easy to put together
Solid and well-made
Roomy
Cons:
The toss poles can come out easily 
The slide has a very small top landing
Check all the edges after assembling for safety

Image Source: ECR4Kids.com
This outdoor playhouse castle has a petite design but not short of very exciting features. It has the following to offer: two turrets with noble flags, windows that open and close easily, has an opening in the back with built-in table for art and doodling time, a functioning doorbell with fancy tunes and sounds, and a mail slot to any letter or invitation for the little princess.
There is a lot the kids can do in this magical little castle. They can draw, have their sacks, take a nap, play and just chill and hang out here. Other fun features include a musical door handle, pretend clock and plenty of details fit for royalty.
Pros:
Very attractive and enticing
Scratch resistant
Colorful
The plastic edges are rounded for safety
Certified for minimal chemical emissions into indoor air
Safe
It's weather- and fade-resistant
Reasonably priced
Cons:
No negative reviews so far

Image Source: Amazon
Another plastic children playhouse with slide. This playhouse has a second story and the slide is extra-long that can provide a fast touchdown to the landing area. It has these come-ons: a ground level that features a working Dutch door, an electronic door bell,  kitchenette,  an inside ladder that will allow the children to climb the second story, a fort-like and open slots on the second floor to give a lot of room for more imaginative plays. A good multi-level playhouse that can have fun for endless hours. They can even cook and enjoy a meal or two at the ground floor and use the inside ladder for pretend play, sliding and climbing to the second floor. This is a top notch childrens plastic playhouse with slide.
Pros:
It's very sturdy
It's safe and secure
It doesn't take too much space in the backyard
It's well made
It's a two story house and kind of different from the other playhouses out there
Has enough interactive areas that my kids stay busy for a long time
The slide is tall, which is great for a 5 year old kid
The kids can park their play cars underneath it and use as a garage
There are plenty of awesome add-ons
Even the second floor is secure
The ladder very secured and safe in a side wall which helps them stay anchored when the children are climbing
Cons:
It can be a little challenging to put it together
Best Paint for Outdoor Plastic Playhouse
Some parents want the kids plastic playhouse and the slide to be brightly colored. Painting outdoor plastic slide is doable and possible. Suggested paint to use is a Universal Paint and Primer in One from Rustoleum.  It covers any surface, from any angle and was perfect for any slide repainting. The Rustoleum spray paint is the best suited paint for any outdoor plastic playhouse.
On the other hand, the best paint for outdoor wood playhouse is a water-based paint because it is easier to apply, dries faster and can aid in preventing problems with moisture. In some cases, if the wooden playhouse was previously painted with an oil based paint the you need to also repaint it with an oil based paint.
Brands of Plastic Paint
There are proven and reliable brands that are being used to paint or repaint any plastic outdoor playhouse or slide. The tested brands are Rustoleum and Krylon.
These major brand of paints are available in spray paint.  A lot of different spray paints from them can be used for plastic namely:
Rustoleum Plastic Primer
Rustoleum 2x Ultra Cover
Rustoleum Plastic
Krylon Fusion for Plastic
Rustoleum 2x Primer
The Rustoleum 2x spray paint colors have a variety in them. There is also the Rustoleum waterproof paint for plastic. With Krylon plastic paint, one of the most popular one is the Krylon purple spray paint for a more colourful playhouse. They also have the Ktylon satin spray paint if you want a different effect on the final look or finish of your DIY plastic playhouse painting.
It's highly recommended to use a primer first before repainting or painting any plastic outdoor playhouse. Both these brands are available in Amazon. 
Storing Your Plastic Paint
It's very important to be always safe. This also applies to storing your paints for plastic properly. The best place to store them is in an area where there is controlled temperature. It means it doesn't get too hot or too cold in that area.
Spray paints are combustible and dangerous when exposed to too more heat or cold. One place to put them into storage is in the basement. Put them neatly in a box and properly label them. 
The ideal would be is to have it correctly estimated and know just how many spray paints you would need to prime and for the full coverage of the playhouse.
This is the safest and more secure thing to do. There will be no need for storing unused and excess spray paints.
https://spraypaint.rustoleum.com/products/universal-gloss-spray-paint?ls=245213&lc=Gloss%20Canary%20Yellow
How to paint an outdoor playhouse slide
There are easy steps to paint your playhouse slide. Firstly, clean it thoroughly with water and mild detergent or soap. Wipe it with a water absorbing cloth and let it fully dry. When you're sure it's 100% dry, apply the primer first. Let it dry. Next is to spray it with paint using Rustoleum or Krylon. It will take several light coats before you can achieve the full paint coverage in the slide. This will give you a smooth and clean finish afterwards. There is no need for a sealer. Let it day and the slide is ready!
Use a face mask for your safety while painting.
Is it important to have an outdoor playhouse base?
All playhouses need a base somehow but a kids plastic playhouse doesn't necessarily need a permanent base. If you're placing it onto grass, just keep the grass well-trimmed and to maintain it from time to time. It's unlike a big wooden playhouse that needs a base to ensure a nice level surface. You can use deck interlocking tiles or rubberized mats if you really would like to put a base for plastic playhouse.
BalanceFrom Puzzle Exercise Mat with EVA Foam Interlocking Tiles
RevTime Modular Interlocking Deck Tile
It's unlike a big wooden playhouse that needs a base to ensure a nice level surface. 
Although a small wooden playhouse will be fine without a base, it's still a must to treat the bottom of each playhouse panel with waterproof wood preserver to prevent the water and moist from the grass penetrating into the wood. 
The best would still be to place a wooden base on the grass before placing the playhouse to protect the wooden playhouse.
What can I use as an outdoor playhouse cover?
There is not much outdoor playhouse cover available in the market. Good replacements are shed covers, garage covers, and firewood shed covers. Another option can be metered tarp cloth that you can buy to cover any outdoor playhouse. The tarp cloth is available in your nearest hardware store or DIY store. Please do check the links provided below.
Best outdoor Playhouse Cover at Alibaba.com
ShelterLogic Firewood Seasoning Shed
High quality tarps at Ace Hardware
Are there available waterproof outdoor playhouses?
Fortunately, there are. For the plastic ones, all little tikes playhouses are waterproofed. As for the wooden playhouses, some are waterproofed. The best waterproofing DIY are acrylic liquid waterproofing and clear waterproofing sealer.
Kids Plastic Picnic Tables 
There are some plastic playhouses that comes with a connected picnic table in them while a great majority don't. There are picnic tables separately sold in the market. There are some with an umbrella and the older models don't have. Here are two highly rated picnic tables that will be a great addition to any outdoor plastic playhouse. 
This attractive and very durable Little Tikes picnic table can seat up to 6 kids. The design and features include two cups holder in the center of the table, a tray for crayons or things and a center hole for an umbrella which comes in the package. There are no tools needed to set it up or to take it down. The picnic table can be used outdoor and indoor. The table unlocks and can be folded for easier portability and storage. 
Pros:
Very durable
Nicely colored
Provides the perfect shade for the kids
The umbrella is also sturdy
Great picnic table
Cons:
It's a junior sized one and not a full sized picnic table
One more picnic kids plastic picnic table.  Your kid and his / her friends can enjoy this picnic table that has two wide benches with spacious seating to accommodate up to six children, a 5' large umbrella, so to give that needed shade during those afternoons. It's made from highly durable plastic. A very useful feature is that, it has a weatherproofed seating function to ensure that it will last for the longest time. The finish has a stone and wood grain texture to it. The set has an earthly and it will give you the relaxing ambiance. It's simple and yet a very charming picnic table. It will definitely compliment beautifully to any outdoor setting.
Pros:
The umbrella is large enough to provide plenty of shade
Nice earthly colors
Great little sturdy table easy to assemble
A perfect addition to any backyard for the kids
Easy to put together but it's a lot easier with a cordless drill
Durable
Great quality
Cons:
No negative reviews so far
Good thing there are plastic outdoor playhouses that all the children can experience and treasure them. These best kids playhouses in plastic will greatly influence them in leading happy and joyful playing times. There will always be that perfect fit playhouse for every child to be able to enjoy each moment of growing-up. Each child can enjoy their birth-right to be happy, and that includes having their own playhouse!