Outdoor Playhouse with Swing Set (It's always more fun with swings!)
Searching and shopping around for an outdoor playhouse with swing set can be very challenging and tedious at the same time. There are a lot of options available out there. Parents would only want the best for their kids. A lot of considerations should be taken before deciding on which one is most suited to your kids.
Checklist before buying a playhouse with a swing set
1.
Budget
– Set your budget. How much are you willing to pay for it? If the price is not the issue, you can choose the most equipped one.
2.
Space
– How much space do you have in your backyard. Double check your backyard. The final choice of yours should have the right fit in your backyard. It should compliment the size and should comfortably be used without causing obstruction in the area.
3.
Size
- Choose the ideal size. Would you like a bigger set for a longer use? How many children would you like to be able to use it? Plan ahead. This will narrow down your options for comparison.
4.
Material
- a wood playhouse with a swing set is the best choice for longer usage and durability. Make sure the wood is pre-treated with eco-friendly materials. Cedar wood is the best wood material. Plastic playhouse with swing set is recommended for younger and smaller kids. Another thing to remember, a wood playhouse swing set needs yearly maintenance.
5.
Safety
– This is a very important component in buying an outdoor playset swing set. Ensure it passed all necessary quality requirements. It should include a safety certificate and has a warranty.
Age-appropriate Equipment
A toddler swing set will definitely be a very welcoming play equipment to your kid. There are a lot of options and variations available in the market today. Usually a toddler outdoor playhouse with swing and set slide is best made from plastic.
Toddlers under 2
Swings can be used at this age. There are available baby seats swings in the market. They can also have smaller slides, stairs with few steps. A plastic outdoor playhouse swing set will be best for them.
Little Tikes Hide and Seek Climber and Swing
One of the institutions when it comes to playhouses is the Little Tykes outdoor playhouse.
This small little tikes playhouse with swing offers multiple play options; a slide, a swing, a rock wall and a platform. Designed for toddlers that will encourage them to play outdoors. The little tikes swing set has a three-point safety belt and the rock wall is designed for beginners.
Guaranteed that Little Tikes playhouses will be there in your kids growing-up and nurturing years to come!
Preschoolers 2-5 years old
The small playset is the perfect outdoor playhouse swing set for this age group. Features like slides, stairs, and swing but on the smaller and safer scale for smaller kids. This age group is more active, steadier in their footing, and are more curious to try new activities.
Step2 Play Up Jungle Gym and Kids Swing Set
This swing set will provide these kids with hours of climb and slide fun times. Kids can increase their balance and coordination by climbing, sliding, and swinging. It will never be a dull moment for these kiddos. An added plus factor is its vibrant colors!
Let your kids have ultimate fun with this Step 2 playhouse!
Another great option for kids this age bracket to enjoy is this Little Tikes playset.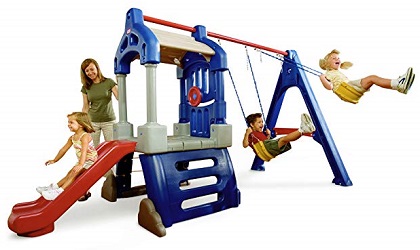 Image Source: Little Tikes
This Little Tikes swing and slide backyard playhouse will ensure your kids with happier playing times.There are two ways to climb in this little tikes climb and slide playhouse with a platform and a clubhouse. The younger kids will have no qualms because this little tikes slide has safety handrails they could hold on to. Definitely a little tikes swing set that is safe, durable and can give so many happy times.
This set includes 2 little tikes outdoor swings with hardware for mounting.
Elementary Schoolers 6-13 years old
This age bracket is more stable, confident, and aware. They are ready for the bigger sized amenities. Although supervision can be given to a 6 years old compared to a full grown 13 years old. 
Shenandoah All Cedar Swing Set
An outdoor playhouse swing set that fits the bill for the bigger kids! This cedar swing sets with slides is perfect for outdoor adventure thrill. Moderately priced, and it's unique. Offers a lower and upper fort to add to its unique style. Recommended for 3-10 years old but can be used until 13 years of age. Made from the dependable cedar wood that is truly premium grade!
High schoolers 14 years old and up
There is actually no age limit if one wants to enjoy some swinging fun outdoor. Actually, for teenagers and adults it's a good stress reliever. The relaxing time, and fresh air are a good relief from all the pressures from like.
For teenagers it can be a quiet time to just chill from schoolwork. It can be a bonding time with a best friend or the whole gang. This wooden swing set and slides will make those afternoons more fun while engaging in these cool amenities.
Another swing set with slide that offers multi-activity super play! Children swing and slide your days gladly with this!
This outdoor wooden playhouse with swings is designed for kids 10 years old and above. Younger kids can use them, but adult supervision is required. It offers an action packed activities to Includes high rail wave slide, belt swings, acrobatic swing, cargo rope climber for wall climbing, sandbox, and a super-durable wooden stake anchor for safety. An outdoor swing set never really fails with kids of all ages!
Have the utmost excitement with this wooden swing and slide set!
How to take care of an outdoor playhouse swing set
Clean - For plastic outdoor playhouse, a scheduled cleaning once in a while. Very basic cleaning materials such as water, and mild detergent, or mild soap. For a wooden outdoor playhouse, make sure to thoroughly clean it and reseal the wood every couple of years interval. Applying a sealant again for updated protection of the wood.
Check the swing set hardware - Always have a random checking in all the hardware of your playset. Check the bolts, amenities, and equipment. Make sure everything is on their top condition. Tighten the bolts if necessary. 
Best Outdoor Playhouse Swing Sets 
This kids wooden swing set offers all amenities in one! This includes pre-cut stained wood, fast, and easy bracket system, slides, rock climbing wall with eight climbing rocks, monkey bars, swings with UV plastic dipped chain. Has a swing set glider, roaring wood roof with sunburst gable. Also a turbo tube slide and a green sidewinder slide. With a lifetime warranty against cracks and breaks. Suitable for kids from 3-10 years old.
Solely for residential use only. Made from renewable domestic southern yellow pine lumber. It's pre-treated and ensures longevity and durability of the structure. Definitely a winner and a great buy. The design even looks fab! Standout features include built in picnic table, monkey bars, and rock climbing wall. It also has a trapeze! Already pre-stained and met all toughest safety standards.
Another sure-fire winner when it comes to wooden swing sets. This has become a new favorite! Highly rated for its upper clubhouse with wooden roof, play clock with moveable hour hands, café table, and bench, monkey bars, rock wall with colorful rocks, swings, and slides. It's very nice looking and it's very easy to assemble. Has premium windows that are beautiful. Recommended for kids 3 years and up.
A swing set with a huge upper fort, porch, and even a crow's nest. The lower playdeck has swings, trapeze swing, a slide, and a sandbox. Definitely a heavy duty swing set whose fort has a wooden roof. It also has a 5 ft. sun deck. Another unique feature is an elevated tunnel to find your way to the crow's nest. Super reinforced with safety railings around the lower playdeck area where the bench and sandbox are. The 10 feet slide can be used in a jiffy but safe! To complete this ultimate adventure, a rock-climbing wall and a ladder for active play over and over again. This fantastic outdoor playset with swings is recommended for kids 3-10 years of age.
One of the most popular playset available in the market.  Complete with a clubhouse, a lower deck, belt swings, glider swing, slide, a sandbox, and monkey bars.  The clubhouse is elevated and has a wooden roof too. There are other interesting features like bay windows, covered pathway, a porch with a balcony, and  a crow's nest. There is a wavy slide for super- excitement.  The equipment is all challenging to the kids. What more, there is a rock- climbing wall to complete the package. Advisable to kids from 3-10 years old.
This outdoor playset with tire swing offers another variation to a typical one. The cedar wood is
already factory stained and sealed. This will guarantee protection against rot, decay, and insect harm. Its framing is solid and sturdy. It has a tongue & groove wood roof with sunbursts, dormers, and a chimney. There is almost a complete line-up of amenities and accessories like swings, deluxe rope ladder made from thick rope that has wide steps, turbo tire swing and a swivel, rock climbing wall with climbing rope, extreme wave slide, trapeze rings, steering wheel, telescope, a flag kit, and a tic tac toe wall panel. The age group it's appropriate is from 5 years old and up. 
The best choice for a smaller backyard is this outdoor playset with swings. Another wooden swing set that has a play deck, belt swings, trapeze swing, and even has a sandbox. To add to its total appeal is the vibrant green and yellow canopy. Not to be set aside is the rock- climbing wall too! There are also a snack stand and a wooden bench inclusive in this set. This will be great for kids from 3-10 years old.
This is the only plastic outdoor playhouse swing set on the list. This is the ultimate plastic swing set! mainly built for variety, stability, and maintenance free. The main features are -glider, playhouse, ladders, swings, a slide, and ground anchors to make the swing set safe and stable to the ground. This is recommended for kids from 3-8 years old.
We suggest this playhouse if one prefers a small wooden swing set for their smaller children or there is a small space in the backyard. This wooden swing set will be a fantastic addition to your cute backyard!
Small Wooden Swing Set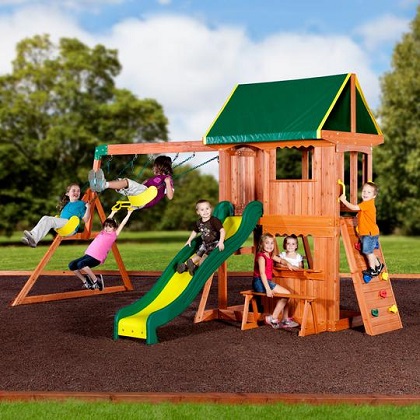 Image Source: Backyard Discovery
This small wooden swing set is one of the most in-demand for a smaller backyard.
It comes in complete with a colorful canopy, 2 belt swings, a trapeze swing and an 8 ft. slide. Can you imagine that this small swing set comes with an upper playdeck plus a clubhouse to boot! Its lower deck play area even has a snack standbar with a built-in bench. Are you ready for more? Aside from those it also has a wooden ladder and a solid rock climbing wall! All in this small wooden playset! It's recommended for kids from 2-10 years old.
Some parents would just look for the basic wooden swing set. Something simple and uncomplicated but offers so much enjoyment. This is the kind we highly recommend.
Kids wooden Swing Set
Image Source: Swing-N-Slide
This wooden swing set is low maintenance but is load of fun! Intended for backyard residential use only. This set includes all wood, hardware, and fully illustrated manual instructions for assembly. The features of this simple swing set are: two swing seats and a ring/trapeze combination swing. They are all with safely coated chains. Each swing can accommodate up to 115 lbs. This traditional swing set will continue to be a classic all the time. The recommended age for this set is from 3-10 years of age.
Outdoor play really takes a big chunk of time in every kids' life. It is just amazing that there are a multitude of choices and options available that will make these hours filled with so much precious fun, imaginative play, pretend play, active play, and simply to bring happiness to them.
The outdoor playhouse with swing sets is definitely one sure way to make every kids' life happy and beyond compare!