Wooden Outdoor Playhouse (It's incredibly built to last)
An outdoor playhouse will always be an integral part of every child's growing up years. Every parent who also had that privilege would want to pass this tradition and custom to their child.
After all, it offers so much positive influences that one carries through his/her lifetime. The dilemma would boil down to what playhouse I should get for my child.
Options abound such as a plastic or a wooden outdoor playhouse. Both are great and serves their own set advantages and disadvantages. A plastic playhouse is smaller in size, and much advisable for toddlers to smaller kids. Budget-wise it's also more economical. Both are expandable to have amenities like swings, slides, and climbing walls. 
If you finally choose a wooden outdoor playhouse, here are what you can expect:
It is more spacious
Designed like an adult-sized realistic house
It can have a loft, a second floor, porch, veranda, balcony, and even fences
Has longer life-span
More attractive and can be custom-built.
Built for safety and durability
More designing option
Lots of interior and exterior decorating ideas
Can really be used to store the toys, books, and things of your child
It can accommodate a lot more children
Can be an extension of your house for more space
There are also smaller wooden playhouse available in the market. It's up to the parents what size of wooden outdoor playhouse they will go for. Some would like the ordinary sized one, while others may think that a bigger one can be used until their child grows up.
What makes a wood outdoor playhouse stand-out?
The main strength of a wooden outdoor playhouse is its flexibility. It has something to offer to everyone. A wide range of styles, sizes, and prices. Prices could start from 200 dollars to thousands of dollars. Every size is available according to your requirement. You can find a lot of great styles to choose from to suit one's discriminating taste. Plus it comes in every price tag your money can afford.
Secondly, it's a classic. It will never be outmoded.  You can have whatever theme and features you want. Your imagination will always be challenged. It can be refurbished, renovated, and repainted through the years. It can be updated from time to time.  Even the interior design can be changed from time to time.
A wooden playhouse can have any finish that you would wish for. It can be from natural color to vibrant colors. You can stain it which finish you fancy.
It would also be an attractive addition to your garden or backyard. It can add to the total look of the surrounding. Truly an asset and a feast in the eyes!
Another strong feature is that it is durable, tough, and can withstand the seasons, the rough play time with the children, and can last a lifetime. One more thing, it's repairable anytime!
What is the Best Paint for Outdoor Wood Playhouse?
The first thing is to decide which paint finish you would want to achieve. Envision the final look and colors you are considering. There are two types of finish to compare and decide on.
Wood Staining - It's protecting the wood more than putting color to it. Although the stain comes in different shades too. It can also be colorless, and transparent. The grains of wood would still be apparent. Check Lowe's link here where you can choose the exterior or outdoor wood stain which can be water-based or oil-based.
Paint - Extensive colors to choose from, from pastels to bright colors. You can have the color mixed too. Its coverage is more thick hence the grains of the wood is no longer visible. The wood pattern might still be highlighted. Make sure to choose for exterior usage. See if is waterproof or might a top coating to make it water resistant. A tip is, gloss paints can repel water. You can find exterior house paint on Lowe's website.

Staining most often than not produces a matte finish. Unlike paint, it's available in glossy, semi-glossy, matte, and satin finish. The effects achieved for the following are:
Matte - flat and even look
Satin - velvety and sheen effect
Gloss - shiny but thick finish
Semi-gloss - in between satin and gloss finish
What is the Best Stain for Outdoor Playhouse? (Exterior)
If you're staining an outdoor playhouse cedar swing and slide set, this is the best stain for it.
Ready Seal 525 Wood Stain and Sealer is a semi-transparent one, oil-based stain and sealer. It brings out the natural look of your cedar swing set thus giving having better over-all visibility of the texture and grain of the wooden outdoor play house. The stain makes it more water resistant. This exterior stain requires no primer. Ready Seal is darkest when you first apply it. It reaches its true color in about 14 days. It's not advisable to apply Ready Seal over a painted or newly stained areas. The sealed areas could cause no penetration in the wood.
It's very user-friendly and flexible since it could be applied using a sprayer, roller or brush onto the woods surface. What's good and what's not tiring about its application is it doesn't require any back brushing at all. There will be no runs, laps or streaks at all on the wood! This is a self-blending stain and can be applied in any weather or room temperature. It doesn't need to be diluted nor need any thinner at all.
How to apply Ready Seal 525
Just thoroughly clean the wooden outdoor playhouse prior to staining it. Make sure all the areas are clean of dust, mildew, oil or grease. Make sure to remove the stain before, if there is any. Let the playhouse dry for about 2-3 days. This will ensure that the wood is dry. You can now apply the stain and sealer evenly and all throughout the wood of your outdoor playhouse.
What is the Best Stain for the Interior of an Outdoor Playhouse?
If you wish to apply stain too in the interior of the wooden playhouse, you can use an interior stain which is gel-based one. The best option is would be General Finishes.
It's the top interior stain for pine and difficult woods. They are quite possibly the easiest of all finishes to use. It can achieve a hand-rubbed look without too much effort and work. The application is easy with either a foam brush or lint free cloth. The heavy gel formulation permits the product applied evenly avoiding drips and runs. It has an even color finish too. It requires no sanding between coats. 
Is there a stain that can be used both for the exterior and interior of an outdoor playhouse?
There is stain available that can be both used for the exterior and interior. If you happen to be someone who just wishes to use one stain.
It's a gel wood stain both for outdoor and indoor use. It's oil based and highly pigmented. It works great on interior or exterior wood, fiberglass, metal and other composition surfaces.
How to Paint Wood Playhouse?
Are you ready to paint your wooden outdoor playhouse with DIY (do it yourself) project? Let's get started!
Ready the wood. Brush off the dirt and dust. For an old playhouse, wipe all the exterior surfaces. Check if it needs some sanding to remove loose paint. Make sure wood is 100% dry. Some paints doesn't need a primer. Please ask or check the instructions at the back label.
A paint pad is a good alternative to a paint brush or roller brush. Have an angle brush in handy for corners and sidings under. Also have a smaller brush ready for window edges, door jambs, and smaller areas. A good technique is paint the bigger areas first. Then go to the more detailed areas. Have your masking tapes ready to secure the edges and small areas to avoid going out of line of paint areas.
Apply a second coating to ensure that the paint coverage is even. Enjoy your creative outdoor playhouse paint transformation!
Beautifully Painted Wooden Playhouse
This wooden playhouse is the perfect example how you can transform it into a beautiful painted wooden playhouse. The possibilities are endless as long as you put your creative juices into play. There are a lot of painted outdoor playhouses ideas to apply in your kids' playhouse wooden one. Add more life to it, even a playhouse wood veranda can be painted colorfully and vibrantly!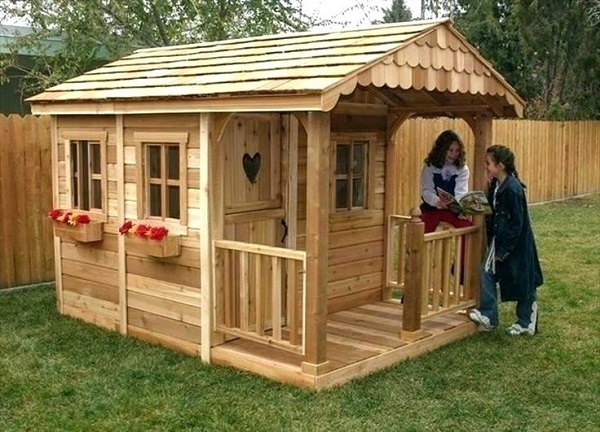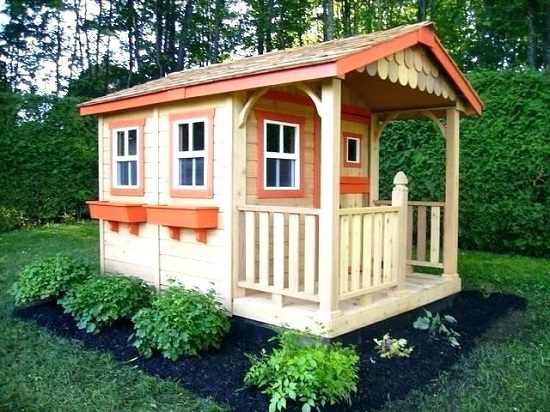 Source Image: Google Images 
What are some playhouse paint ideas?
Let the painting of your kid's wooden playhouse outdoor be a bonding time with you. Ask for his/her preferred color or colors. Make it an exciting time for both of you! 
For some paint ideas, it would be great to have the following paint motifs and colors:
Pastels and light colors with neutral colors will make any garden wooden playhouse outdoor looks clean, attractive and refreshing.
Exciting and bright colors fit best in any kids cottage playhouse.
For any girl's wooden playhouse, light pink and also pastel colors will work best.
Bold colors will be exciting to add more imaginative and pretend plays to playhouses with wooden garden slide.
You can also paint the wooden outdoor playhouse structure using monochromatic color tones.
To add charm, this outdoor playhouse styles can be added: painting the playhouse in two-tone or even three-tone colors.
Paint the trims, ceilings and posts with a different accent color.
Make your imagination works, by painting the roof and the front door with a statement color. How about a yellow or even a bright blue front door? or maybe even a bright red door?
These painting ideas will definitely put a smile on your face with a vibrant view of your beautifully painted wooden playhouse!
Best Wooden Playhouse
One thing that is great is the extensive choices one can search for to hand pick the best wooden playhouses. Be more impressed from these wooden playhouses below. Find out which will suit your child's needs and taste.
This small cedar outdoor playhouse might not be too big but it offers a lot of breezy, airy, and fantastic fun to kids. It includes functioning half door and windows that have wide opening for that added visibility of the children inside. Has a homey exterior with flower pots on the front shelves. Good for kids from 2-10 years old.
Comes with these exciting features: play stove, a toy sink, and a play cordless telephone. 
It might deceive you as being small from the outside and yet it is very spacious on the inside. It has operational nice looking door, and working windows. Can comfortably fit 2-3 children. It has a mailbox upfront. Recommended for kids from 2-8 years old. It can be a super fun play house and can have a lot of wonderful times in it!
Looks like a miniature house. Has a beautiful exterior. Made of cedar wood. It is a charming cottage-style playhouse. Roomy and can fit up to five children. It comes with  arched pane windows with a cheery flower box. It features a lot of exciting things that can have the kids entertained for long hours. Never a dull moment in this playhouse!
This uniquely designed playhouse will be a hit among the kids. It offers a skylight too. It has a slanting design which is quite unusual from the traditional playhouses. All its features are functional. Good for ages 2 years old and up. It's a little big and would take a lot of space in your backyard. This one is painted with nice colors.
The kids will never get bored in this super cool playhouse.
This small wooden playhouse is the cutest ever! It has a very charming and funky design. Very nice look! The kids will surely get inspired to have exciting and creative adventures!  Two to three kids can play inside this playhouse. It is spacious and you can add a small kitchenette inside.
Kids from 2 years old and up can have lots of great times here! A lot of wonderful times will be spent in this small wood playhouse because the kiddos will just love it!
Tons of joy awaits the kids in this outdoor playhouse. Made from durable wood and has magnetic doors and windows. Also includes a sandbox underneath the house. It has a ladder and a slide that kids would be drawn to. This veranda wood playhouse can be a place kids can bond, talk, and relax. It's on the second floor upfront the house exterior. What a lovely sight to behold!
There's new rage among kids now, it's the Cubby playhouse with slide. Kmart sold a lot of small cubby houses that were a super hit that it became one of 2019 most instagramable. Why did it happen? The moms turned the $199 cubby wooden playhouse into works of art. The moms gave it their iconic make-overs. The only thing is, it doesn't go with a slide but it can be designed to have one. Check the unbelievable adorable and beautiful cubby playhouses.
There is a Cubby playhouse with slide that is also making the kids heart to melt. It's the Lifespan Kids Warrigal Cubby House Yellow Slide. It's definitely a good buy or you can get an inspiration from it. Take a look at this awesome outdoor wooden playhouse with slide. 
Where can I purchase a second hand wooden playhouse?
There are a lot that is being sold online. One of the trusted ones is ebay. This wooden outdoor playhouse being sold on ebay is still in mint condition. If you don't want to spend thousands of dollars for bigger playhouse, buying second hand or a DIY are the best options for you to be able to save. Check the link below.
An accessory that can be used for a wooden playhouse is having quite a following. If you're building a wooden playhouse with a second floor or a loft for your kid, this Columbus loft ladder is wonderful and space saving. It can be a little expensive but is definitely durable, safe and reliable. 
To be able to save space, these attic ladders are typically installed within the ceiling and are hidden by a drop-down hatch. They are great for lofts, attics, and even to have access to the roofs.
Have you found the right wooden outdoor playhouse for your kid? Whichever you choose will bring so much joy in the eyes of your kid, and a wide smile on the lips. An outdoor playhouse is not just for the fun and excitement, but it's also an essential foundation and part in every child's learning.
Kids play, grow, and learn in these wonderful outdoor wooden playhouses! The bonus part is it makes them the happiest too!