KidKraft Cedar Summit Lookout Extreme Play Set Reviews
The Cedar Summit Lookout Lodge Playset by KidKraft can inspire your kids to enjoy a new world within your own backyard. It features a two level clubhouse with enough space to accommodate up to 13 kids. This playset has many fun features that will keep kids playing for hours. 
Little explorers can scout out their surroundings with the play telescope in the upper level clubhouse. Kids can enjoy the twist n' ride slide or glide down the twin high rail wave slides to go into the lower level clubhouse and create deliciously imaginative meals with the included BBQ set and accessories. Little toes will soar to the sky on the belt swings and acro bar. Kids will enjoy their playtime with active imagination on the Cedar Summit Lookout Lodge Playset by KidKraft. Built with 100% cedar lumber and treated with a child-friendly water-based stain, the Cedar Summit Lookout Lodge Playset by KidKraft is made with high quality materials and designed to be aesthetically beautiful so that little ones can enjoy this ultimate destination for fun, adventure and play for years to come. 
IMPORTANT: This product is only for use in residential areas and is intended for up to 13 children ages 3 to 10 years old with a maximum weight of 110 lb. per child.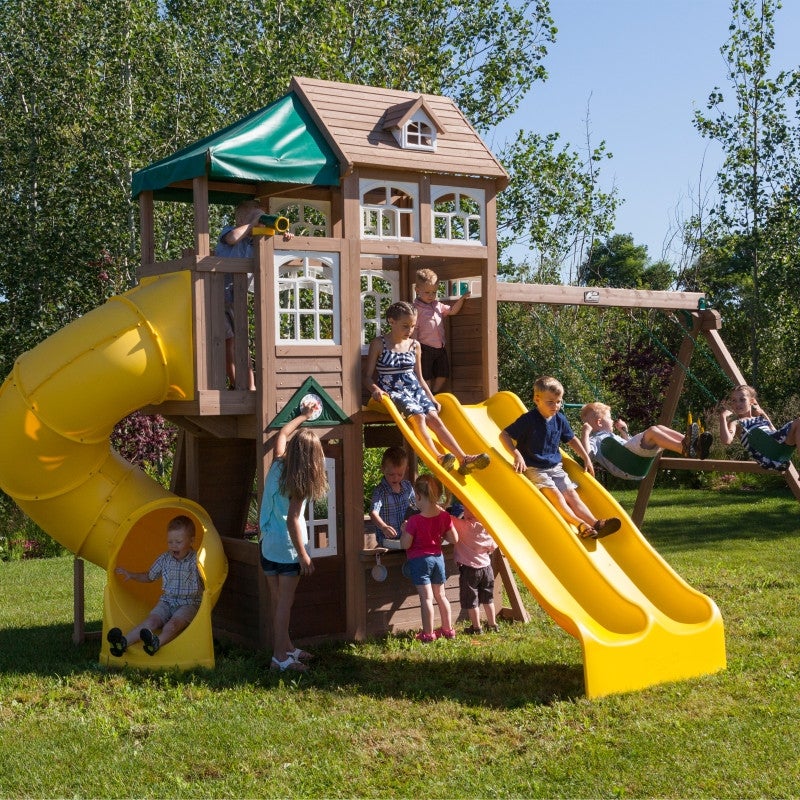 Image Source: KidKraft
Features: 
•
100% Premium Cedar Lumber
•
Windows with Decorative Frames 
•
Deluxe BBQ with side burner and sink
•
12' Twist n' Ride Tube Slide for a Thrilling Ride 
•
Upper deck with windows
•
Rock wall with climbing rope
•
2 belt swings and acro bar
This adventure station includes a trio of slides, swings and multiple ways to climb to the top. Kids will be able share since there are so many options for play. Maybe they'll opt for a belt swing or an acro bar to soar to new heights. A double ride slide lets friends challenge each other to a race. For an even more thrilling ride, they can try out the Twist-n-Ride tube slide. The lower clubhouse welcomes guests with a windowed door and ringing bell. Kids will love the play BBQ cooking area with sink. A hanging pot, pan and spatula is included to complete the chef experience. When it's time to ascend to the second level, kids can choose between varying degrees of climbing excitement. For the tamer crowd, a ladder with hand rails is located around the back of the structure. There's also an easily accessible rope ladder to the right for a bit more of a challenge.
For older kids who prefer to live on the wild side, they can practice their monkeying skills on the rock wall with included climbing rope for a true jungle vibe. The shiplap roof provides welcome shade in the upper clubhouse to allow for hours of imaginative play. Truly, the most fun on this structure could be the lookout deck. Outfitted with a steering wheel, telescope and flag, it's ready to navigate play into unexplored territory. The multi-feature Lookout Extreme Playset from KidKraft is destined to be the neighborhood hangout. It's like having a park in your own backyard. Both active and imaginative play is waiting to be discovered.
You can find the product, step-by-step assembly instructions and video on the manufacturer website.
You can find the product video here from the manufacturer.
You may find the following stores that may sell this similar outdoor playhouse.
Similar but may be missing a feature like the front slide
Materials: Cedar lumbar, metal, plastic
Dimensions (cm): 130.81 x 111.76 x 274.32
The item ships in 5 boxes; 
•
Box 1: 93.5" x 22" x 3.5"; 115 lbs.
•
Box 2: 93.5" x 44.5" x 4.5"; 142 lbs.
•
Box 3: 93.5" x 44.5" x 4.75"; 148 lbs.
•
Box 4: 30.5" x 31" x 19"; 60 lbs.
•
Box 5: 93" x 31" x 10.5"; 48.4 lbs.
Avg. Assembly Time: 10 - 12 Hours
Recommended # of people to assemble: 2
---
Reviews
An awesome outdoor playhouse that is 100% made from premium cedar lumber. It features a two level clubhouse that's big enough to accommodate 13 kids! 
It's the kind of playset that the kids will never get tired of. Never a dull moment in this playset that has so much to offer like the three slides that includes the twist n' ride and the twin high rail wave slides. There are a lot more exciting features like:the belt swings, acro bar, play telescope to zoom in those views at the upper clubhouse, and a barbecue set and accessories for that make believe barbecue play.
It's very pleasing to the eyes with those windows with decorative frames and aesthetically beautiful overall look. 
This playset exemplifies what an ultimate fun and adventure is! Made from top grade materials and it's recommended from kids 3-10 years of age with the maximum weight capacity of 110 lb. per kid.
Kids surely deserve this highly rated kind of playset.
Pros:
•
The twirly slide is the best!
•
The wood was pre-treated and stained
•
Very much worth it with all the features
Cons:
•
Assembling it is a little bit time consuming.
Here is summary of other quality online reviews:
definitely a play set that will grow with the child
everything was well laid out in the manual; sorting out the pieces then build
some have build this by themselves in just less than 17 hours, with little help from another on the tube slide
can also changed the BBQ/Sink to face inwards of the little house and filled it with play sand, so a child can make mud food; will be nice for one to play in shade in the warmer months
all pieces were counted for, amazing quality. 
it was blown over hard once onto the ground before it was finished, staked in the ground, or slides added on, and it did not crack/break in any way, even the plastic didn't crack. The wood is very high quality.
you can cut the grass around the playhouse with a lawn mower and weed eater but you'll need a weed eater to get around the tight areas and posts, as well as underneath; recommend either putting a weed barrier down first, then building the playhouse on top, or putting something inside the bottom of the playhouse to act as a floor. It does not come with any flooring.
can get it for cheap at Costco 
it was hard to build but worth it. Kids love everything about it and it's as high quality as a commercial playground 
---
Similar Products:
Another playset that is a winner. It's made from cedar wood and it's available with a redwood finish that is simply gorgeous. Kids will never run out of fun with its loaded features. Are you ready? It includes: 2 alpine wave slides, rock wall with climbing rope, deluxe rope ladder, combo safe entry ladder, metal rung ladder, 360° turbo tire swing with swivel, 2 belt swings, trapeze swings, tic-tac-toe panel, steering wheel, and a play telescope. Can you imagine having all in one great playset? I am quite impressed!
To make it even irresistible, this playset is pre- stained so the wood the resistant to rot, decay, and insect damage. All the lumber are: pre-cut, pre-sanded, and pre-stained. The main beams comes pre-drilled too. It also includes all the needed hardware, a thorough 3D illustrated manual instructions. 
You can't also resist that it comes with a 10 year warranty on the wood and 1 year for the accessories.
It's highly recommended to use a sealant within the first 90 days to keep your swing set looking nice and to make it last for a very long time.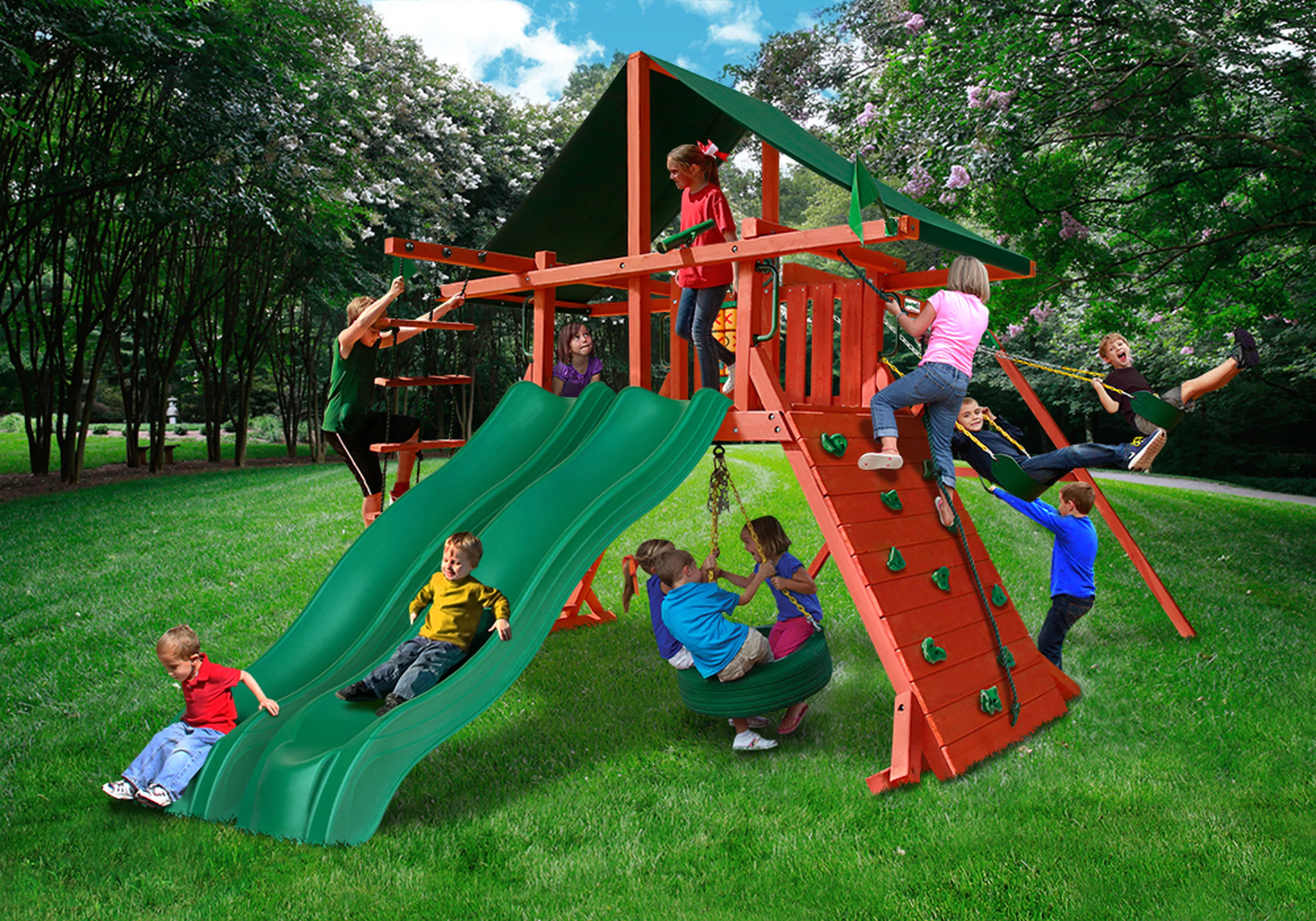 Image source: gorilla playsets
Pros:
•
It's a very safe playset
•
It has a very clear instructions manual
•
The contents are all accounted for in the box and all the pieces has a unique tag number attached for easier assembly 
•
It's very easy to put together.
•
Sturdy and well crafted
Cons:
•
No negative reviews so far.
This playset is one of the most popular in the market. It features a clubhouse and a lower deck and with a lot of incredible features like 2 belt swings, a swing glider, a slide, a sandbox and monkey bars.
The playset has a very enticing design that includes a raised kids clubhouse with wooden roof, windows, covered entry way, and bay windows. Roomy front porch with sun balcony and even a crow's nest.
It's full of fun with even a picnic table for four below the upper kids fort. The sandbox is also located beneath this backyard port.
The ladder as well is challenging and so with the rock climbing wall for the kids!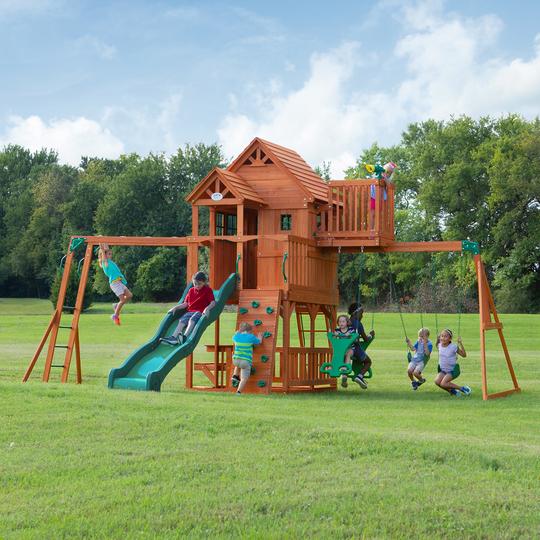 Image Source: Backyard Discovery
Pros:
•
Has the biggest play area for our price range
Cons:
•
The 3 swings are kind of close together
•
The wood is soft for some
It's stylish fun for your backyard with this Cedar Brook playset. It's very loaded with so much activities that includes: premium stained lumber, two piece side winder slide, rock climbing wall with 8 colorful climbing rocks, 2 swings with UV plastic dipped chain, multi-child glider, picnic table, monkey bars, ladder, wood roof with sunburst gable, and easy to follow instruction manual
The Cedar Brook has a 4 foot and 5 foot deck height. All swing hangers, ground anchors, and hardware also comes in this package.
It can hold up to 10 kids with ages 3-10 years old. It has a maximum weight
110 lbs. per child. It comes with 5 year wood warranty.
Children will be busy and active with this playset that has all the outdoor adventures!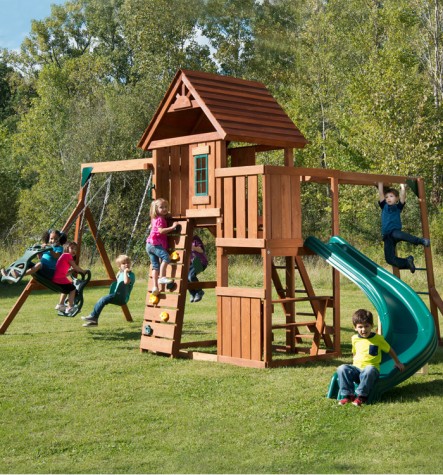 Image Source: Swing-N-Slide
Pros:
•
The wood is very lightweight but it seems sturdy
•
Definitely worth the money
•
Has fun rope ladder for the kids
•
Good quality and nice wooden rungs
Cons:
•
Some installation woes. Assembling it might be challenging
•
Check for missing parts
Like most playsets that is available in the market, the Cedar Summit is only for residential use. It's a playset that focuses on how the kids can really have a good time in their outdoor play!
It comes with a large upper deck, deluxe lower clubhouse, enclosed twist n' ride slide, side-by-side access ladder and a rockwall.. It's made from 100% cedar lumber.
A perfect melting place for those active 10 kids ages from 3-10 years of age.
Image source: KidKraft
Pros:
•
Has detailed directions
Cons:
•
Some parts might be missing
•
Challenging to assemble
In closing, I can say that we've given you options with almost similar features and with a pinch of difference to make it more interesting and varied. There are very good reviews and some mixed reviews but they are all still very safe, exciting and has so much to offer.
The final selection will be dependent on your taste, your child's needs, your budget, and what you envision to be the best playset for your child!