Big Kids Outdoor Playhouse (When kids are never too big to play)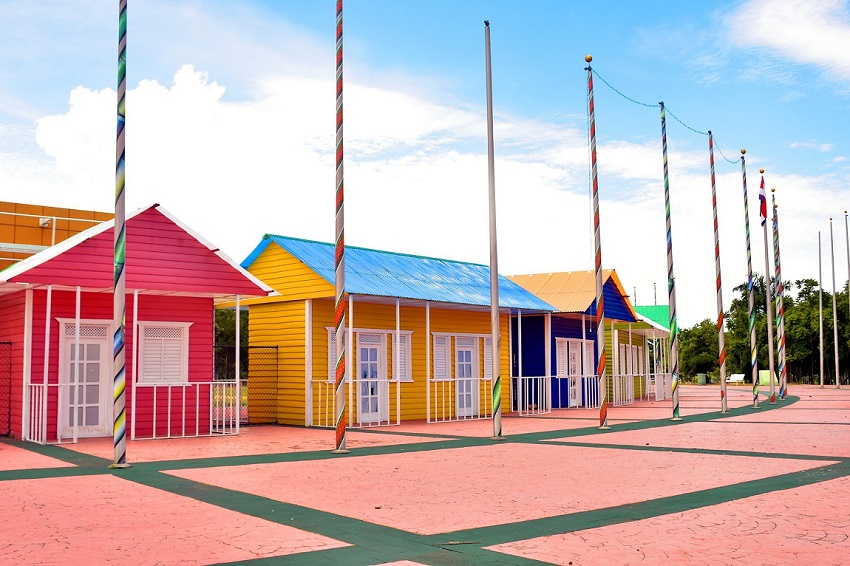 Kids can never outgrow a playhouse. Even during their pre-teen years at 11-12 years old till their teen years from 13 years old up. They can grow-up pretty fast and will be needing bigger and more age appropriate outdoor playhouses.
Outdoor playhouses large enough for older children are available in the market. There is a steady demand for an outdoor playhouse for older kids. Children can never really outgrow playing. It's really an essential part of their growing-up years.
They now have a better sense in their interests, hobbies, likes, activities, and sports. When buying for big kids, there are things you should take into consideration:
There should be more room for movements, various activities, more added amenities, and more sophisticated.
Bigger kids tend to look for more things to be busy at hence the need for more engaging facilities, equipment, and more complex paraphernalia.
Carefully scrutinize the height and the width of the playhouse. Anticipate the kids' sudden growth. Make sure to make allowances in the size.
The bigger kids are into their adolescent years. This starts from ages, 9-18 years old. They are in the point of their lives that a lot of changes and transformations are happening. It is during this period that these things occur:
Biological growth and development
An undefined status
Increased in decision making
Increased pressures
Searching for self
Having an outdoor playhouse for big kids will help them cope in this transitional phase of their lives. They can learn more about themselves and find their self-worth in the process. Learning will be achieved alongside with all the changes taking place by being one with the environment, their family, friends, and siblings.
It will also keep them busy in active play versus the solitary activities like watching television, playing online games, and being glued in social media.
Essential Features for Big Kid Playhouse
2.
Large Rock Climbing Walls
---
What are the choices for the big kids? Take a look and try to compare.
Active and sports-minded kids ages 8-11 years old
This outdoor playhouse for 8 year old and above can make the lives of kids more fun, colorful and engaging to other kids as well. Making each day fun-filled is what this kids' outdoor playhouse main goal!
Image source: Gorilla Playsets
A big adventure awaits the kids! This outdoor playhouse cedar made will give you a lot of active activities to do. A great way to flex that muscles and stretch those arms and legs. Kids will develop their body coordination, reflexes, and gain that strength with this outdoor playhouse with swing and slide.
There's the clatter bridge and tower to run and get busy with. All the amenities one can ask for. This set includes: a wooden climbing frame with slide, tube slide, rock wall with climbing rope, rope ladder, clatter bridge has mesh panels, safe ladder, belt swings, trapeze swing, picnic table that is built in, sandbox with seats under the tower, tic-tac-toe panels, steering wheel, play telescope. Has Malibu roofing that includes dormers, sunbursts, and attractive windows. Tongue and groove roofing profile. Super safe with 4x4 posts & main beams, 4x6 3-position swing beam and the A frame bracket is fully patented.
This big backyard playhouse got it all for those active kids!
Want to play longer? That wouldn't pose any problem. Why? This big kid outdoor playhouse comes with solar wall lights for longer playtime!
Reading and Crafting Time 3-13+ years old
This 5x5 pressure treated cabin is designed for younger and older children. Its foresight is for children to enjoy it for a longer time. A great place for the younger kids to have imaginative plays, and as they get older, a place to find personal solace and retreat. 
This outdoor wooden playhouse, thyme kids' kabin is much taller than a usual one. It has high ceilings, and a taller door. Traditional windows are shatterproof and specially designed door hinges for assured safety. It comes with timber flooring too. Can be painted with your desired color.
Additional features include: flower box, 15 year guarantee against rot and fungal decay, and it is waterproofed.
Price is not even an issue too, this cheap wooden playhouse will definitely not fail you!
A perfect outdoor playhouse for big kids who likes to read, crafting, and just have a personal hideout or space for alone time or with the gang.
Elevated Hideout 3-13+ years old
This elevated kids' outdoor playhouse with a ladder and a porch would be perfect for kids to have a lot of wonderful times. This would be a great addition to the backyard that could be enjoyed for many years. Wooden playhouses are long lasting and can withstand many seasons!
Made from shiplap cladding, solid sheet roof, and floor with 3 fixed shatterproof windows. It has felt, fixings. The assembly time is from 2-4 hours that requires 2 people. The playhouse is inclusive of the water-based-treatment. 
It's recommended that the playhouse is stained again after delivery and every year thereafter.
A great option for a big kid outdoor playhouse. There is so much room for multiple activities and the imagination can continue to run wild. An activity center can be added to this playhouse.
Those afternoons will never be dull again with this big outdoor playhouse.
Creative and Fun 3-13+ years old
This great looking playhouse is 6 feet x 8 feet in size.  Hand-crafted wooden playhouse to ensure the finest quality. Exquisite in all features, including 3 windows, 2 doors, screen windows, curtains, and attractive design. Has a furniture set includes a table, bench seat, and two chairs that are in coordination with the exterior look.
Guaranteed to last a long time. This playhouse would give so much motivation and inspiration to the creative big kids out there. They can paint, draw, and create lifelong memories here.
Made from solid wood, and has ceilings, and bigger door that even an adult can have a wonderful stay here.
Grocery Time 4-13+ years old
This nicely designed grocery store concept will be loved by kids of all ages. The bigger kids will appreciate it for it's spacious, has high ceilings, and a loft can be added to it. This playhouse is inclusive of the following: wood wall framing, wood trusses ,High quality siding, and trim panelized walls ,Gingerbread trim, windows with safety glass, and screens, shutters, and flowerboxes, painted heart window, Dutch door, and an adult Dutch door on side. 
Big kids like to go shopping. They can use a lot of play options here. They can pretend it's a bakeshop, a boutique, and even a café. They can spend leisurely afternoons here.
There are endless options to have a fantastic time here. 
Let's play School 5-13+ years old
A school playhouse away from school. A good place for group study, making projects, and spending time with friends. This playhouse has high ceilings and it's spacious at 12 feet wide. 
This comes with: wood wall frames , wood trusses, quality siding, and trimmed wall panels, panelized walls, almost all parts are pre-cut, windows, Dutch door for kids, porch roof at entrance and, Dutch door for adults.
For full assembly, the parents need to add: shingles for the roof, posts underfloor, drip edge, and paint of their preference.
This big wooden playhouse will surely make big kids look forward to exciting things to do. I bet a lot of wonderful treasured days will be spent here happily!
Cowboy Time 4-13+ years old
This barn inspired playhouse is 10 feet high. The package includes: wood wall framing , wood trusses, quality siding, and trimmed wall panels, panelized walls, pre-fastened gingerbread trim, windows with safety glasses, and screens, Dutch door for children, flowerboxes exterior, and Dutch door for adults.
To complete the assembly, the following needs to be provided: roof shingles, paint of choice, drip-edge, and some pressure-treated woods with sizes in the manual.
Spend those days pretending to be in the country. Be a cowboy, a farm boy, country girl, and let your imaginative role-playing be so much fun!
Modern and Upbeat 7-13+ years old
A new and innovative option for an outdoor playhouse for big kids now. Modern and yet so uncomplicated.
Space is very important and this option has a lot of usage. This place offers expanded space that is needed. It can be a hobby room, a She shed or Man cave, a storage room. It's modular and very easy to assemble.
This can serve as a tiny house or a big outdoor playhouse to the big kids, which is reasonably priced. Has advanced features like: thick fire-retardant CFC-Free B2 polyurethane insulation that has excellent thermal and acoustic property, galvanized pre-painted inner and outer walls for stability, tongue, and groove bolts for faster wall panel assembly, all the parts are numbered, pre-cut, and drilled for faster set-up, can withstand 30 pounds per square foot of snow. Very stable and strong structure. It has a secure door with a dead lock. It's very good in all weather conditions.
Shelves, furniture, and a lot of interior ideas can be implemented in this wonderful piece.
Truly a revolutionary option for a big outdoor playhouse! 
New Age Option 7-13+ years old
This would make a fantastic playhouse for big kids. It can be painted with vibrant colors.
Duramax insulated buildings are ideal for all weather conditions. It can be used for a lot of purposes, which includes: additional living space, emergency shelter, office, hobby room, secure storage space, tool room, tiny house or an equipment storage room. 
They expandable and has acoustic and insulation properties that makes it livable. Made from durable coil coated galvanized steel for that safe inner and outer skin. It's fire resistant due to its CFC Free Poly-Urethane insulation. Has a window and a foundation. The foundation is also made of galvanized metal that makes it stable in any flat surface. All parts are drilled, pre-cut, and has numberings for hassle free set-up.
The big kids will have a grand time decorating, fixing, and making it one cool big kid outdoor playhouse of their own. They can even have sleep overs here!
This is the ultimate extreme playground just in your backyard. Everything is here for that total outdoor adventure. The Empire Extreme Swing Set really has it all. There are three slides to choose from, it's a three decker, monkey bars, rock wall with rope.
Look at the breakdown of amenities: clatter bridge with tower, clatter bridge with mesh panels, rock wall with rope, belt swings, trapeze swing, picnic table, sandbox area with seats, bonus sandbox area, Tic-Tac-Toe wall, play telescope, jumbo play binoculars, steering wheel, chalkboard, grab handles, sunburst, and two solar lights on the walls, lower-level semi-enclosed clubhouse with functional windows, tongue and groove wood with dormers,  sunbursts, and a chimney, and solid and stable wood framing all over.
There will never be a dull moment for every kid from 5-13+ plus with this ultimate grand set!
Just to chill or hang-out  7-14 years old
This cozy cottage playhouse has a very relaxing atmosphere. A place to just chill out or hang-out during those afternoons after school. Designed for bigger kids, it can be used as a vacation house. It is also cool to take those afternoon naps here, or perhaps sleepovers but of course with the parents' approval! 
Made from the finest western red cedar wood.  It has attractive cedar shingles on the roofing. Advisable to have it stained but it's already mildew resistant, and rot resistant. What's special is electricity and water can be installed here. For that ultimate cottage living experience. Has a full sized door, and screened windows. Isn't it neat?
There are also flower boxes around the cottage. It can be painted with colors of your interest too.
Definitely an ideal outdoor playhouse for big kids.
Let those fun afternoons playing board games, card games, role-playing games, and a lot more begin!
Fairy tale and Dreams 3-13+  years old
The Little Playhouse is 10 feet high x 16 feet wide. The design is detailed and exquisite. It is safe, durable using the LP Smart Side construction. Parts are pre-cut and panelized for an easier and faster assembly. Has 22 functional windows and 10 flowerboxes. This wonderful playhouse has a loft with ladder, and much more. Highly recommended to be set up by 2 DIY professionals. Set up should be done in 2 days.
This luxurious playhouse can be enjoyed for a long period of time. The pieces used are covered with a 50-year limited warranty from LP.
A very good investment for your kid till their teenage years. It has a 10 feet high ceiling, and a full French door that even an adult could fit in.
For complete assembly, the parents need to supply the following: roof shingles, roof edging, paint of choice, 2 pressure-treated 4 x 4 x 16-foot pieces of wood, and  3 pressure-treated 4 x 4 x 13-foot pieces of wood.  
There are a lot of things to do in this luxurious playhouse. It can be used for a tea party in the afternoon, birthday party, fantasy- playing games, and all those fun-filled activities.
A grand way to spend one's growing-up years in this fantasy filled big outdoor playhouse!
Luxury Playhouse
The luxury playhouses are all avant-garde. Made from high grade materials. They are the complete replicas of mansions, chateaus, and manors. Wonderfully crafted. There are high-end versions that equates to the hefty price tags. Also, the kind of playhouse for tall child. Why, so? They really measure like a real house!
Usually luxury playhouses are custom-made. Their uniqueness stands out because it's one of a kind. It can have all the features, amenities, accessories, appliances, and furniture of a house. There can be electricity, an AC, heater, running water, and even WIFI. Talk about being grand, and luxurious. All luxury outdoor playhouses are a class act of their own all throughout.
Outdoor Playhouse Large
This outdoor playhouse offers the much needed space for kids from 2- 13 and up years old. It can be used as a play area, resting place, study area and more! This structure provides the space to learn effectively and to be able to bond with other kids. This has a panelized kit so it is prefabbed and ready for construction. The customer needs to provide the shingles, drip-edge, and paint. Perfect for multiple activities and play to spend the days awesomely!
This large outdoor playhouse is a place to be for small and big kids alike.
Outdoor Playhouse for Boy
Themed outdoor playhouse targeted for boys can be a garage, a pirate ship, fire truck, sports or a fire station one. The list can go on depending on the preferred activities of boys. To draw an inspiration and to ignite one's imagination anything can be possible for an outdoor playhouse for boy. Take a look at the fire station below. You can have that awesome playhouse for your boy customized.
A great add-on for bigger kids is a trampoline. It comes in different sizes too. One of the most sought one is a trampoline 10 ft. 
A very welcoming add-on - 10 ft. Trampoline
Any outdoor playhouse especially a playhouse for older kids will never be lacking of excitement and thrill with a trampoline. It adds to the element of fun to a never again dull moments in outdoor play.
The trampoline comes in different sizes. The standard size of a trampoline can be from 8 ft to as big as 15 ft.
What of Size Trampoline is recommended for 13 Year Old and Younger?
This guide will serve as to what size of trampoline is suited to kids13 years and below:
•
The recommended size trampoline for 3 year old is 3 ft. that has handles.
•
For a 5 year old, it is 7 ft.
•
The age-appropriate size of trampoline for 10 year old is 10ft to 12 ft.
•
For a 12 year old is above 12 ft.
•
For a 13 year old, it is also above 12 ft.
Let say, you would want to purchase a trampoline for your kids aged 5 to 10 years old. Your best choice would be a 10 ft trampoline. For that age category, we would give you an option. This is the Jumpking 10 ft trampoline.
It has a durable, reliable and rust-resistant that has a galvanized steel frame. The structure has four W-shaped legs for that support for safety. This trampoline comes with 56 pieces of heavy-duty galvanized springs to create a secure hold. It will give a sturdy jumping surface. This easy to assemble unique top-rail system uses two sets of poles to suspend the net. The one inside has thick padding. This trampoline that is enclosed can accommodate up to 200 lbs of maximum weight. It has high-quality clear mesh net to keep any user safe inside. This JumpKing trampoline also includes a double secure entrance with both a zipper and buckle creating a safe closure. 
There are a lot of conventional, traditional, and fresh options to choose from. There will always be that perfect outdoor playhouse for all ages. The parents will always feel kids at heart when they bond, and join their kids in their journey in these wonderful array of big kid outdoor playhouse!