Outdoor Playhouse for Toddlers, Kids and Children
Do you want to buy your toddler a playhouse? Starting them young in having an outdoor playhouse is a very wise decision. A toddler is defined as a child from 1 year old to 3 years old. Setting a playhouse for them is like buying them their own place for the first time. A place where they can move, learn, play, explore, have fun, and discover things for themselves. As developing and growing children, they need physical movement and activity to make them healthier, stronger, and smarter.
A good surrounding while growing up will have a positive outcome in their upbringing. This age bracket is very important in their cognitive development, social development, and emotional development. They also have the amount of exercise needed to avoid gaining weight and obesity.
Parents can sometimes be stressed, tired from work and household chores. An outdoor playhouse for their kid can be a much needed rest or break for them. They can still take care of their kid by watching them while they play or sleep.
There is an abundance in choices to select from. There are factors one need to ensure. Take a closer look on the safety, installation, size, amenities, sturdiness, storage, and useful functions.
A child outdoor playhouse will make a huge difference in every kids' life. After all, outdoor plays are always memorable!
Toddler Plastic Outdoor Playhouse
A plastic one is generally lighter in weight. This is a small toddler playhouse. It can be movable from indoor to outdoor use. Advisable for toddlers since they have safer corners, splinter free, and almost maintenance free. Generally made out of molded plastic materials. Plastic playhouses usually don't need a base. A well-kept grass underneath is okay. Another alternative can be rubber mats to be used in the flooring.
Falling or tripping can cause less impact too and can lead to less and minor injuries.
Best playhouse for Toddler at 1 year old
Developments during this age are as follow:
Physical Development and Language Development - Creeping and crawling, can walk for 10-20 minutes, can make simple lines using crayons, and dependent. Can utter and repeat few words. Can eat by herself/himself with supervision.
Emotional Development - fears unknown people, can be angry, curious, and explores a lot. Doesn't want to be away from his/her mom. Doesn't like taking baths.
Social Development - Looks back and responds when called by his/her name, can say no, gives, takes, and throws objects. Interested in mirror imaging and obedience in limited things.
A fitting type of an outdoor playhouse for 1 year old is where playing and sleeping can be relaxing and calming. Since movements are still limited and nap times are often. This is the best outdoor playhouse for baby!
This toddler outdoor playhouse is suitable for 1 year old and up. It can fit 2 to 3 toddlers. It is certified for safety and comes with a safety certificate. It is lightweight and can be easily set up outdoor.
This little gingerbread house is awesome! Kids will love it and adults will like the unique design. It pops up easily and folds easily to store it. No installation hassles, and it's spacious. Has very high rating for satisfied customers. The only issue is it somewhat flimsy, however it's said to be able to handle rough plays.
Best outdoor playhouse for 2 year old
Developments during this age are as follow:
Physically and Language Development - active, runs a lot, can kick a ball, interested in building with blocks, can control bowels and bladder. Increased vocabulary around 200 words.
Emotional Development - Already has temper. Tantrums starts to trigger.
Social Development - Can do the opposite of what is being asked. Resents a new baby.
This is a climber suitable for girls and boys ages from 2-6 years old. It has large and easy to climb stairs.
This is a great toddler outdoor playset. The steps are very easy to cross. Durable and safe for 2 years old. Toddlers love this climber with a periscope. They can peek through it. It's also functional. This is the perfect outdoor playhouse for two year old kid!
A good inquiry for this playhouse would be the height inside the standing area from the platform to the roof. The height clearance is about 34" or just under 3 feet.
Best outdoor playhouse for 3 year old
Physical and Language Development - Can now stand using one leg, develops balance, jumps a lot, into simple drawings, becoming self-reliant, starts identifying genders.
Emotion Development - Has fears of separation, develops humor, and can be angry.
Social Development - Enjoyment to interact with other kids, negative, can disobey orders, starts giving orders, and gets bored with routines.
The Neat & Tidy Cottage Playhouse is the perfect playhouse for toddler's playtime. It is an open design that will be able to monitor the kids while playing. It is roomy, airy, and can accommodate 3-5 kids for that fun time! Imaginative play and role playing for hours. Playtime will bring do much joy. No risk on floors getting muddy. 
To make this playhouse more inviting, try to put in some accessories for interactive play. An awesome outdoor playhouse for 3 year old kid would love!
One good feature is a very efficient draining function. One might ask, does rainwater drains easily, so it doesn't flood inside? It does drain perfectly well. Doesn't hold or stand water inside! Another point is, would it stand the wind? Basically, it's durable and heavy enough to withstand windy days. If you want to doubly insure that it would stand on its own, there are two ways to do it: first, mount or screw it on a ¾ marine plywood under the house, or put some bricks under the sink or tie the tent down for added precautionary measures.
These toddler playhouses will definitely brighten every child's day. They will get to enjoy and have smiles on their faces every single day with these wonderful kids outdoor playhouse!
To add variety, get your child a wooden toy garage for toddlers. This can keep them occupied and busy while in an outdoor playhouse.
Outdoor Playhouse for Kids
Playhouses really play a big role of every child's life. They become a part of a growing child from being a toddler until their pre-teen years. A great way to make them go out and play outdoor. Turning everyday into a magical world of adventures!
Best outdoor playhouse for 4 year old
Physical and Language Development - becomes aware of own space and bumping in to another kid can be avoided now, runs faster and can dribble a ball, capable to complete puzzles, color inside the objects, can brush their teeth and already toilet-trained. They talk a lot, as they develop their language skills.
Emotional Development - Being attached to a parent. A boy will start to be attached to his mom while a girl, will be closer to her dad, being jealous of her mom, if she's a girl and becoming jealous of his dad if he's a boy. Afraid of the dark, and being injured.
Social Development - into sharing, giving, and cooperative play, curiosity becoming more intense, starts to have an imaginary friend. Starts their interest in the bodies of their playmates. 
This playhouse will captivate your kid and the rest of the other kids. It is safe and durable. It is weather resistant. Fresh air breezes through it because of the wide windows. The exterior design kooks awesome. Made from cedar wood. It has flower pot holder in front and a nice looking half door. There is even a snack window for serving that afternoon lemonade drinks. And it can be assembled last than an hour. Way to go!
Here are some information that can help you decide on this playhouse. This is perfect for kids 2-5 years old. If your kid is 2 now, he/she can comfortably use it for another two good years. An adult cannot sit inside with a two years old child mainly because the entry door is narrow, and going through it can be a struggle. There will no longer be room for any other person, even a kid! The height of the door is merely 3 feet and 4 inches, and just 14 inches wide. This can be painted, why not, but why lose it beautiful red cedar exterior? 
This playhouse is very much suited for a 4 year old kid and up who is now into active play. Considered as an ultimate outdoor experience. This will make the kids be away from television and gadgets. Made from excellent quality using only top grade cedar wood and plastic.
This outdoor playhouse for a 4 year old will definitely make playing more enjoyable each day.
Best outdoor playhouse for 5 year old
Physical and Language Development - Can dress by himself/ herself, maturity in Motor control, can draw more complex shapes, can sound like an adult, starts to play online games, can now share stories, and increased vocabulary.
Emotional Development - Responsible, sense of pride and guild.
Social Development - Prefers playing with other kids, more sociable, starts to become competitive, and prefers activities suited to one's gender.
This super cool playset gives a variety of activities to do. Very durable and stable. What's incredible about it is it's a two-story playhouse. Gives you twice the fun and more ample space to move. It includes two swings, a glider, a climbing all, a playhouse slide that is 6 foot long, basketball hoop, and a ladder that is sturdy. No reason not for children to enjoy long hours of imaginative play!
It's almost maintenance free and any five year old will truly be thankful for this. At five, kids would want to interact and play with other kids. Other kids can be invited to join in this awesome playhouse and playset rolled into one. How can an outdoor playhouse for 5 year old be this neat!
The maximum weight that the swing can hold is 75 pounds. There can be endless fun tossing the ball to the hoop. Truly one heck of a playhouse.
Here are some detailed interesting facts regarding this playhouse/playset: It stands pretty well even if the winds up to 60 mph, it can withstand over 3 feet of snow, and it has very good center of gravity due to being not too tall, and it's wide and long. Just makes sure it's positioned on a flat surface.
Best outdoor playhouse for 6 year old
Physical and Language Development - can lose his/her first tooth, likes drawing and painting, has sharp vision like an adult, likes a lot of activities, rides a bike and jumps rope, and is bent in being better, skills wise.
Emotional Development - may have temper tantrums, gets jealous of other kids or siblings, can sometimes be a loner, cooperates and shares.
Social Development - likes to copy what the adults do, plays with kids of the same gender, enjoys playing board games.
Cool modern design. Bigger children can enjoy this spacious playhouse. It has the following features: curtain, board, mailbox, and grill. Enjoy drawing, coloring, and playing board games in this wonderful playhouse. Have a pretend play or grilling and having a backyard barbecue party!
Since it's made of wood, a very important thought can come up such as whether, can the exterior can be stained? Definitely yes, you can.  The only thing is to be remembered is, that you have to re-s-and and stain it using water-based sealer and stain. Nobody would want to lose its original look. Another good point to ask is: does whether it comes with a floor? Unfortunately, it doesn't. It would be great if flooring can be added through a DIY using ¾ plywood or hardwood.
Best outdoor playhouse for 7 year old
Physical and Language Development - understands numbers, can distinguish daytime and night time, can already tell time, can draw complex shapes, knows body parts pretty well, knows usage of objects, can follow three separate instructions, and can read. Increased vocabulary including sight words.
Emotional Development - can describe his/ her causes of emotions, controls emotions, starts to feel insecure, takes deep breaths, and repeats phrases when stressed out.
Social Development - can tell stories and discussed things to others, can impart knowledge, can sympathize others' feelings, and actions, shows respect when playing with others, can solve conflicts in play.
The luxury cabin outdoor playhouse envisions longer play and usage for children. Made from the finest material available. Very sturdy, stable, and a very good investment for a reliable playhouse. Safety and quality were insured in every aspect, and facet of this great outdoor playhouse! Wood has natural resistance to bugs, insects, water, and decay. The deck is coated with oil based stain. Slide is not included.
This appealing playhouse doesn't include a slide. If and when you decide to add this amenity, put the following into consideration: the appropriate slide should fit a 48"-53" platform height playhouse, and the recommended slide length is 96 inches. 
What needs to be done to protect the wood? An oil-based wood stain should be applied after the assembly. This will ensure a long lasting outdoor playhouse for 7 year old!
Best outdoor playhouse for 8 year old
Physical and Language Development - coordination continues to develop, has improving small muscle control, can be more refined, indulges in sports with a lot of jumping, turning, and spinning, can say what they feel, can express themselves better. Has an estimated 3,000 vocabularies.
Emotional Development - may want privacy, can seek solace and attention from parents, but can be aloof at times, and balanced in coping in failure, frustrations, and disappointments.
Social Development - loves being a part of a group, makes friends with kids of the same gender, likes school, and must be taught essence of respect. Must be guided on what's right and wrong. Also, must be briefed about lying; it's not good to tell lies.
This is a perfect wooden playhouse and playset for bigger kids. There are multi-things that can be done. A lot of activity areas that children can be busy at. Very sturdy with lots of options for the kids to use their imagination with. It has a lot of features and amenities that kids will truly enjoy! It accommodates eight children with a maximum weight of 110 lb. per child. It is durable and sturdy. It is resistant to pest, bugs, rot, insects.
A common thought that could pop out of your mind is, what is the weight capacity of the swing? And can an adult use the swing? The weight capacity for the swing is 110 pounds per swing. And yes, an adult can use it, as long they don't exceed the weight limit.
One more thing that can play in one's mind is, does it includes the flower boxes, seats, and yellow/green awnings in this package? Luckily, they are all included in this package.
What an incredible outdoor playhouse for 8 year old can bring to every kid is priceless.
Best outdoor playhouse for 9 year old
Physical and Language Development - starts to face different physical challenges. Puberty might come earlier than others. Manages better grooming and more aware of personal hygiene. Grows taller, and gains more weight. Can participate in games and doing physical challenges. Using correct sentences, Can read, write, can communicate skillfully now. Can express their points and themselves pretty well. Usage of more sophisticated words.
Emotional Development - gaining more confidence and independence, can resolve and handle conflicts, can have mood swings, one minute can feel ok then upset. Feels fear, and anxiety. Might insist their way but listens to reasonable points.
Social Development - would like to belong to a clique or a group, opens up to friends, Might have a cellular phone, and, a social media account like Facebook. Has a best friend that they are very clingy and close to.
A captivating outdoor playhouse. Girls and boys alike will enjoy a lot of fun times here. A slide and swing set can be added alongside for boys. The Cape Cod Playhouse offers great aesthetics. This house will be a part of great memories. It is a replica of a truly luxurious cottage like home. However, parents should buy the shingles, drip-edge, and paints. Nevertheless, it's still a must buy for being outstanding! It has 2 working windows with safety glass and screens.
Since this outdoor playhouse a replica of a cottage, one might wonder if a small AC can be installed. A small AC by all means can be installed, likewise a small heater can be installed. Wow! That would make this cottage like the real deal. Mind you, it also come with venting.
Another question might be whether it can be placed on a stand-alone deck without rails? Yes, it can be placed on a stand-alone deck without rails.
Best outdoor playhouse for 10 year old
Physical and Language Development - has improved balance, agility, speed, and coordination, might experience puberty indications like oily skin, more sweating, Hair growth in underarms and in private parts, and continuous growth in their height. At this stage, they read more complex materials, and lengthier stories. More vocabulary building, can prove appoint, and view opinions. They can also be critical and analytical at this point.
Emotional Development - Girls can mature emotionally than boys. They can be capable of feeling excited, embarrassed, uncertain, agitated, and fearful. Can control one's emotions although can sometimes be volatile in his/ her emotions. Gets stressed over school, how to fit in and at the same time dealing with bodily changes. They can negotiate and exhibit maturity in handling conflicts. Start to idolize older youth to the extent of imitation. This is when they begin to see authority figures.
Social Development - They are cooperative in groups, enjoys group activities and bonding, they have secrets now with their friends, they associate more with their own gender, has jealousy issues with friends, girls are more attached to their friends, while boys are close to each other because of common interests in games, sports, and hobbies. Boys' friendships with each other are not on personal level. They feel the need to belong, and peer pressure can be evident at this age. They are close to their family, friends, and siblings. A lot of fights with younger siblings can take place. They are conscious of what to wear, what music to listen and would like to be cool.
This wooden swing and slide set is enormously beautiful. There's plenty of room for all to play on. Can accommodate multiple kids. There's abundance of activities to feast on. The wave slide and other amenities are truly awesome! This is a fantastic swing set and an outdoor playhouse made from cedar. This can last a long time. It can be passed on to the younger kids! 
By this time, a ten year old kid has a lot of friends. This outdoor playhouse could give them the bonding fun time that they look forward to.
Even if it's huge, some might still wonder and ask, would my 9 or 10 year old fit in the clubhouse? A mom said, she and her husband both fit in the upper and lower clubhouse with ease. And since it's enormous, some might have qualms and ask, does it need a special platform or base? No, it doesn't need any special platform or base. Levelled grass with sand will work perfectly well.
Being conscious of your budget can never be wrong. Please check out our link for cheap wooden playhouse.
Are there specific playhouses available for a girl? Or a boy? There are some outdoor playhouses that cater only for a specific gender. Find out what they are.
Outdoor Playhouse for Boy
Filling up in this Garage
Boys will love this super cool playhouse especially on a good weather. Made from Sky blue fabric that is 100% woven cotton. It's sturdy and highly recommended. Has a colorful signage that says Garage, and roll up door that looks like it is made of wood. An appliqued red car on one side. Suited for boys from 3-6 years old.
This will truly be a fun interactive and role-playing excitement in this playhouse.
How can I maintain this type of playhouse? Spot cleaning only using mild soap or detergent. Machine wash is not advisable.
If you prefer a wooden playhouse with garage, customization is the answer. There are no wooden outdoor playhouse with garage available in the market. The best way is to buy a wooden playhouse and just integrate or add a garage to it.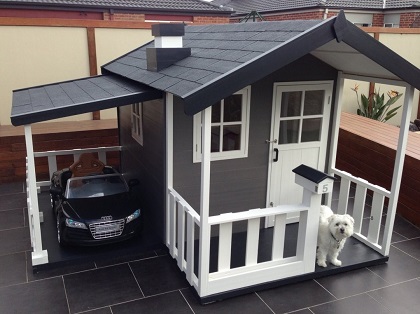 Source image: mit24h.com
Active play for Boys
Boys are more active than girls. And they can also be rougher during playtime. This is a sure-fire winner for boys. This playhouse includes: 2 swings, and a slide. It is recommended for kids from 3-8 years old. Very sturdy and easy to assemble.
It comes with anchors and straps for the stability of the playhouse. Seems like it can last a lifetime. Never a dull and lazy afternoons for the active boys out there.
Points to ponder on such as: Does the set needs to set and used on the grass? Yes, the set definitely needs to be used on grass. It offers precautionary add-ons to make playing safer. How about the swing set, can it be adjusted for smaller children?  The swing set can be changed to be more age-appropriate for the children.
Outdoor Playhouse for Girl
Novelty Pink Outdoor Playhouse
A novelty outdoor playhouse for girl that's great!  Plus, it's reasonably priced. This girl outdoor playhouse is lightweight and very easy to move. Cleaning can be done by just using a damp cloth. Every girl will enjoy this exciting playhouse. Girls can use their imagination, and have lots of playing time here.
This girl outdoor playhouse is portable since it's easy to move, and it can be used indoor and outdoor. It's even very easy to assemble.  Advisable age group is from 3-8 years old.
A number of outdoor playhouse pink colored ones are very popular among girls. Another refreshing choice is an outdoor playhouse yellow colored exterior! What color would you like yours to be?
Is it a good sized outdoor playhouse? Absolutely, yes. Even a person who's 5'3 feet can play and fit inside. A small girl playhouse can also be mom's cool getaway place.
Another stylish one is this pink plastic playhouse. It's funky, cute and adorable!
The L.O.L. Surprise! Cottage Playhouse has so much style and fun! The modern windows, arched doorway, brick and glitter details make this little house the perfect girl outdoor playhouse! It features an outdoor playhouse mailbox / slot, decal stickers and a flag holder.
As for a pink wooden playhouse, the best way to have one is to have any wooden outdoor playhouses painted in pink. Check the link below for some inspiration.
https://www.waltons.co.uk/blog/10-awesome-playhouses-that-your-children-will-love
Girly Outdoor Playhouse
Unicorns had always been associated with girls as much as action figures or toy cars are for boys. Girls are fascinated by unicorns. This unicorn outdoor playhouse will be a hit among girls. It's purple too!
It's super cute, girly, great size, easy to assemble, durable, and lightweight. Very easy to clean too. What more can you ask? 
Caters to 3-8 years old girls.
How about the unicorns, are they stickers? And do you put it yourself? Yes, the unicorns are made from stickers and you have to stick it up yourself on the playhouse.
These girl outdoor playhouses will make every girl's dream play a reality!
An outdoor playhouse can truly make every child's life magical. These moments they will cherish forevermore. From toddlers to kids, boys or girls, an outdoor playhouse will always be a part of them!
This tradition will be carried over as it will passed on to their future children. Every child deserves a kids outdoor playhouse because it transcends any age, any time, and any place under the sun!