Cheap Outdoor Playhouses (Giving kids outdoor fun on a budget)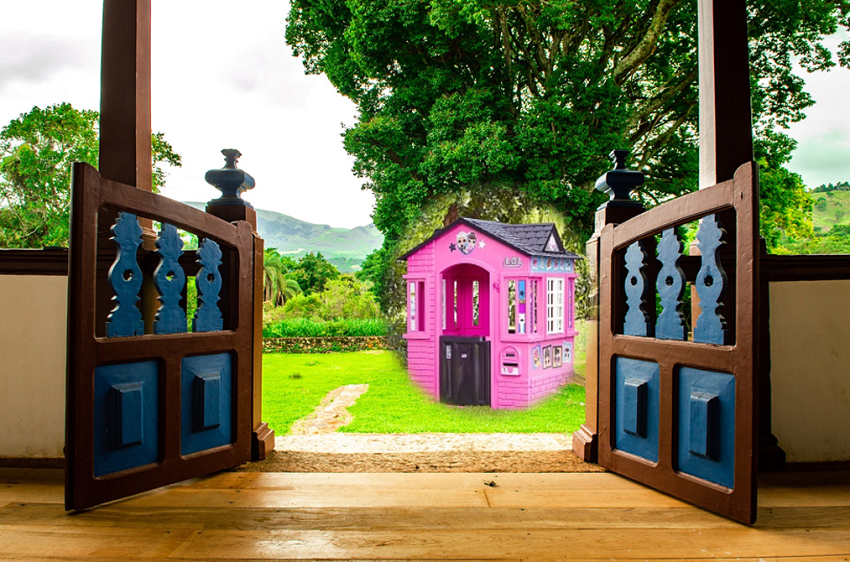 A child's enjoyment cannot be measured on how much the toy is. There are options available for great cheap outdoor playhouses if one is budget conscious. Parents wouldn't want to deprive their children from being happy and having fun in playing.  A good way to find the best deal for one's money is to take into account the features and quality of the cheaper playhouse being eyed on.
There are a number of cheap playhouses available that would certainly suit every child's needs for outdoor active play. All you need to do is to compare, choose, and set how much is your allotted budget for it. Cheap doesn't mean it can't be good!
The main focus should be how it will keep the children entertained, happy, engrossed, safe, and learning while playing. Remember that the life-span of any toy will be dependent on how well it will be taken care of.
Let's see some cheap playhouses for sale.
Cheap Outdoor Playhouse that is Highly Rated under $100
This kind of playhouses are gaining a lot of patronage but it's easy on the pocket. Can make playing worthwhile for less! Very easy to set-up because it's foldable. Although can only fit two kids, there are a lot of fun in imaginative plays! Just involves 2 steps folding that turns it into an easy portable size. It has large windows and working unique doors.
https://www.amazon.co.uk/Keter-Wonderfold-Outdoor-Childrens-Playhouse/dp/B01CFZZXTU
Another value for money for your money type of playhouse. Vibrant colors, easy assembly, waterproofed, and offers a lot of features inside and outside the house. The recommended age is from 3 years old and up.
https://www.amazon.co.uk/Palplay-0716021-Playhouse-Dopyey/dp/B008PT6LZQ
These best value outdoor playhouses will have their shares in the market especially as good buys for a first outdoor playhouse.
Plastic Outdoor Playhouses under $120
There are many cheaper plastic playhouses that are from $97.00-$180.00. They are made of high-quality plastic too. They usually come in bright colors. More compact and lightweight. These types are also easier to assemble, move, and relocate. The features are all in working condition like the doors and the windows.
The Little Tikes Cape Cottage is a classic example of a cheap outdoor playhouse being on sale for $99. It has a lot of favorable and good reviews from the consumers. It is an example that it might be lesser in price, but it offers more than it's worth!
Check it out in the link provided below.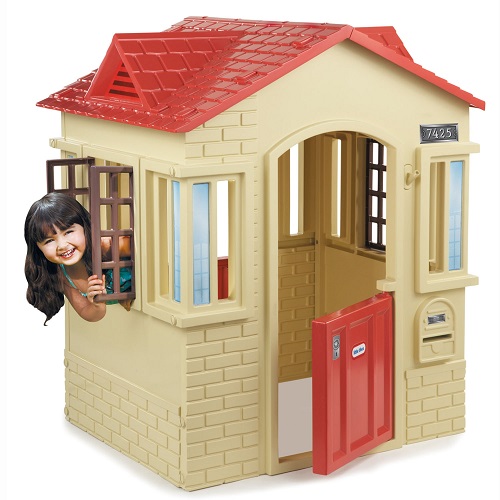 Image source: Little Tikes
Another example of having your money's worth is L.O.L. Surprise! Indoor & Outdoor Cottage Playhouse with Glitter. This is on sale for $ 114.64. It has all working features like: doors, windows, and mailbox.  Very attractive, easy to assemble, and simply a great buy!
See it for yourself with the link below:
Indoor & Outdoor Cottage Playhouse with Glitter
Plastic Outdoor Playhouse under $150
A very popular selection is the cottage style playhouse. It's durable, has an open design, comes with a kitchen table, faucet, and a burner. Also, inclusive of functional electronic phone, and doorbell. A saleable variant is the step2 Playhouse Neat & Tidy Cottage. Reasonably priced and loved by the children.
---
There are cheap wood playhouses that you can choose from.  It is always good to check and compare. What features would you like in it for a cheaper price? Check the wood material, and what is inclusive. Take into consideration the waterproofing, staining, and sealing that had been done and how to maintain it.
Wooden Playhouse under $100
A wooden playhouse is far more-pricey than a plastic outdoor playhouse. If you're going for traditional wood outdoor playhouses, it would be very hard to find one under $100.
To be realistic about it, you can settle for a used cheap outdoor playhouses for sale. A good source might be from relatives and friends who might be selling their used wooden playhouse cheaply. Another option is to search online for used ones.
One more option is to get this specific teepee with tent poles that are made from sturdy pine wood that is odorless and that is free from harmful substances.
This is one way of leveling your child's playtime that is safe, can be stimulating to your child's learning, growth and development. It can also enhance their creativity. It can give every child the space, freedom and confidence to be independent and practice pretend play.
These cheap playhouses for kids have a price tag that is lesser that $60. And mind you, it's a lot better and more durable than cardboard playhouses! This teepee playhouse offers your kid a place to relax, read, nap and play. It can be their private nook with their playmates. It can be used indoor or outdoor.
Let your child's imagination flourish and be enriched with the personal nook they deserve!
Wooden Outdoor Playhouses under $200
There are cheaper wooden playhouses for sale that has very good quality in them. It also comes with working amenities such as: doors, windows, play stove, play sink, even a cordless phone, and flower boxes to complete the fun!
A great buy for a 100% wooden playhouse made of cedar wood. A perfect example for a real steal for this price is the Backyard Discovery Timberlake All Cedar Wood Playhouse.
This is a best price outdoor playhouse that is made from wood. Definitely worth purchasing for your kid.
These wooden playhouses under $200 is a real steal!
Please see the link below.
Backyard Discovery Timberlake All Cedar Playhouse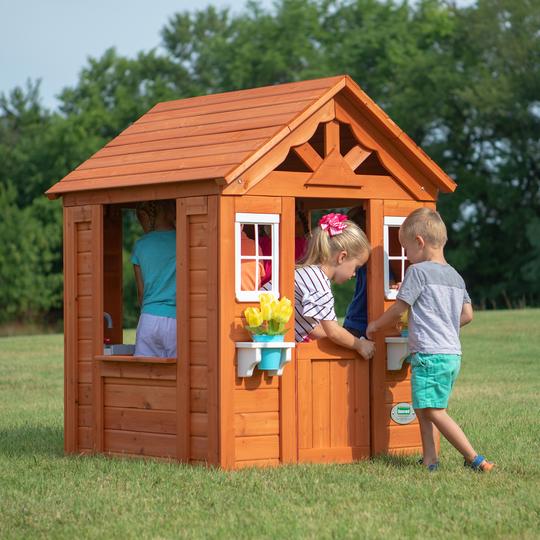 Image source: Backyard Discovery
Another suggestion for a cheaper one is this new playhouse. It's aesthetically fresh. It's very light and refreshing. However, this kind of an outdoor playhouse will be good especially during summertime.
Legnoland House Market Wooden Toy
A great playhouse set for a very good price. The size is 237 x 168 x 218 cm (L x W x H). This wooden playhouse is extremely strong, weather-resistant, and durable. The rope ladder is attached to the frame with wear-resistant metal hook. There are hand grips to ensure safety. The playhouse includes: a solid wooden frame, a wave slide, a rope ladder, and a ladder. Turn your backyard into a fascinating playground for your little ones in this wonderful playhouse!
https://www.amazon.co.uk/Tidyard-Outdoor-Playhouse-Playground-237x168x218/dp/B07PYFGBFP
This large playhouse can benefit if some outdoor playhouse ideas can added to it. It will even look more beautiful. A greenhouse can be added beside it to complete that great outdoor look and adventure. In this activity, children will learn to plant, grow plants, and take care of them. They will learn a lot about nurturing the environment. This outdoor greenhouse play will be both fun, and educational. Look at the link below.
The greenhouse is made from durable steel and has a removable canopy made from PVC. An easier way to grow, and make those plants healthy!
One more useful way to be able to use your old greenhouse is to transform it to an outdoor playhouse. This DIY project will challenge your imagination and creativity.  It can be a DIY or you can ask someone to do it for you. The good thing though is, a lot of money can be saved. You already have the foundation and framing, a little magic here and there will transform it into a big outdoor playhouse for cheap cost. See it for yourself, please check the link below.
https://www.google.com/search?q=diy+from+greenhouse+to+playhouse&source=lnms&tbm=isch&sa=X&ved=0ahUKEwizvP2nqYfiAhVVqp4KHcxoAdkQ_AUIDigB&biw=1366&bih=657#imgrc=5OhzHZ4nyZDBQM:
Some other interesting options are available in the market today. There are a lot of revolutionary and innovative designs, themes, and materials to choose from. There are a lot of variations to look into.
Outdoor playhouse under $100
Teepee Tent 
Stunning teepee tents are in rage now. Typically, good for indoor and outdoor use. This would be great during the summer. Very easy to assemble, safe, durable, and made of high quality materials of pine wood and airy cotton canvass. Made for children who like to read, color, draw, and just to chill.
Pop Up / Fold Tent
This kind of playhouse is roomy, made of lightweight materials, and takes only 5 minutes to assemble. The children will be just love it. This can make a good impression for your kids or as a special gift to another kid.
House Tent Playhouse
An array of line up of tent playhouses. They come with different themes. There are castles, car inspired, rocket ships, and a lot more!
A very good selection is a house tent. A place where the children can truly enjoy. Made of polyester and PVC.  The kids can develop more of their intelligence and enjoy a simulated play with other kids.
Large Fire Truck Pop-Up Play Tent
Corrugated Cardboard Playhouses
This type is made of corrugated cardboard. Assembly is easy, and it can be folded, and stored easily. They can be made of durable boards for extra sturdiness. The manufacturers want to make sure there are no sharp edges to avoid cuts and abrasions to children.
More advisable for indoor use but can be excellent outdoor during good weather condition.
Box Creations Corrugated Castle
---
Inflatable Playhouses under $ 200
A source of utmost fun for children. This type can be made from nylon. One of the popular cheap option for an outdoor playhouse. Very portable and can be setup using a 385-watt heavy- duty blower. No more frustrations and hassles in assembling. Excellent purchase and a big hit with kids.
Inflatable house under $70
This type can be inflated and deflated for 2 minutes! Can be washed and very easy to maintain. A perfect example is the Fortsy Pretty Playhouse. It's a great deal and on sale for $ 64.79. It comes with a hand pump and carry bag.
Big Playhouses for Cheap Budget
Want a big steal and still get a wonderful playhouse? Indeed there are big playhouses that are great deals! A good example is this two-story wooden playhouse with loft. It has smaller and easier panels to handle for faster assembly. These types are suited for children 3-7 years old. Made from high-grade wood, and is weather protected. It includes amenities like: full door, and windows. Application of basecoat treatment using water-based sealant. 
https://www.amazon.co.uk/dp/B00FLST322
Another great choice is a raised tower cottage inclusive of a slide. The panels were pre-treated. It's built to last a long time. The slide adds to the excitement factor of this big playhouse. It has the space for a lot of fun and multi-playing activities are possible. Equipped with a door, and 4 front windows. This will never be a boring playhouse at all.
https://www.amazon.co.uk/Mad-Dash-Bunny-Childrens-Playhouse/dp/B00Z6HL5AG
Cheap Unique Outdoor Playhouses
This unique outdoor playhouse is a brightly colored boat for imaginative and active play for active kids. What's good about it is, it can be used indoor or outdoor in your backyard. It promotes social and interactive play.
Image source: ECR4KIDS
There's a deck with a room, helm and also in the cabin. It's a good for multi-play for kids.
It has everything you need to begin your nautical journey that includes: a pirate flag and move-able wheel. Kids will enjoy pretend play with a captain and the crew in this cabin. Constructed using blow molded plastic and it's is fade and weather resistant. Kids will  love it!  And it's great for ages 2-5yrs and even younger!
At the end of the day, the parents know what's best for their children. However, purchasing a cheaper playhouse or toys doesn't mean they're of inferior quality. Most of the times, there are sweet surprises that await us. Some of the best rated outdoor playhouse doesn't come with a hefty price tag!
After all these abundant choices, finding the right playhouse for your children can be easier. Furthermore, compare and set your budget, and decide which one is the best for your child!