Outdoor Playhouse Furniture and Accessories (Awesome Amenities add-on)
Outdoor playhouses continue to amaze and excite the children even in this digital age where most gadgets and gaming consoles are available. It maintains to beat itself in its own game by continuing to offer an abundance of amenities. 
Though outdoor playhouses vary in shapes, sizes, designs, themes, and shapes it will remain to have its niche in every kids' lifestyle and fun times.
There are a lot of outdoor playhouse furniture and accessories to make these playhouses more engaging and charming. These will not only capture their attention, but also their hearts.
Here's a rundown of these awesome outdoor playhouse amenities, accessories and furniture a child can have:
swing, swing set
slide
monkey bars
net climber
rope climbing ladder
obstacle course
trapeze
climbing frame
activity wall
storage bin, chest, or cabinet
window
door
furniture, table, chair, sofa
appliance
sink
accessories
doorbell
clocks
cleaning tools
gardening tools
representational food, fruits, and groceries
cookware
plates, glasses, and utensils
flowers and pots
sandbox
educational toys
telescope
steering wheel
flooring, base
decor, signage, cover, curtains
mat
canopy
stickers
decorative ideas, makeover, interior designs
ATV
Outdoor Playhouse Amenities
Swing / Swing Set
There is a lot of outdoor playhouse with swings or wooden swing sets that offers different kinds of swing designs and orientation.
A constant staple and a favorite in almost all outdoor playhouse. This gives the children the feeling of adrenaline rush and excitement at the same time. Check the different types of swings: regular type swing / swing sets made of metal, wood, or plastic. There is the conventional swing that comes with an outdoor playhouse. A swing set can also be bought and placed side by side the playhouse. Check the link below.
Step2 Naturally Playful Adventure Lodge Play Center Swing Set
KidKraft Ainsley Wooden Swing Set
Others have a swing set and one way to make it more fun is to add more features to it. Kids swing set accessories can make this happen. Avail more accessories to your kid's swing set for multiple play selection for kids! Check the line-up below of different swing variations you can consider.
Tire Swing
A classic favorite. This swing can fit up to 3 kids.  It is safe and durable. 
Link: https://www.walmart.com/ip/Eastern-Jungle-Gym-Swing-with-Chains/22062892
Disc Swing
Heavy duty and has very good designs.
Monkey Disc Swing for boys and girls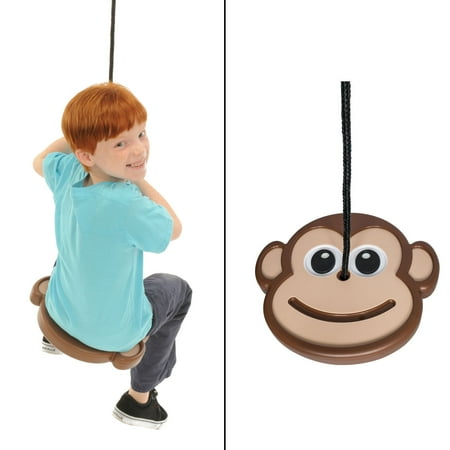 Image source: walmart.com
Full-Bucket toddler swing
A combination of plastic and metal. This is the safest swing for any toddler.
Heavy-Duty Full Bucket Toddler Swing Seat with Coated Swing Chains Fully Assembled for boys and girls with age range 2 years old

Image source: walmart.com
Swing set with chains
Very good swing replacement. Measuring 40 inches across and it's comfortable. Secures and hugs your child for more stability.
Creative Cedar Designs Beginner Swing Seat with Chains
Mat platform swing
Holds up to 250 pounds and can simultaneously accommodate multiple kids. A huge hit that can be enjoyed by the whole family.
Kids Mega Mat Rectangular Outdoor Platform Tree Swing suitable for your child age 5 and above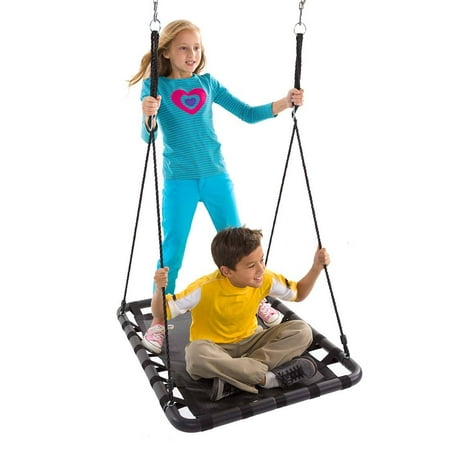 Image Source: walmart.com
Web swing
Another great variant of a swing. Can also accommodate multiple children to play together. Heavy duty and strong.
Glider swing
A back supported ergonomic design that is sturdy. A good transitional swing from a toddler swing to a regular swing. Helps in strength and coordination building for your kid.
Link: https://www.walmart.com/ip/Costway-Rider-Swing-with-Hangers-Glider-Swing-Seat-Kids-Children-Playground-Backyard/328136160
Net swing
Beautifully designed swing. It's made from super strength nylon with metal framing. Great for any type of weather.
Clevr 38" Outdoor Saucer Web Tree Net Swing Chair
Tandem swing
Twice the fun for this tandem swing. Weatherproof and can hold two kids for a fun play. Heavy duty and made from high grade materials.
Creative Cedar Designs 2-Person Glider Swing
Car Swing for toddlers
A fun swing for toddlers. An imaginative play with this car replica kind of swing. Too cute beyond words. Your toddler will surely have a superb time!
Little Tikes Cozy Coupe First Swing for baby which can be attached to swing set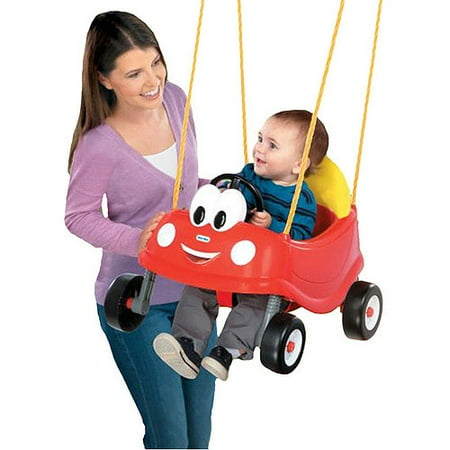 Image Source: walmart.com
Coaster swing 
A blast for a toddler till 3 years of age. Secure, safe and ergonomically designed.
Swing-N-Slide Comfy-N-Secure Coaster Swing for Toddler with seat that will hold your child securely and is compatible with most residential swing sets.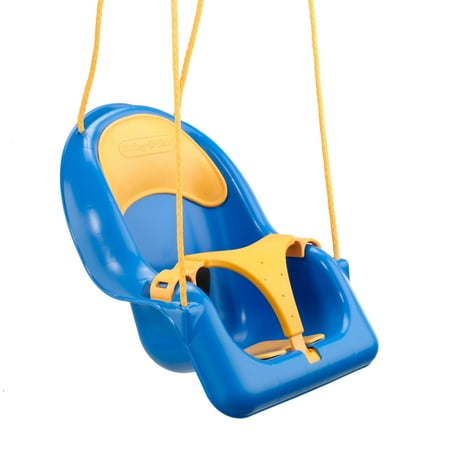 Image Source: walmart.com
Spinner Swing
Very fresh design. A new option for that fantastic swinging experience. It's a spinning, soaring, and swinging enjoyment and fun!

Image Source: walmart.com
Platform swing
A relaxing way to swing or just lie down. Great for everyone. A revolutionary kind of swing. It's truly unique and you'll get hooked with this swing!
Link: https://www.walmart.com/ip/SkyCurve-Platform-Swing/686890023
Wooden Swing
This kind of swing never goes out of style. It is built to last. This is an old reliable type of swing. It takes you back in time.
Hanging Wooden Swing Replacement Seat & Frame or Tree Adjustable Rope
Truly a wide selection of different take on swings / swing set to choose from. Kids will truly enjoy their playing time and will always look forward in spending more time outdoors.
Hammock Swing
A swing for the family. For total relaxation and comfort. Truly a magical swing everyone can enjoy. Very easy to hang. Sleep as a baby in this fabulous swing.
Hammock Sky Large Brazilian Hammock
Slides
Another regular in demand amenity is a slide. They also come now with different variations and styles.
Wave slide
Has a unique scoop and wave design. It can be used as an upgrade or replacement. Has a maximum capacity of 250 pounds.
Link: https://www.walmart.com/ip/Swing-N-Slide-Apex-Wave-Slide-with-Lifetime-Warranty-Blue/822524577
Tube Slide
Lots of turning and twisting fun. A perfect amenity to an outdoor playhouse. A perfect variation for a better playtime.
Swing-N-Slide Blue 5' Turbo Tube Slide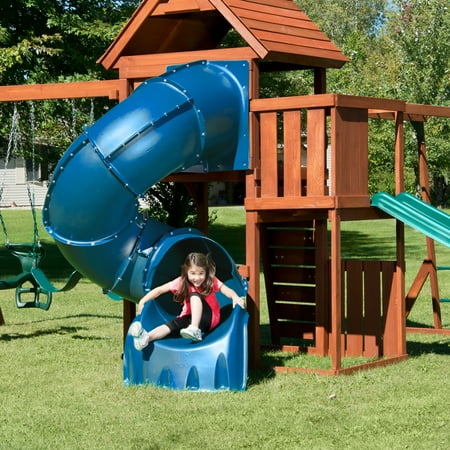 Image Source: walmart.com
Side Winder Slide
This curved slide has a 90 degree turn. A great add-on to your wooden outdoor playhouse. A very sturdy design to accommodate up to 250 pounds.
Swing-N-Slide Side Winder Slide

Image Source: walmart.com
Inflatable Slide
A great added amenity to any kind of outdoor playhouse. It will surely double the fun and excitement of the children. Summer will never be the same with this wonderful slide.
Link: https://www.walmart.com/ip/Banzai-Slide-N-Soak-Splash-Park-Kids-Inflatable-Outdoor-Backyard-Water-Park/55392370
Water Slide
For an unforgettable summer blast. This is a very welcoming amenity to any outdoor playhouse. Kids will definitely want more of this slide.
Link: https://www.walmart.com/ip/H2OGO-Water-Slide-Double-Lane/43990260
Toddler Slide
A beginner's slide for toddlers. An aid for a toddler's better balance and coordination. This physical activity will enhance their strength too.
Link: https://www.walmart.com/ip/Little-Tikes-First-Slide-Red-Blue-Indoor-Outdoor-Toddler-Toy/22394128
Monkey Bars
There are a lot of innovative monkey bars in the market. This is one amenity that can keep the children busy for hours.
Toddlers and Children Monkey Bars
To help children become more active, imaginative, and better coordination skills. 
Link: https://www.walmart.com/ip/Toy-Monster-Monkey-Bars-Tower-Childrens-Toddler-Climbing-Gym/317314858
Link: 3 Monkey Bars
Net Climber
A challenging addition to any outdoor playhouse. It's very safe. Makes the children faster, agile, and develops their improvisation skills.
Swing-N-Slide Climbing Cargo Net Rope and Wooden Dowel Climber for Play Sets
Rope Climbing Ladder
To build the upper bodies strength and endurance. Also for good balance. This is great for muscle building for kids too.
Rainbow Craft Rope Climbing Ladder
Obstacle Course
This is a customized swing obstacle course. For that great ninja moves! A sure winner for kids who loves to be challenged.
Trapeze
Very safe and reasonably priced amenity you can add to your playhouse. It's very easy to install. Loved by a lot of children. Includes heavy- duty accessories for that limitless enjoyment of the kids. Check it out. No regrets on this one!
Climbing Frame
Another amenity that can be added is a playhouse climbing frame. Just add it your playhouse or put it beside your playhouse. Very easy and convenient to add to your playhouse. Take a tour at this wonderful Little Tikes climbing frame. Pick the one that will make your kid's playhouse complete!
Little Tikes 2-in-1 Castle Climber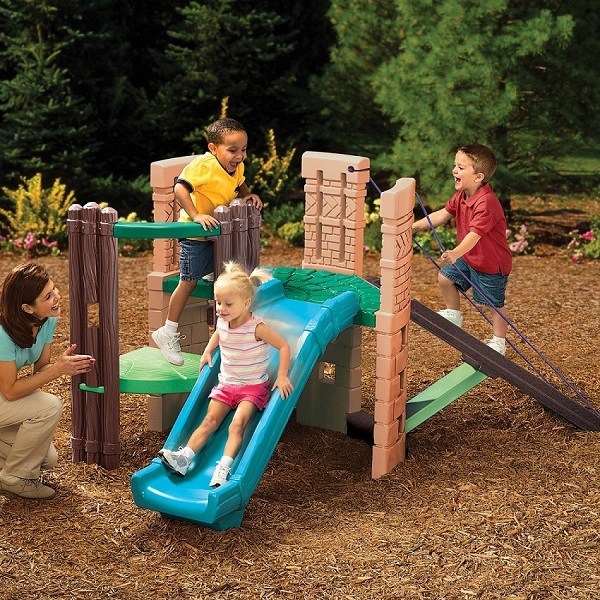 Image Source: Little Tikes
Activity Wall
There are a lot of ways to dress up those walls for numerous educational fun and activities. The educational activity board tops the list. A Montessori activity board helps children develop their motor skills, memory, logical thinking, and creativity.
Busy Board Activity Board Montessori
Another kind is a chore chart that will come very handy and useful. Teaches the children to be responsible and to be diligent. A great game changer kind of educational aid. It's a chart for self-care, chores, and has a reward system. A bonding way for parents and their children.Others build their own rock climbing wall.
Storage Bins, chest, or cabinets
Definitely a must have in any outdoor playhouse. It will make the place organized, clean, and in order. This will teach the kids to clean and put their toys and things in storage bins, chest or cabinets. They will learn the value of discipline.
Multipurpose Toy Chest Baskets Storage Bins OrganizerPlayhouse Windows
Windows
For a DIY outdoor playhouse project, there are great-looking windows to choose from. The best would have acrylic or tempered glass windows. This is a safer option for children. Usually very easy to assemble that comes with the right screws. A neat option that is made of durable aluminum framing.
Shed Windows - Flush Mount w/ Safety Glass - Playhouse Windows
Shed Window - White J-channel, Playhouse
Doors
There are different types of doors that are featured in each playhouse.  An outdoor playhouse door can differ in size, design, theme, and materials used. It can be plastic, wood, or fiberglass. The popular door options are standard door with or without cut out, half door, Dutch door, double Dutch door, French door, Stable door, full-panel door, and bespoke door. There is also small playhouse door like mini-Dutch door. This is for smaller children so parents can see them and watch them while they are at play.
Very durable doors made from fiberglass is your best bet for a long-lasting door. An attractive door that will not rot, dent, splinter, warp, or peel. Safe and has a tempered glass window. Lucky that these doors exist! Check out the following link to buy playhouse door. 
Craftsman Style with Window Treehouse Doors
Furniture
There are a lot of playhouse furniture that you can choose from. You can choose a motif for it. How realistic can role playing be? Put representational toys in an outdoor playhouse. There are lots of choices to make that playhouse lit! Playing could never be more enjoyable. Let's see what is in store to make an outdoor playhouse awesome. There are hundreds or even thousands of outdoor playhouse furniture ideas to choose from.
A deciding factor which furniture you will buy is the design or the theme of the playhouse. Also the need and function it will serve to the children that will use them.
Here is an example of an outdoor playhouse furniture ideas. It is a wood dining set motif and it can give the inside of the house a warm homey feel.
http://aglp.info/interesting-playhouse-furniture-ideas/interesting-playhouse-furniture-ideas-cheerful-red-and-white-playhouse-kitchen-outdoor-playhouse-furniture-ideas/
Sofa
A sofa is a great addition to a dainty looking outdoor cottage playhouse. It will add to that homey feeling and environment. 
Another choice would be a more casual and relaxing sofa for that wooden Outdoor playhouse.
Chairs 
Chairs are needed for children to enjoy some of their activities and there's a lot of styles to choose from. The parents taste will come into play here. Here are some options:
   Porch chair
   Plastic chairs
   Stackable plastic chairs
   Wooden chairs
   Upholstered Chairs
   Metal chairs
   Rocking chairs
   Bean bag chairs
Table and Chair Set
What's a playhouse without tables and chairs? Outdoor playhouse tables and chairs are the main items that all playhouses have. They are ever present in almost all of them.
Multi-purpose amenities for reading, playing, eating, and doing crafts. Has dynamic designs and styles to choose from. The kids will surely enjoy their bonding moments.
Kids' Wood Table & 4 Chair Set
Kids Colorful 5 Piece Folding Table and Chair Set
Appliances
A wide array of replica and representational toys will make playing even more  exciting. This will enhance imaginative play, role-playing, and dramatic play among children. Here's a line-up of these superb amenities.
Kitchenette complete with stove, refrigerator, and microwave. A cooking experience for children. This can be bought as a set or individually. Kids will truly have fun in this make believe kitchen.
Sink
A nice- looking sink and some has running water working. This feature helps children in their interactive play, sensory skills, hand, and eye coordination, and motor skills as well.
Simulation Kitchen Sink Toy with Running Water Pretend Play Set for Kids
Outdoor Playhouse Accessories and add-ons
Doorbell
Some outdoor playhouses come with a doorbell. Children would really enjoy this interactive feature in a playhouse. It does add to a more realistic homey atmosphere. An outdoor playhouse doorbell is available as an add-on to your role playing of what a house should have. There are cool battery operated doorbell you can select from.
Clocks
Some clocks are not just decorative but also a learning tool for a child. This will help them learn about time and about clocks. 
Cleaning tools
Functional cleaning tools that will teach children about cleaning and maintaining a clean surrounding. They can grow up becoming more responsible and reliable.
Gardening tools
More tools for interactive realistic playing. They will be aware of their surroundings and how to take care of it. They are colourful, nice looking, and functional.
Representational food, fruits, and groceries
What is an outdoor playhouse without these? A little boring it will be. These toys complete the fun and realistic moments. There are many wonderful wonderful variety to choose from.
Fridge Food Wooden Play Food Set
Complete Pretend Cutting Food Playset For Kids
Cookware
First quality cookware set. Some are realistic and really excellent looking. Some parents want to cook too using these cookware.
Stainless Steel Pots and Pans Pretend Play Kitchen Set for Kids
Plates, Glasses, and Utensils
Very important accessories for that great dining play experience.  Realistic utensils and dishes makes interactive and collaborative playing awesome.
Play Kitchen Accessories Set - Utensils, Pot, Pans
Flowers and Pots
To add life and to make any outdoor playhouse more appealing. Decorate with attractive flowers or flower pots. 
Sandbox
Can keep the children preoccupied for hours. Active fun play. It's definitely safe, fun, and an innovative add-on to an outdoor playhouse.
Large Plastic Sandbox with Cover
Educational Toys
A source of meaningful learning experience for every child. This will motivate children to learn through this knowledge- building toys. They can be educational board games, chalkboards, puzzles, and more.
Kids Easel Double-Sided Whiteboard & Chalkboard Standing Easel
Fun Toys
Outdoor playhouse toys adds more excitement and joy to every kid. It even makes the playhouse more pleasurable. Here's two popular examples of these fun toys.
Telescope
One popular toy that is in demand is an outdoor playhouse telescope. Usually added to an outdoor playhouse who has an upper deck or an upper clubhouse. It can be a wise addition to your playhouse. This telescope has a durable plastic material that can stand to any weather condition play nonstop! Designed especially for kids. It is movable and can rotate.
Steering Wheel
Another exciting addition to any playhouse. It's advisable for residential indoor or outdoor use only.  A toy for imaginative play and socializing. Made from durable plastic and includes mounting instruction and hardware. Realistic looking for that awesome pirate-ship imaginative play.
Flooring
There are outdoor playhouses without any flooring that comes with it. Especially a plastic playhouse or a one-floor wooden playhouse. A good remedy is to add the outdoor playhouse flooring yourself. There are numerous alternative flooring available in the market. Can be used are: rubber matting, foam squares that interlock, and wood flooring for a wooden playhouse.
Another long-lasting material is a ¾ marine plywood for playhouse flooring. It can withstand water and won't rot or decay when exposed to water. These flooring options are good for any wooden outdoor playhouse ideas.
If you would prefer to purchase a wood playhouse with floor, carefully read the product description if it includes this feature.
Take a peek to this wonderful flooring options. Both options are durable, safe, easy to install, and non-toxic. An advice is see if they are waterproof. That would be an added feature to your
flooring.
These are the best plywood for playhouse floor: ¾ exterior plywood or ¾ marine plywood. Both are sturdy and can withstand water.
The best flooring for outdoor playhouse is definitely a ¾ marine plywood. This kind of plywood is stronger and more durable than regular plywood. It doesn't have as many voids that's why it's much stronger.
Base
A very important factor in a playhouse is its base. The base needs to be square, level, and straight. It should be ensured that it wouldn't sink. A base should be built at the footprint of the structure. Its main function is to make sure that rainwater won't sit and cause clogging. It has to be drained at once.
The following are the best outdoor playhouse base: concrete, paving slab, timber framed or plastic interlocking grids.  Check the link below for a professional installation of your base or use it as a reference for your DIY outdoor playhouse base.
Decor
Putting up decors can make any outdoor playhouse more homely and relaxing. Those little details can complete the atmosphere of the playhouse. Aside from accessorizing it with curtains, there are more ways to decorate it:
Add a picture frame
Add furniture
Have more shelves, organizers, and storage
Put throw pillows, cushions, and blankets
Put buntings and garlands
Add fairy light or Led Lighting for added effect especially at night.
Signage
The children's outdoor playhouse signs can be customized. It comes with colors, size, and phrase. They are hand cut and painted using solid wood.It is sanded, stained, painted, weathered and sealed for outdoor protection. Names can be placed in the signage for that personal touch to your playhouse.
Clubhouse/Treehouse/Playhouse Sign
Cover 
A very wise purchase is an outdoor playhouse cover. It is complete with heavy duty zip roll up front panel. The textile material is often used in commercial situations due to its proven strength and it's capable in withstanding the harsh sunlight and unpredictable winters. 
https://www.amazon.co.uk/d/Garden-Outdoors/House-Waterproof-Cover-Heavy-610gsm/B001I3YS42
Curtains
An outdoor playhouse curtains will add to that homey feel and atmosphere. A lot of dainty looking curtains for girls and animated curtains for boys. The material can be made from fabric. Another option is DIY curtains. You can use plastic table cloth or shower curtains. You can customize them and use your creativity to work. Make sure to buy playhouse curtains for that added upgraded look.
The playhouse will surely have a total look of a well-kept playhouse.
Quality Kids Playhouse Curtains ~ Girls & Boys


Image source: ebay.com
Mat
There are a lot of different outdoor playhouse mats available to be used to accessorize a playhouse. They are for different application and purpose. Here are the following:
Floor Mat
Mainly used at the entrance of the playhouse. Just like any normal home, a floor mat is very important. This will minimize the dirt when entering a house or a playhouse. It's also a welcoming sight to enter the front door with a floor mat. A good example is the mat below made from 100% coconut coir fiber. It's made from natural fiber that provides the perfect surface for wiping the shoes, slippers, sneakers, and any footwear before entering the house.
Foam Mats
For that special safety play, a foam mat is a very useful accessory to any playhouse. Usually comes in bright and vibrant colors. They are good for both indoor and outdoor play. It is non-toxic and very easy to clean. Has a lot of multi-purpose functions. Serves as a floor covering, protection, and making surfaces comfortable.
Nap Mat
A very useful accessory is a nap mat for children. Those wonderful naps can be spent in your outdoor playhouse. A refreshing way to spend those sleepy afternoons with this nap mat. This will definitely make your snoozing time wonderful!
Since there is house playing and pretend play, having a nap mat makes it more realistic.
Good for 3-7 years old children. Made usually form super soft cotton and microfiber. The blanket is 100% cotton flannel for that warm feeling.
Snuggle up with your friends in this cute nap mat.
Nap mat with blanket and pillow
Water Play Mat 
Easy to use, and it is inflatable. Have a blast outdoor with this entertaining play mat. The shallow water pool is made from PVC with 0.25 mm thickness.  Environmentally friendly and non-toxic. Just attach it to your water hose, and have that cool feeling! A fun additional accessory beside your outdoor playhouse.
Inflatable outdoor sprinkler mat
Doodle Mat
Doodle Drawing Mat is made of soft polyester material, environmentally-friendly and non-toxic.  It is also non-polluting, and safe enough for kids. Just simply fill the pen with clean water, and draw on the mat. The marks will automatically disappear after 3 to 10 minutes. Kids can draw on doodle board mat over and over again. Kids can draw, doodle, and paint.
This is a perfect game experience the kids can truly enjoy!
Canopy
For a DIY playhouse, you can use this durable outdoor playhouse canopy available. It can also be used as a replacement for roofing for an outdoor playhouse. The recommended one should be: sturdy, made from polyethylene waterproof, protected against rot, and mildew, and UV-resistant.
Have an idea. Check the link below.
Stickers
Outdoor playhouse stickers can help the playhouses look more attractive, vibrant, and lively. They can enhance the total look of the playhouse.  They are good for children 3-7 years old. Guidance is needed for the smaller children, so they will not eat these stickers. Choking can be avoided too.
Kids by nature love stickers. Some even have their sticker collections. Can you imagine stickers for an outdoor playhouse? That is pretty neat. Kids will engage in this creative fubn of putting stickers on their playhouses!
The imagination, creativity, and designing skills of the children will be polished. Children can stick it up permanently or they can reuse the stickers in their creative play.
Outdoor Playhouse Decorating Ideas
Since there are a lot of amenities and accessories out there, what can be some decorating ideas? A good tip for a successful look for a playhouse is to decorate it according to the likes, hobbies, favorite, preference, and interest of your kid. You can't go wrong with this. Your kid will truly enjoy spending countless hours here. Draw your inspirations on what your kid loves.
The decors will definitely set the right mood and ambience of any playhouse. This is definitely the best outdoor ideas for any playhouse to make it more interesting and more exciting for the kids!
Floral design wallpaper ideas for your wall

Image source: http://scarlethestevez.me/
What if the playhouse is small? How can you incorporate some ideas to it? The best solution for small playhouse ideas inside to take off is to choose smaller pieces of furniture. Sometimes less can be more. Avoid buying chunky furniture, decors, and things. Keep in mind the small area you have. Check on suggested examples of small playhouse ideas. If you do this, you can have a beautifully furnished playhouse!
Toddler Garden Playhouse Ideas Your Child will Love

Image source: pinterest.ph
For a wood playhouse ideas, the possibilities are endless. Your imagination and creative juice is needed in this. Even if it is a smaller wooden playhouse, there are so much you can do to it. The right selection of furniture, accessories, and décor will surely spell a huge difference!

Image source: pinterest.ph
How about for small playhouse interior ideas?
It would be great to plan and choose smaller things to put in a small playhouse since space will be a problem. It wouldn't be nice if the place will be cramped. Choose just the right size of tables, chairs and other accessories that will suit the size of a small area.
Your creativity and skill to improvise will be put to a test. Take a look at the link below to be able to draw inspiration and help from.
Image Source: katescreativespace.com
Outdoor Playhouse Makeover 
Any outdoor playhouse can have a necessary make-over. A makeover is making changes in the appearance, making it more beautiful than its original state. A simple outdoor playhouse can become suddenly the playhouse to be at!
A challenging one to do is a cedar playhouse makeover. Cedar wood is basically red in color.
The usual finish is to just stain it. A cedar playhouse makeover can be painting it. There are steps to be followed in painting cedar wood.
Important tips painting or staining cedar wood
Put your creativity at work. It can be wonderfully painted. A lot of accessories can be added to compliment the total look of the playhouse. Toys, curtains, chairs, decors, curtains, and all exteriors and outdoor playhouse interior ideas possible. 
Push your limit to make that outdoor playhouse makeover the project of your dream. You'll be hitting two birds with one stone. You'll make your kid the luckiest and happiest kid on the block, and you'll be the most fulfilled parent in doing this!

Image source: listitplanner.com
Outdoor Playhouse Interior Designs
There are abundant outdoor playhouse interior ideas. It can add character to the playhouse. There can be themes or a focal point of what the finished look would be. The outdoor playhouse interior is one factor to make playing, learning, resting, and napping desirable. In achieving a successful outdoor playhouse interior designs, accessories and amenities will be a great part of it. Choose the right ones for your kid. Compare and see what you can do to spice up your playhouse. See the wonderful outdoor playhouse interior ideas and plan yours soon!
How to have a distinct Outdoor Playhouse
Make your kid's outdoor playhouse that will be unique and that will be different from the rest. It will be appreciated by your kid and the other kids as well.
1.
Make it unique and yet practical

Know what your child needs. What is the top most priority of the playhouse? Make a list of the amenities and accessories that you would like to incorporate in the playhouse. For the more active kids, you can add swings, slides, monkey bars and a rock climbing wall. 

If it's for your daughter, you can add a play kitchen or a doll playhouse too.
2.
Color it the way you like it

You can turn a dull looking playhouse to a stand-out playhouse. Colors give life to any outdoor playhouse. Bright colors are said to be inviting. Envision how you would like the colors to be.
3.
Give your kid or kids a freehand in decorating the outdoor playhouse.

Encourage your kids to put their designing skills into practice. Let them decorate the interior of the playhouse. Give them suggestions, options and themes they could use. Let them give the playhouse their own personal touch.
4.
Put furnishings inside the playhouse

Put that magic touch to turn that playhouse into a safety haven for kids. There are a lot of playhouse interior accessories available for your picking. There are furniture done for playhouse interiors. You can accessorize it with chairs, tables, kitchen gadgets and wares, sinks, study desk and much more. Add curtains or a hammock outside by the porch or tee.
5.
Greenery adds to the positive vibes in the surroundings

Adding plants, flower boxes and even landscaping can spell the difference in the ambiance of the surrounding. It gives a pleasant and conducive atmosphere for outdoor fun.

Planting and maintaining a vegetable garden could also be good for kids to develop responsibility and their nurturing skills.
6.
Give the playhouse a name

Why not a name for your playhouse? Create a personalized signage that might say "Jill's Haven". Kids will truly feel excited about this. They will feel the sense of ownership and that can learn how to take care of their property.
Special Added amenity
An ATV is the ultimate special added amenity in the backyard alongside an outdoor playhouse. Can be used to complete the experience of the outdoors. It enhances the taste of true adventure outside. Definitely adds to the fun playing, exploring, navigating, and experiencing the outdoors. Every moment counts with this reasonably priced toy.
Kids Powered ATV Quad 4-Wheel Ride
Playing and having an outdoor playhouse is really a prized possession. A countless of ways to furnish, dress-up, accessorize, and put all those incomparable and wonderful amenities. Make every day counts by leading a more active, fun-filled, exciting, and learning exploration!