Outdoor Playhouse FAQs
An outdoor playhouse is only for use in residential areas. A full set playhouse may consist of a slide, lower and upper deck, ladder, rockwall, and swing. It is usually made of wood.
An outdoor play set will be the focus and center of all your children's outdoor adventures. Sit back and watch them play and have fun in the safety of their own outdoor playhouse. It is the perfect place for your children to stay active while expanding their imaginations.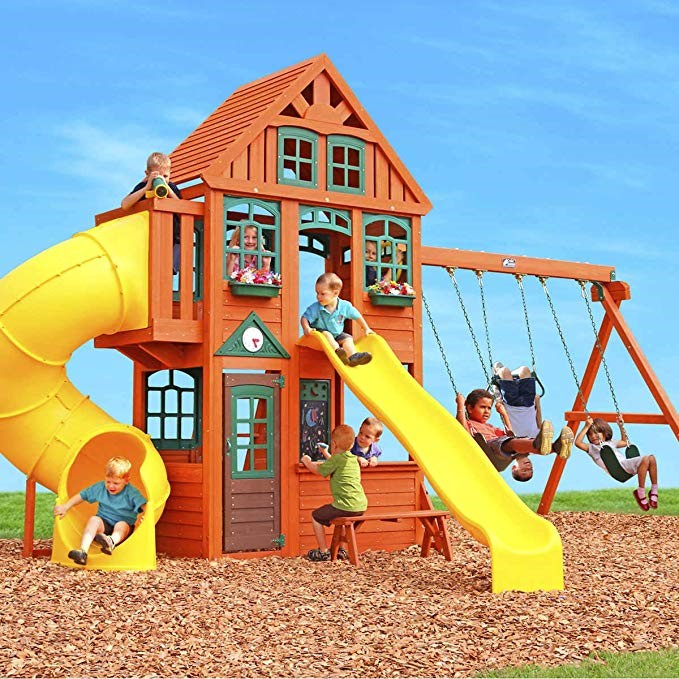 Cedar Summit Outdoor Play Set with Wooden House Deck, Swings, Rockwall, Twist Slide
The following are some of the frequently asked questions for an outdoor playhouse just like the one above:
age range, weight capacity
type of wood
4 X 4s for the posts
hours in total to assemble
taken apart and reassembled at new home
screws, nuts, bolts, anchors
how high is the swing bar
how much weight a swing can hold
straight or spiral slide 
height of slide
measurements
HOA not allow yellow slide
replacement slide
look good after a few years
Poor quality
wood is thin
structure moves
stain looks bad
plastic clamps broken
bolts rusted
What age range for kids is this outdoor playhouse appropriate for? What is the weight capacity?
The product description should state the capacity of how many children can use the playhouse at once. It also states what age range and what the maximum weight is for each children. The product mentioned above has a capacity for up to 10 children ages 3 to 10 with a maximum weight of 110 lbs. Some parents find it important to know how long this playhouse can last for their child until certain age limit.
What wood is this outdoor playhouse made of?
It is important to know what wood it is made of. Then you may possibly know how long it will last. The product above is made of real cedar wood with a stain on it that makes it look very nice. The planks are thin though. A customer claimed they had a similar set that lasted more than ten years in a daycare use. A wooden playhouse has a reputation to be really long lasting and can withstand any weather condition too.
Does this playhouse use 4 X 4s for the posts?
Most playhouse use 2×4 or smaller posts. It is very lightweight wood. It does seem sturdy, but one may not be sure about long term quality. 
How long does it take in total to assemble the outdoor playhouse?
It generally requires a lot of time to assemble a full set of outdoor playhouse. The above unit took a user about 20 hours in total to assemble individually. Sometimes the unit may be missing a couple of pieces. They were usually minor and were able to be replaced easily. 
If I move can this play set be taken apart and reassembled at our new home?
One should be able to take most playhouse apart just like how it came and reassemble it. Keep the instructions handy for future reference. When taking it apart, make note on how it goes back together. You can also hire companies or people on local marketplace that can reassemble them for you. Make sure you keep all the screws and anchors and don't strip the screws. If so, they should be replaceable from home depot stores. 
Does this playhouse come with all the screws, anchors, etc.?
Most playhouses generally comes with everything you need to put it together. All the nuts, bolts, screws and anchors should be included. All you need is a little patience and some tools to put it together. 
How high is the swing bar? 
In most playhouses, you can adjust it to what you need. 
How much weight can one swing hold?
It is important to find out what manufacturer says about the weight that a swing can hold. If your kid is at 100 lbs, whether it can sustain that weight in the long term. 
Is the slide straight or spiral?
You may look for an outdoor playhouse with a slide. Some playhouse comes with straight slide, and some comes with spiral slide. If it is a straight slide, you can find out how long is it.
Is this the 5' or 7' enclosed twist slide? 
It is important to find out how high the slide is for safety awareness of your children. The above mentioned playhouse slide is 7' off the ground.
What are the measurements?
It is important to know the measurements of the playhouse so one can figure out how much space is going to be used in their back yard. The assembled size of this play set above is 17'2"L x 7'5" W x 10'10"H. and the American Society for Testing and Materials (ASTM) recommended Safety Zone is 29' 2"L x 26' 0"W.  
My HOA doesn't allow yellow color. Can I get a slide with different color?
Some HOA doesn't allow certain bright structure colors like yellow. It is best to contact your HOA to find out what colors are not acceptable.
Can you get a replacement slide? Ours has broken over the years and needs to be replaced.
You can contact the manufacturer directly to get parts. Contact info should be in the owner's manual or you can find their website online. 
A suggested highly rated slide for a swing set can be also purchased just in case you can no longer get a replacement.
Swing-N-Slide NE 4675L Cool Wave Slide
The Green Cool Wave Slide by Swing-N-Slide is the perfect addition to any wooden swing set and slide playhouse! This play set slide mounts easily to 42" to 48" slide platform. It features a sturdy and smooth surface and it is made with molded-plastic construction. It's been engineered with precision. This swing slide set effortlessly accommodates up to 250 pounds. It just requires one 2"x4"x8' size of lumber for mounting which you need to purchase separately.
Are there wooden swings available that I can put in this outdoor wood playhouse?
There are wonderfully crafted wooden swings that are available in the market. If you would like to add or replace the existing swing in your cedar playhouse.
HAPPY PIE PLAY & ADVENTURE Nostalgic Children to Adult Wooden Hanging Swings Seat
This attractive and durable swing can be used as a replacement swing for your outdoor swing set. It can be a good substitute for a baby swing, glider, or other piece of existing swing set. It can be safely attached easily to any wood or metal swing set. It is a two piece swing set. It also comes with a pre-assembled heavy-duty, rust-resistant adjustable chains and an adjustable PE rope.
I'm wondering how this looks over time. Does it still look good after a few years?
If the playhouse is built with good wood and with some care it should last years and years. It is also important to find out if it will hold up great with the weather.
What are some examples of playhouse with poor quality?
Although one may be focus on looking for features of a playhouse, it is important to note what potential issues you should look out for. The wood is thin and not your standard lumber sizes. The whole structure moves if you get a couple kids on the swings. Stain looks bad in less than a year and had to re-stained it because it was looking rough. The plastic clamps that hold the pieces of the slide together have broken in multiple places. Some of the bolts are completely rusted too. 
How about if I want a unique outdoor playhouse for my kid? 
That won't be a problem at all! There are a lot of outdoor playhouse styles that you can choose from. The choices can be plenty and varied. It would be depending on your preference. Take a look at our unique outdoor playhouses article.
And for more selection of cedar playhouse with slide, please have a detailed suggested similar product review as this outdoor playhouse. These cedar playhouses have different designs and features.
The selection of these outdoor playhouse with slide and outdoor playhouse with swing are all of good quality and are all highly recommendable.
What about other outdoor amenities I can consider in an outdoor playhouse?
The list of an outdoor playhouse amenities can be numerous. There are a whole bunch of amenities available both for a wooden outdoor playhouse and an outdoor plastic playhouse. We made a rundown of all outdoor playhouse amenities and accessories to your kids' outdoor playhouse. Please visit the link below. 
An outdoor playhouse like the one mentioned above is great for anyone looking for something fun for their kids, while it also looks good in your yard.