Unique Outdoor Playhouses Style (Spark your kids imagination and play)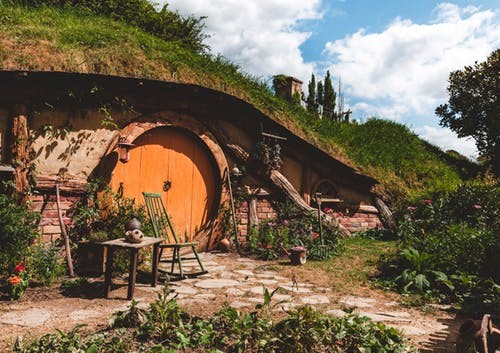 Like adults, children have their own choices and preferences. May it be the clothes to wear, the food to eat, the things to do, and the kind of an outdoor playhouse they would like to have. Parents like to choose what type or style of house they like, and kids also want their own specific outdoor playhouse.
Being an in-demand commodity for children, manufacturers continue to offer a wide array of variety to choose from. This is to cater to every child's whim and wish list.
Best Unique Play House
There are a lot of special and unique outdoor playhouse options available to choose from. Take a look at the following styles and see what play house your kids will pick!
1. Outdoor Playhouse Castle
For kids who likes imaginary role playing as kings, queens, princesses, princes, and even as knights, then this is the one for you. Made out of the durable cedar wood, its exterior really looks like a castle! Inclusive of a lot of amenities such as: a fort that is 4' in height, rock wall ladder also 4', plastic handles for easy maneuvering, magnet catch on a drawbridge, and even the doors are equipped well.
The recommended age group is from 2-10 years old. Very easy to assemble and maintain. Check the link below for your reference.
2. Foldable Portable Outdoor Resin Playhouse
A new revolutionary folding portable outdoor playhouse made with resin. It is another alternative material aside from plastic and wood.  Resins are mixtures of organic compounds usually from plants or other synthetic materials that converts to polymers.
There are great features in this product such as: Collapsible into fit a portable suitcase, it can be transported easily in the trunk of any vehicle, very easy to store even in the closet or under the bed, it is lightweight and has a compact design, and has doors and windows that are functional. Good for kids 2 years old and up.
See this new concept of a folding portable playhouse below. 
3. Outdoor Playhouse Pirate Ship
A colorful feast for the eyes. This pirate boat inspired outdoor playhouse is a fresh choice from the conventional playhouses. To complete that nautical adventure, it comes with a flag, movable steering wheel, anchor, and even a parrot to boot. Comes with a deck, helm, and even a cabin. Suitable for kids ages 2-6 years old. 
Ahoy! Welcome aboard this wonderful outdoor playhouse pirate ship! 
For a big outdoor playhouse that is a pirate ship, it's best to have it customized. An outdoor wooden pirate ship playhouse is only possible if it is a made-to-order one. Just be ready because it will be pricey. 
The best way really is to build one yourself! Ask the help of family and friends. This will save you a lot of money.
https://paulsplayhouses.com/blogs/fruitful-insights-for-playhouses/build-a-pirate-ship-playhouse
4. Outdoor Garden Playhouse
Highly patronized because of its recreational features. Made from high quality plastic that is weather and water resistant. The brightly colored outdoor garden playhouse is also heat and fade resistant. It comes with a cool kitchenette which has a stove, sink, and functional doors. Comes complete with a mailbox and a lot of activity areas such as the deck and cabin.
It has roomy and airy atmosphere and a lot of spaces for movement. This is good for kids from 2-6 years of age. 
This outdoor playhouse will make each child's imagination come into play!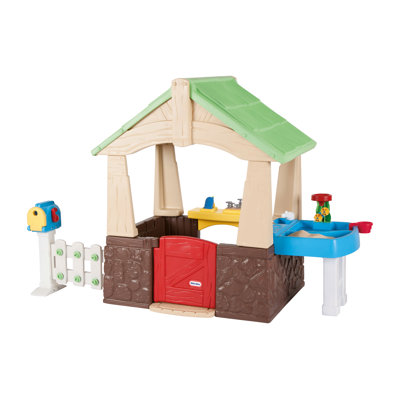 Image Source: Little Tikes
5. Outdoor Playhouse Gas Station
This little tikes outdoor playhouse is an entertaining one that will keep the children busy with a lot of things to do. Although it's been in market for some time, it's commendable for its uniqueness. It successfully incorporated four equally exciting themes in one playhouse! Can you imagine a playhouse with all four functioning themes for simultaneous play time? It is a school house, firehouse, gas station, grocery rolled to one. To add to its versatility, it has a sports wall that the kids can play basketball, hockey, soccer, and be able to toss some ball.  The gas station even comes with a very realistic gas pump and has a phone on the sides. How about the grocery store that has an ATM machine and even a window for the drive thru? Pretty awesome, don't you think? Kids will have very busy activities to do!
Not only does it have all these themes, it is sturdy, easy to assemble, and made of top grade plastic material. Check out this wonderful outdoor playhouse.

Image Source: Little Tikes
6. Outdoor Playhouse with Sandbox
An easy breezy type of outdoor playhouse. Uncomplicated yet it offers so much fun for an outdoor play. The openness of the playhouse gives you the laidback type of surrounding a kid can enjoy. It's a fort with a sandbox that can hold up to 600 pounds of sand. Kids can enjoy endless hours of building sandcastles. A great way to build their imagination and creativity to the next level. This is made of natural fir wood and canvas that can withstand any weather condition. The maximum weight capacity is 400 pounds and it's durable and reviewed to have withstood severe thunderstorms and some snow. This outdoor playhouse with sandbox will bring lots of creative and active plays for the kids!
What do you think? Check the link below and take a look at it.
7. Outdoor Playhouse Wall Climbing
This is a breath of fresh air type of outdoor playhouse. Offering something and an adventurous play that will aid in physical and mental development. Very innovative and exciting design. Adults and kids alike enjoy wall climbing and mountain climbing. It looks like the real deal. You will feel you are climbing a rock wall. It will offer the kids a lot of very challenging activities and obstacles to keep them busy. 
It comes with cool features like: cargo nets, climber platform, junior hand grips, and open-air climber peak. The ultimate feat is to reach the summit and reach for the flag. The presence of adults is advisable.
8. Outdoor Playhouse with Grill
This is a deluxe kitchen showcase. A unique and new take on an outdoor playhouse. Comes with a complete kitchen package that includes: an electric grill, electronic stovetop, large sink, microwave, and stainless refrigerator that can be open and stored with accessories. Has a dining area for a more realistic dining experience for kids. The accessory set is 103 pieces of kitchen tools, food, and utensils.
What a great way to learn about interactive play and household chores!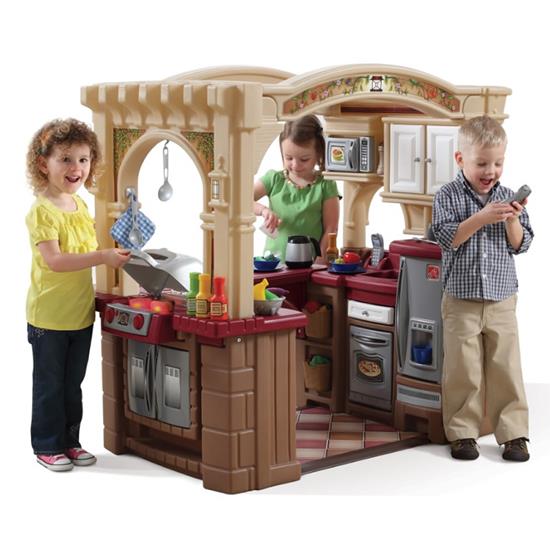 Image Source: Step2
9. Outdoor Princess Playhouse
This princess outdoor playhouse has a fairy tale setting with a castle inspired look. Brightly colored façade that makes it very enticing. Made of blow-molded plastic applicable for outdoor use. The castle is equipped with a doorbell that can be used. It has a lot of space for active children to play simultaneously. It can accommodate kids from 3-8 years old because of the height clearance of 98.5".
Kids will enjoy the nine turrets, five window openings, large door and the clock that goes with it. Feel like a real royalty in this awesome outdoor princess castle playhouse!
10. Outdoor Playhouse Veranda
This is a great bonding type of outdoor playhouse with veranda for the whole family. This has a great looking concept and design. A veranda where parents can sit on while the kids are playing is provided. It can be used also as a reading nook for the mom or a sitting area while the kids are playing.
The material used is high-grade solid wood. The inclusion of a bench, shelf, and flower boxes added to its allure.
This wooden playhouse veranda will always be a delightful feature to have in any children outdoor playhouses.
One of the popular options for kids' nowadays!
11. Outdoor Playhouse Vintage
A very nice outdoor Victorian playhouse. Let it transport you back in time to the Victorian times. It's a very charming outdoor playhouse vintage that comes with the following: windows, bench, built in kitchen with features like contemporary appliances, representational food, and even a phone. It has a serving station as well as a unique half door. Made of 100% cedar wood. Good for kids ages 2-10 years old.
Take a peek with the link provided below.
12. Outdoor Playhouse Log Cabin
This is an outdoor playhouse that has a log cabin theme. A perfect hideout and a getaway! Equipped with a sink, double burner, and faucet. The exterior is designed with beautiful windows and flower pot shelves. It also has a doorbell. A very good come on is it has a chimney for a more realistic outdoor playhouse log cabin look.
13. Outdoor Teepee Playhouse
This is for the airy more open space type of outdoor teepee playhouse. It has an outdoor oasis playhouse teepee orientation. Bigger kids can enjoy this type of outdoor playhouse. Kids can do a lot of imaginative barbecuing and grilling in the backyard. It offers new accessories like a sand and water table to keep the kids busy while waiting for the barbecues to be done. It has an open concept for an outdoor restaurant feel.
Check this one out, made of plastic, and has green canopy for roofing.
14. Outdoor Playhouse Mansion
This is a fabulous outdoor playhouse mansion. Feel and enjoy the grandness of this playhouse. There's enough room for tea parties, playing with dolls, and just receiving guests. It can comfortably fit 4 children. Very easy to set up because it has panels ready for assembly. Another positive feature is, it is already prefabbed. All you need is to easily construct it and put it all together.
The floor kit is included when you buy this playhouse. Amazing features include windows with screen which is operational, pre-fabricated gingerbread trim. It has those lovely Victorian trim and edges. Suited for kids from 2-13 years old and up. Made from solid wood and boosts tempered glass windows.
The following needs to be provided by the buyers: shingles for the roof, paints, benches, and tables. It comes in bare inside of furniture.
15 Outdoor Playhouse Garage
This is a great idea to add to your kids' existing outdoor playhouse. A DIY garage extension can be added to make it a complete package. The kids' play cars can be parked here.
See the link below to see how great it looks!
There is another way to spice-up any playhouse. How about a wooden playhouse with garage?
There are not much wooden playhouse with garage that is for sale in the market. This could only be possible if you could incorporate and add it to any wooden playhouse. You can blend it together that it might look very coordinated. Take a look at the example below. You'll find out that you can have a very unique playhouse with a garage!
http://mit24h.com/1Rd5C21_8712jy5
16. Outdoor Fire Station Playhouse
This outdoor fire station playhouse will make a lot of active boy and girls excited to play. A replica of a real fire station with a bell, chimney, and signage. A pole can be added for a more realistic role playing. Kids can do role playing.
Handcrafted to achieve the ideal fire station look and exterior. 
17. Outdoor Playhouse Mailbox
This super cute outdoor playhouse has an open design with a working door, mailbox and many play areas. Other exciting features are: a kitchenette, pretend play stove, sink, and knobs that can be clicked. It has also a station with a beach. Plus a sand and water table! The cutest feature though is its standing mailbox. This outdoor playhouse mailbox is truly a sight to behold! Suitable for kids from 2 years old and up.
18. Outdoor Playhouse with Kitchen
This spacious and airy type of outdoor playhouse with kitchen is a wonderful choice for kids and parents. The kitchen is equipped with pretend play oven and sink. Kids and parents can bond through interactive and imaginative play. They can cook pizza together in the outdoor pizza oven with chimney! It also has four corner seats that makes it more relaxing. The windows are wide and open.
19. Outdoor Playhouse Swing Set
Are you the type of parent that would like an outdoor playhouse with swing for your kid? Then this is the ideal one to purchase. It has a great price tag to beat. Very reasonably priced but definitely the same fun! This can be enjoyed by kids from 3-10 years old. It's sturdy and of high quality wood. The amenities will keep them swinging, sliding, and climbing! Complete with a Sandbox, ladder, and rock wall! Another pocket friendly playhouse!
This outdoor playhouse swing set is simply amazing and yet it is very economical. Definitely you'll get more of your money's worth! Suited from kids from 3-10 years old. The kids will enjoy it for a long time.  It is a great set for less the price. Inclusive of a durable fort with brightly colored canopy.  Amenities include: rock wall ladder, slide, swing, and a sandbox. The windows are wide and good for snacking in the afternoon. There is also a bench attached for those afternoon coolers. Made from top notch wood. This is one deal one shouldn't pass.
20. Outdoor Playhouse Tent
This outdoor playhouse tent is a very vibrant one. It has all the details to make it very enticing to kids. The kids will surely have a lot of imaginative plays in it! Considered as the ultimate rocket ship tent. Can be used as an educational tool to be exposed to the solar system. The kids will be engrossed learning about the planets and galaxies in this kids play tent.  Very easy to maintain and clean. It is very easy to set-up and dismantle. Made from high quality polyester and all prints and materials are non-toxic. A welcome addition to any occasion. This is well suitable to kids from 4 years old and up.
Play tents for kids is another option for a great outdoor play.
21. Outdoor Playhouse Treehouse
This attractive outdoor playhouse treehouse can be used two ways. You can set it up freestanding or have professional put it in a sturdy tree in your backyard. I have included another link if you need a reference or inspiration on how it can be done. This playhouse can have the kids wanting to spend more time in it. It comes with a slide. Let your outdoor playhouse ideas become a reality when you use your creativity in this treehouse. 
22. Outdoor Playhouse Modern
A new look for this outdoor playhouse modern concept. Since cafes are very in now, this playhouse has its own espresso picnic table with two benches to complete the look. There French windows and a slanting roof. It comes with an outdoor grill that has a lid that can be removed. An added accessory is a mailbox with a flag. The woods panels were pre-treated to avoid warping, peeling, and splitting. It's also waterproofed. This can be enjoyed by kids from 3-15 years old.  Your kids can definitely enjoy this until their teenage years!
A very modern outdoor playset. Simple, uncomplicated, and yet offers the same intensity of active fun play. The design is sleek, different, and fresh. Fun packed thrilling activities in this playset! Made from UV-protected High-Density Polyethylene (HDPE) and powder-coated steel. It has something new to offer. Includes a swing set, slide and two 3D rock climbing walls. Definitely low maintenance. Never will there be any problems on warping, cracking, and from splinters. The clubhouse has hard top roofing and no problem with draining. This playset also has a steering wheel, trapeze, car mop on the lower floor of the clubhouse, and four storefront. Recommended for kids from 3-12 years old.
23. Outdoor Playhouse on Stilts
A good example of an outdoor playhouse on stilts is the Smoby Kids Playhouse on Stilts. It has a very refreshed and vibrant exterior look. For that treehouse feel then this is it! It has a raised platform to have a more convincing treehouse effect.
It comes with accessories and amenities like a slide, ladder, louvered windows, porthole window and sliding shutters. The plastic material is anti UV resistant. Built to be sturdy and durable. Kids will have a longer use of this because it's age-appropriate from 2-15 years old.
24. Outdoor Playhouse Two Story
This is a good option for a bigger playhouse. The design is pleasant to the eyes and it's charming. This outdoor playhouse two story floors is also good for tall kids. This playhouse was pre-coated with honey brown base coat.  A top coat is still needed for added protection or have it painted the way you wish. There are windows with a crisscross design and a balcony to add more thrill. There are a lot of possibilities in this two story. This is advisable to kids 3 year old and up.
25. Outdoor Playhouse Shed
This storage shed can be transformed to an outdoor playhouse shed. Elegantly designed that can function as a workplace, loft, storage, and a playhouse. Shelving system too for better organized things. It has proper ventilation and makes you have that homey feeling. Parents can have it furnished using outdoor playhouse interior ideas. Includes windows, door, workbench, and loft. The flooring and roof shingles should be bought separately. There are sheds without windows. To be able to transform it to a playhouse, just add windows. Check the additional link below. Kids will appreciate the available space in this large play area. This outdoor playhouse shed will definitely add beauty to your backyard!
26. Outdoor Greenhouse Playhouse
Another great idea is to convert a greenhouse into a playhouse. Adorn and decorate or paint it to have that appealing outdoor greenhouse playhouse! This would challenge your transformation skills. The design includes larger windows and the panels are pre-assembled, primed, and all set for paint. Choose vibrant colors for a more visually attractive greenhouse playhouse. A plus feature is its roofing made from corrugated polycarbonate roofing. All have to do is have one door fixed instead of a two door opening. Let the wonderful afternoons begin!
27. Outdoor Playhouse Cubby House
What makes this outdoor wooden cubby playhouse interesting is the materials. Made from top grade timber and uses plastic as another material for its other features. An innovative fusion of wood and plastic. This cubby wooden playhouse is a class of its own. It's spacious, attractive, and has a lot of open windows. The timber used for the cubby houses are treated through high temperature drying and is stained thus decreasing wood rot and insect problems. The windows are made from plastic making it much safe and friendly to kids.  The age group for this outdoor wooden cubby playhouse is from 3-8 years old.
Another welcoming option is this outdoor playhouse wooden cubby house which is carefully handcrafted. Nicely designed with a porch and a covered doorway. It comes in two sizes if you want a bigger space for the kids. Very charming and offers a lot of imaginative and creative play.  Have a look for possibilities in designing your own cubby house in the link below.
Suggested Cool Outdoor Playhouses for all Age Levels
There is never a shortage for all kinds of playhouse whether it's a plastic outdoor playhouse, a wooden outdoor playhouse or even a cheap outdoor playhouse. There is also the iconic Little Tikes playhouses for smaller children. 
Please check out our article on suggested cheap outdoor playhouses.
If you are looking for specific age brackets, please check out the articles Best Toddlers Outdoor Playhouse for 1, 2, 3 year old  and Best Kids Outdoor Playhouse for 4 to 10 years old.
There is an abundance of choices of totally special and unique outdoor playhouses out there. Be guided of which style will suit your child the best. The most important thing is how much joy, happiness, and memorable hours of play it can give your child.
The final great choice is yours to take!